Texan says U.S. Muslims lately subject to more attacks, hate crimes than ever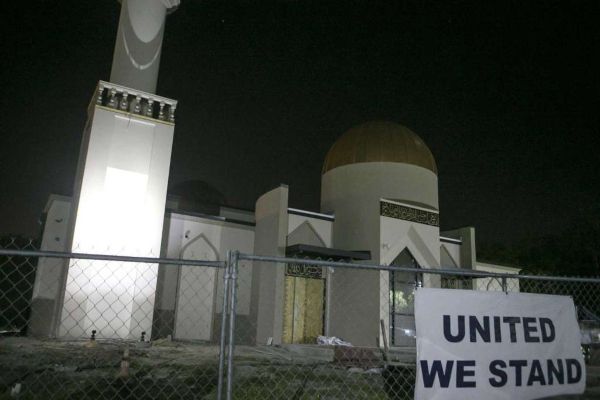 A Texas member of a Muslim congregation said after a man was convicted of setting its mosque on fire that the United States isn't what it used to be.
Muslims can't afford to lower their guards, Omar Rachid, a board member at the Victoria Islamic Center, told the San Antonio Express-News for a July 2018 news story stating that Marq Vincent Perez, just convicted of burning the mosque, faces up to 40 years in prison when he is sentenced in October 2018.
Rachid then made a claim making us wonder: "The reality of it is that Muslims in America have been subjected to more insults, attacks and hate crimes in the last two or three years than ever before, specifically more than after 9/11," Rachid said, adding: "Islamophobia is thriving. This is not America. It is not the America I came to 35 years ago."
We didn't divine how to pin trends in insults. But, we found, the FBI and others tabulate anti-Muslim attacks and hate crimes.
Have records recently been set? By phone, Rachid told us he based his declaration on accounts of upticks tied to FBI figures; he emailed us web links to news stories and a commentary published in 2017 and 2018.
Included was a November 2017 Pew Research Center blog post citing FBI figures indicating 307 incidents of U.S. anti-Muslim hate crimes in 2016, which marked a 19 percent increase from 2015.
Pew's post specifies that a record was set in 2016 in the subcategory of anti-Muslim assaults, which rose significantly between 2015 and 2016, per the FBI, easily surpassing the previous peak reached in 2001, the year of the 9/11 attacks. For 2016, the FBI reported 127 reported Muslim victims of aggravated or simple assault, compared with 91 the year before and 93 in 2001, Pew's post says.
SOURCE: Blog post, "Assaults against Muslims in U.S. surpass 2001 level," Fact Tank, Pew Research Center, Nov. 15, 2017 (accessed July 31, 2018)
"But assaults are not the only form of hate crime carried out against Muslims and other religious groups," Pew's post says. "The most common is intimidation, which is defined as reasonable fear of bodily harm. Anti-Muslim intimidation also increased in 2016, with 144 reported victims, compared with 120 the previous year." Pew cautioned, though, that the 2016 "intimidation" count was "dwarfed by the 296 victims of anti-Muslim intimidation in 2001" tallied by the FBI.
A general caution: Pew and others that explore anti-Muslim activism stress that the FBI collects hate crime data from about 15,000 law enforcement agencies that voluntarily participate, which means the statistics likely undercount hate crimes.
FBI reports on anti-Muslim incidents
Next, we looked directly at the FBI's annual reports on hate crimes, which the agency defines as "criminal offenses motivated, in whole or in part, by the offender's bias against" a particular group such as a religion, race or sexual orientation.
It looked to us like the greatest percentage spike in reported anti-Islamic incidents occurred between 2000 and 2001. For the latter year, the FBI tallied 481 anti-Islamic incidents--a count up more than 1,600 percent from 28 in 2000. According to the FBI, such incidents decreased by 68 percent to 155 the next year and then dipped to 149 in 2003 before escalating to 156 in 2004.
We also reviewed the agency's recent tallies, finding there was not a bigger-than-post-9/11 spike in incidents in recent years -- though the numbers have been on the rise. The 307 incidents noted for 2016 compare to 257 reported incidents in 2015, the FBI says, and that count was up 67 percent from 154 anti-Muslim incidents reported in 2014.
Put another way, the 2016 tally reflected a two-year 99 percent increase. But that latest count still fell 36 percent shy of the agency's 2001 count of 481 anti-Muslim incidents.
A California researcher
Rachid offered among the stories fueling his claim a July 2017 analysis of hate crimes against U.S. Muslims by Brian Levin, who directs the Center for the Study of Hate and Extremism at California State University, San Bernardino.
Levin's article, covering every year since 9/11, says that from 2002 to 2014, the FBI's counts of anti-Muslim crimes receded to a range of 105 to 160 though the 257 tally for 2015 was the highest since 2001 and, the article says, the second-highest total of anti-Muslim hate crimes since the agency began eliciting reports of hate crimes from police agencies in 1992.
Not only did anti-Muslim crime cases rise numerically, the article says, they grew as a percentage of all hate crimes, accounting in 2015 for 4.4 percent of all reported hate crimes even though Muslims are estimated to be only 1 percent of the population, the article says.
By phone, Levin told us that in 2016, per FBI figures, anti-Muslim hate crimes accounted for 5 percent of all hate crimes. After 9/11, Levin told us, anti-Muslim hate crimes represented 4.5 percent of hate crimes reported by the agency.
In 2016, Levin's published calculations of hate crimes against Muslims were cited by Hillary Clinton to justify her claim that hate crimes against American Muslims and mosques had tripled after attacks in Paris and San Bernardino. Levin said in a 2016 interview that since 9/11, anti-Muslim incidents ranked second to anti-Jewish incidents among all anti-religious hate crimes. PolitiFact rated Clinton's claim Mostly True.
Civil rights reports by CAIR
Hoping for more up-to-date information, we approached several non-government groups about research into anti-Muslim incidents. This tack drew data only from the Council on American-Islamic Relations, which says it challenges stereotypes of Islam and Muslims.
Zainab Arain of CAIR pointed by email to the council's latest annual civil rights report. The April 2018 report, based on investigations by council staff, says that in 2017, there were 2,599 U.S. anti-Muslim "bias incidents," including 300 hate crimes--a count exceeding the council's confirmation of 2,213 incidents in 2016 by 17 percent.
The report classifies incidents by type. Harassment, it says, accounted for 14 percent of the confirmed incidents in 2017 with incidents in which an individual was "inappropriately targeted and harassed by Customs and Border Protection" proving second-most prevalent. Anti-Muslim hate crimes, including crimes targeting children and families, made up 12 percent of the 2017 cases, the report says, with incidents involving FBI harassment or other targeting of individuals constituting 10 percent of incidents.
SOURCE: Web page, "2018 Civil Rights Report: Bias Incident Data," Council on American-Islamic Relations, April 30, 2018 (fetched Aug. 1, 2018)
Its counts, the report says, should be considered only a "snapshot of the experiences of American Muslims, including children, youth, and families. From experience, CAIR knows that bias incidents targeting the community are vastly underreported to both law enforcement and community institutions. Community members will often not report incidents, such as harassment and bullying, because of a certain level of desensitization," the report says.
Arain told us: "Based on the numbers we report, we have documented more anti-Muslim bias incidents and anti-Muslim hate crimes from 2015 to present than were documented in the year immediately following September 11, 2001."
We followed up by checking the council's 2002 civil rights report. It says the group received 1,516 complaints from community members over the year involving the lives of more than 2,250 people, most of whom "were subjected to incidents of bias-motivated harassment and violence" including several murders, the report says. The report says its complaint count was up 300 percent from the year before. "Excluding the September 11 backlash incidents," the report says, "this year's normal reporting period contains 525 valid complaints, up from 366 in 2000/2001--a 43 percent increase."
Our ruling
Rachid said: "Muslims in America have been subjected to more insults, attacks and hate crimes in the last two or three years than ever before, specifically more than after 9-11."
Incidents confirmed by the pro-Muslim CAIR support this statement. Also, FBI hate-crime statistics drawn from police departments indicate there were more anti-Muslim assaults in 2016 than after 9/11 though its counts generally indicate there were more anti-Muslim incidents after 9/11. A footnote: We didn't come up with a way to gauge shifts in the prevalence of insults.
We rate this claim Mostly True.
MOSTLY TRUE – The statement is accurate but needs clarification or additional information. Click here for more on the six PolitiFact ratings and how we select facts to check.