False meme suggests Texas rapper faces death penalty but Santa Fe school shooter does not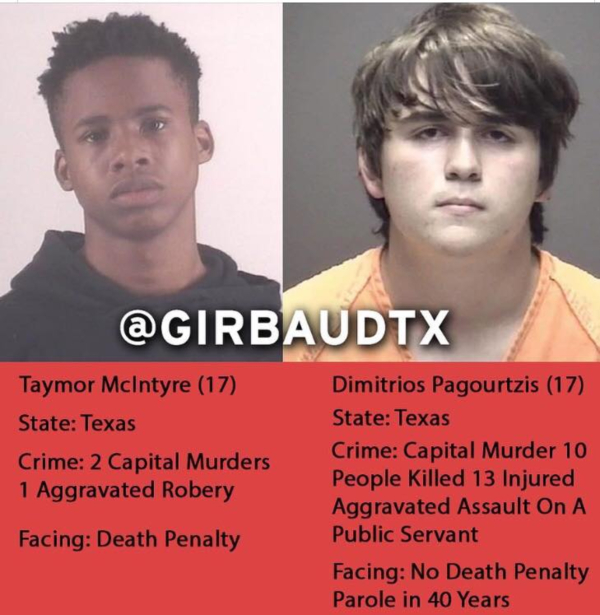 A U.S. Supreme Court ruling keeps the admitted shooter in a Santa Fe, Texas, school from facing the death penalty.
Dimitrios Pagourtzis, 17, would have had to be 18 to qualify.
Still, a meme brought to our attention by readers suggests he's getting a special lift up.
The meme shows an African-American 17-year-old Texas rapper, Taymore "Tay-K 47" McIntyre, and says that he faces the death penalty if convicted of capital charges pending against him. Meantime, the meme says, Pagourtzis--who admitted to the May 18, 2018, mass shooting at Santa Fe High School that killed 10 and wounded at least 10 others, according to court documents--faces no death penalty plus "parole in 40 years."
Rapper T.I. recently shared the meme on his Instagram, saying, "So the question is how is the D.A. seeking the death penalty for Tay K & not the other guy?" T.I. went on to note that McIntyre is a minor, like Pagourtzis. They're "the same age!!!!!!," T.I. wrote.
According to a May 10, 2018, Fort Worth Star-Telegram news story, McIntyre has been charged in two capital murders — one in Mansfield and one in San Antonio — as well as in an aggravated robbery that left an Arlington, Texas, man seriously injured. The story said he remained in jail.
After the Santa Fe shootings, the Houston Chronicle, a Houston TV station and the Star-Telegram each declared that the disparity for capital crime convictions suggested by the meme lacks factual footing because of the 2005 Supreme Court ruling.
To get our fix on the meme's accuracy, we turned first to the court decision.
Supreme Court acts
On March 1, 2005, the court held by 5-4 that the Constitution's bar on cruel and unusual punishment means the death penalty could no longer be imposed on juvenile offenders under 18. The Eighth Amendment provides: "Excessive bail shall not be required, nor excessive fines imposed, nor cruel and unusual punishments inflicted."
The ruling, in Roper vs. Simmons, stemmed in part, the majority wrote, from 30 states already prohibiting the juvenile death penalty. The ruling removed 72 people from death rows in a dozen states, according to a March 2005 news story in the New York Times, and "represented an about-face for a court that only 16 years ago rejected the argument that the execution of those who kill at the age of 16 or 17 violated" the constitutional bar on cruel and unusual punishments.
By phone, Sarah Guidry, who directs the Earl Call Institute for Legal and Social Policy at Texas Southern University's Thurgood Marshall School of Law, said that after the high court acted, Texas lawmakers amended state law. Section 8.07(c) of the state's penal code states: "No person may, in any case, be punished by death for an offense committed while the person was younger than 18 years."
Before the Supreme Court ruled, Texas was among 12 states with juveniles on death row, according to the Death Penalty Information Center, a nonprofit that compiles information and statistics about the death penalty.
From 1976 until the court acted, the center says, 22 defendants were executed for crimes committed as juveniles. By phone, the center's Robert Dunham told us 13 of the death penalties were carried out in Texas. Dunham, calling the meme false, said the Roper ruling left no room for states to sentence to death any individuals younger than 18 at the time of their crimes.
By phone, Texas state senators versed in criminal justice told us the court's ruling in Roper means no juvenile can be sentenced to death. Sen. Juan "Chuy" Hinojosa, D-McAllen, said the ruling "changed the lay of the land when it came to the death penalty and juveniles."
Parole in 40 years?
Sen. Joan Huffman, R-Houston, vice chair of the Senate Committee on Criminal Justice, said state law otherwise backs up the meme's indication that Pagourtzis could be imprisoned yet paroled after 40 years. That's so, she said, thanks to legislative action in the wake of a June 2012 Supreme Court ruling.
The majority opinion in Miller v. Alabama states: "By requiring that all children convicted of homicide receive lifetime incarceration without possibility of parole, regardless of their age and age-related characteristics and the nature of their crimes, the mandatory sentencing schemes before us violate this principle of proportionality, and so the Eighth Amendment's ban on cruel and unusual punishment."
In 2013, Texas lawmakers reacted to the ruling by passing into law a measure mandating that all juveniles convicted of capital offenses be sentenced to prison for 40 calendar years before qualifying for consideration for parole. Previously, juveniles 17 to 18 convicted of capital offenses faced life-without-parole sentences.
We asked Dunham to speak to the parole part of the meme. He cautioned that Texas law solely permits juveniles sentenced to life in prison to apply for parole after 40 years; the law doesn't say anyone automatically gets paroled.
Summing up, Dunham said: "If you are age 17, the most you can get for capital murder in Texas is life with the possibility of parole after 40 years."
Our ruling
A meme suggests a Texas rapper charged with capital offenses faces the death penalty while the alleged shooter in the Santa Fe school faces prison only and then parole after 40 years -- even though both are 17.
That disparity isn't backed up by state laws which, in compliance with Supreme Court rulings, potentially subject both the rapper and the alleged school shooter to sentences of life in prison with parole possible after 40 years. U.S. juveniles haven't been subject to death sentences since the high court ruled out that prospect in 2005.
We rate this meme False.
---
FALSE – The statement is not accurate. Click here for more on the six PolitiFact ratings and how we select facts to check.