Fact-checking the Denver presidential debate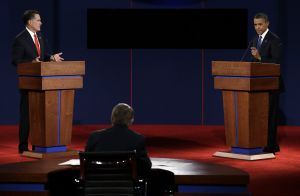 Updated on Friday, October 5th, 2012 at 6:14 p.m.
President Barack Obama and former Massachusetts Gov. Mitt Romney traded barbs Wednesday night on taxes, jobs, health care and the economy — and often stretched the facts.
"Mr. President," Romney said, "you're entitled as the president to your own airplane and to your own house, but not to your own facts."
Romney also would have benefited from that advice.
We're combing through the pair's remarks from the University of Denver's Ritchie Center, where moderator Jim Lehrer focused on the economy, health care, the role of government and governing.
Here's what we've checked so far:
Taxes
• Obama said that Romney's plan "calls for a $5 trillion tax cut." The figure accounts for only half of Romney's plan, and it's cumulative over 10 years. The governor says he will offset those lost revenues by reducing tax deductions and eliminating loopholes. However, he hasn't specified what those changes would be. The president made a misleading statement about an incomplete plan, but he did describe what the plan was missing and that Romney would not fill in the gaps. We rated the claim Half True.
• Obama said that "independent studies" looking at Romney's tax plan say the only way to meet Romney's goal of not adding to the deficit is by "burdening middle class families." A reputable study from the Tax Policy Center found that to meet Romney's deficit goal, middle class taxpayers might lose exemptions and deductions worth about $2,000. So we previously have rated Mostly True a claim that Romney is proposing a tax plan "that would give millionaires another tax break and raise taxes on middle class families by up to $2,000 a year."
• Romney said six tax studies look at a study that Obama described and "say it's completely wrong." Previously, Romney has claimed that five studies back his tax plan. We found that Mostly False. We saw no more than two independent studies out of the five claimed.
• Obama said he "lowered taxes for small businesses 18 times." When we examined his claim last summer that his administration had "provided at least 16 tax cuts to small businesses," we rated it Mostly True, noting that conservative tax specialists say the statistic ignores proposed and enacted tax hikes on small businesses.
The federal budget and the deficit
• Romney claimed that Obama had said he would "cut the deficit in half." That's the case. It's right there on YouTube. True.
• Romney also said that Obama doubled the deficit. But that's not the case, so we rated that False.
• Obama said he put forward "a specific $4 trillion deficit reduction plan." We found he was cherry-picking some numbers to include savings from last year's budget and his deficit reduction agreement with Congress. Half True.
• Obama said Romney wants to add $2 trillion to the defense budget that the military hasn't asked for. We looked at Romney's budget proposal and found the number was accurate. We didn't find reports that top brass was asking for the money. We rated Obama's statement True.
Jobs
• Romney said part of his plan to create jobs includes North American energy independence. He said that while oil and gas production might be up, Obama shouldn't get credit — the increase was on private lands, not public. We have previously found that oil production on public lands dropped 14 percent in one year, but that's not the whole story. It was small snapshot, and partly because of hurricanes. We rated a claim from Crossroads GPS that oil "production's down where Obama's in charge" Half True. Our reporting confirmed Romney's claim that Obama shouldn't get credit — but neither, perhaps, should President George W. Bush.
• Romney said half of college graduates can't find a job. We've previously rated that Mostly True — about a quarter of recent college grads can't find a job, while another quarter found jobs that don't require college degrees.
Medicare
• Romney claimed "on Medicare for current retirees, (Obama is) cutting $716 billion from the program." That amount refers to Obama's reductions in Medicare spending over 10 years, primarily in what's paid to insurers and hospitals. But the statement gives the impression that the law takes money already allocated to Medicare away from current recipients. We rated Romney's claim Half True.
• Romney also claimed that Obama used those Medicare savings to pay for his health care law. We've previously rated Romney's claim that Obama took that money from Medicare "to pay for Obamacare" Half True. The new health care law uses a number of measures to try to reduce the rapid growth of future Medicare spending. Those savings are used to offset costs created by the health care law — especially coverage for the uninsured — so that the overall law doesn't add to the deficit.
• Obama claimed that the "essence" of Romney's plan for retiree health care was to "turn Medicare into a voucher program." Romney would give seniors a premium support payment toward private insurance, to replace the current system of government payments to doctors and hospitals. Generally, we think "voucher program" is a fair way of describing to voters the vision for Medicare under a Romney-Ryan administration. We rated Obama's claim Mostly True.
• Obama recycled an outdated number about vice presidential candidate Paul Ryan's original Medicare proposal, saying that "because the voucher wouldn't necessarily keep up with health care inflation, it was estimated that this would cost the average senior about $6,000 a year." That ignores a more recent Ryan proposal that pegs the size of the voucher to the second-cheapest plan available on a Medicare exchange. We rated the claim Half True.
Health care
• Romney said that Obama failed to cut health care premiums by $2,500. That's true. On our Obameter, which tracks Obama's 2008 campaign promises, we've rated that a Promise Broken.
• Obama said that Romney used the same advisers to create his Massachusetts health plan that Obama later did for his health care law. Rick Santorum once claimed that a "Romney adviser admits Romneycare was the blueprint for Obamacare." If Santorum's ad had said "former adviser," that would have been True.
• Obama claimed that Romney said his Massachusetts law was a "model for the nation." Romney later fired back that he said it was a model "state by state," not from the federal government down. We've previously found that an early version of Romney's book No Apology did advocate the Massachusetts model as a strong option for other states, as Romney said.
• Politicians often cite the Congressional Budget Office, the nonpartisan research arm of Congress, to back up their claims. Romney used that tactic in a claim that CBO "says up to 20 million people will lose their insurance as Obamacare goes into effect next year." We found that was a large exaggeration and rated it False.
• Romney said that Obama "put in place a board that can tell people ultimately what treatments they're going to receive." Romney avoided the more inaccurate and harsher wording of some other critics, who have falsely described the board as "rationing" care. But Romney's claim can leave viewers with the impression that the board makes health care decisions for individual Americans, and that's not the case. We rated his statement Mostly False.
• Obama said health premiums grew slower in the last two years than any time in the past five decades, and he suggested that his health care law was the reason. The statement misconstrued real trends documented by a government report and Kaiser Family Foundation survey. To be correct, Obama should have referred to total health spending and attributed credit to the recession. We rated the claim False.
• Romney said his health care plan covered people with pre-existing conditions, so that insurers can't deny them coverage. But he left out a critical qualifier: People only get protection under his plan if they maintain continuous coverage without gaps where they're uninsured. That's a big difference from the health care law on the books. We rated his statement Mostly False.
• Obama said 50 million people will lose coverage if the health care law is repealed. He didn't say so, but that figure is based on projections for a decade down the road, and it applies to people who don't have insurance now. Also, it includes projections of people who would lose coverage if Medicaid is converted to a block program. That's separate from the health care law. We rated Obama's statement Mostly False.
Donald Trump
• In discussing Romney's tax proposals, Obama said that "under Gov. Romney's definition ... Donald Trump is a small business"? However, Romney's tax plan would not give Trump -- or anyone else -- a tax cut based on their status as a small business. We rated the claim False.
Education
• Romney said he loved schools and bragged on his home state. "Massachusetts, our schools are ranked No. 1 of all 50 states," he said. We looked at different metrics and found that Massachusetts schools do very well on most (but not all) measures. We rated his statement Mostly True.
Energy
• Romney said, "In one year, (President Obama) provided $90 billion in breaks to the green energy world … into solar and wind, to Solyndra and Fisker and Tesla and Ener1." That is incorrect in several ways. That $90 billion wasn't provided in one year, wasn't distributed primarily via tax breaks, wasn't primarily provided directly to companies, wasn't primarily spent on solar and wind, and wasn't spent at all on Fisker or Tesla. We rated his statement False.
We'll update this story as we post new fact-checks.
And we welcome suggestions on what we should fact-check. Email us, fill out the suggestion form on the Settle It! app or tweet us your ideas with #PolitiFactThis.