When the Truth-O-Meter combusts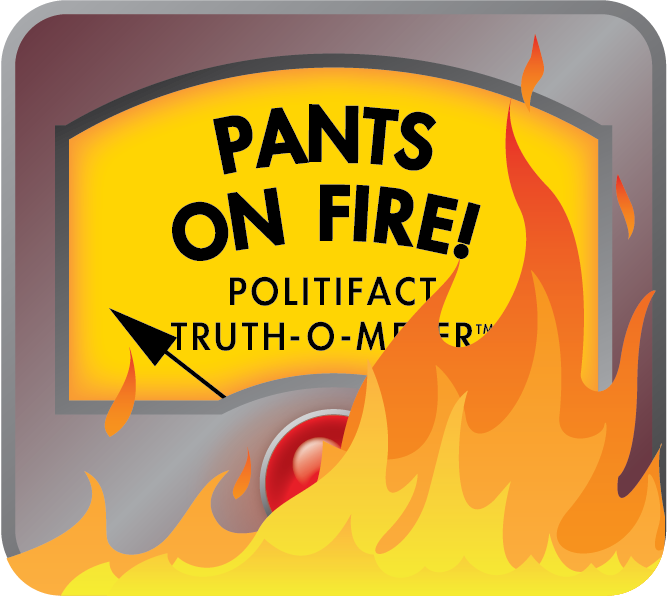 It may be the lazy days of summer, but the Truth-O-Meter has been buzzing lately with claims that have received our worst rating -- Pants on Fire! We reserve the Pants on Fire rating for statements that are not accurate and make a ridiculous claim.
Here's a rundown on the recent ratings that set the Truth-O-Meter ablaze. Click through to the full reports to see all the evidence for yourself.
• In Arkansas, a Democratic-aligned group is running ads attacking Republican Rep. Tom Cotton. One of their claims: Cotton voted to give members of Congress "taxpayer-funded health care for life. Congressman Cotton: Out for himself, not us." We found that the ad's claim was inaccurate and based on a convoluted reading of attempts to repeal the federal health care law. Cotton never voted to give Congress health care for life. Pants on Fire!
• We tracked claims on the Internet that the immigration bill recently approved by the U.S. Senate included free cars for teenagers. The bill had a provision to give "free cars, motorcycles, scooters or other vehicles" to young people, said bloggers. We examined the bill and talked with government officials who said the bill had a jobs program for young people that might give them bus passes -- not free cars. Plus, the program has an approval process that would put roadblocks in front of outrageous spending. Pants on Fire!
• Gov. Rick Scott rebutted an interviewer's question on Fox News that the state of Florida had given incentives to Deutsche Bank to locate there. "Can you tell me, did you offer them something special?" the interviewer asked. "No, what we do is we make sure we have an educated workforce," Scott replied. "You know, you can't have a lower income tax than zero." Actually, PolitiFact Florida found that Deutsche Bank has received a bevy of state and local tax incentives since starting a Jacksonvillle campus in 2008. As for Scott's answer: Pants on Fire!
• Texas legislators debated putting new restrictions on abortion recently. State Rep. Jodie Laubenberg, the lead House sponsor, said that rape kits were akin to a procedure that scrapes out tissue lining the uterus. But a rape kit, which is used to gather evidence after sexual assaults, doesn't have anything to do with dilation and curettage, commonly called a D&C. PolitiFact Texas rated it Pants on Fire!
• In Ohio, state legislators have introduced a bill that would require abortion providers to tell patients about "the increased risk of breast cancer" from abortion. But PolitiFact Ohio found that credible scientific research overwhelmingly contradicts the statement. Pants on Fire!
• President Barack Obama sat down with interviewer Charlie Rose to explain how the federal government conducts surveillance. He also defended the Foreign Intelligence Surveillance Court, a secret court that hears government requests for warrants related to national security investigations. Rose asked, "Should this be transparent in some way?" Obama responded, "It is transparent, that's why we set up the FISA court." There may be good reasons for secrecy at the court, but it's definitely not transparent, as Obama claimed. Pants on Fire!
• A Rhode Island legislator tried to claim a freebie recently for the state's residents. Rhode Island "didn't ratify the 13th Amendment to the Constitution to pay federal income taxes. So Rhode Island doesn't even have to pay federal income taxes," said Rep. Charlene Lima, a Cranston Democrat. Actually, PolitiFact Rhode Island found that the 13th Amendment abolished slavery and had nothing to do with income taxes. An alternative reading of Rhode Island legislative history gets no closer to the truth, either. Pants on Fire!
• U.S. Sen. Saxby Chambliss, R-Ga., said the United States needed to intervene in Syria's civil war on the side of opposition forces fighting against Syrian leader Bashar al-Assad. "The United States has never stood by and seen innocent people slaughtered to the extent that's happening in Syria," Chambliss said. We found many, many international examples of violence where there were more civilian casualties than in Syria, yet the United States did not take direct and significant action. Pants on Fire!
• A chain email claims the health care law has a hidden tax on sporting goods. PolitiFact Ohio looked into the matter and found this was just plain wrong. There is no sporting goods tax that's part of the health care law. Pants on Fire!
• Another chain email about the health care law claimed that seniors would be denied cancer treatment. "At age 76 when you most need it, you are not eligible for cancer treatment" under Affordable Care Act. PolitiFact Oregon looked at the claim and found it was pure fabrication. Pants on Fire!
• In the debate over guns, a claim has been making the rounds in defense of the National Rifle Association. The National Rifle Association was "founded by religious leaders who wanted to protect freed slaves from the Ku Klux Klan," according to comments in the pro-NRA video from Harry Alford, president of the National Black Chamber of Commerce. But the NRA itself says the group was formed by Union Civil War veterans to improve soldiers' marksmanship. PolitiFact Wisconsin found no evidence that religious leaders founded the NRA to protect freed slaves from the KKK. Pants on Fire!
• Yet another chain email made the claim that Muslims are exempt from the health care law, and you can find the exemption on page 107, where you'll also find the word "dhimmitude." We looked on page 107 (plus all the other pages) and found no exception for Muslims, nor did we find the word "dhimmitude." Pants on Fire!