UPDATED: Jodie Laubenberg says Texas rape kit is like dilation and curettage procedure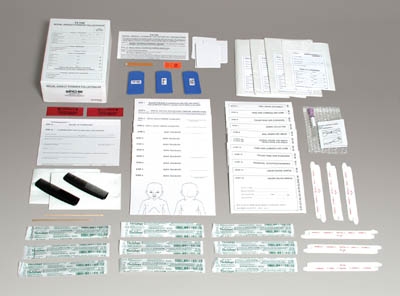 The lead House sponsor of legislation pitched by advocates as improving the safety of abortion clinics and restricting certain late-term abortions described kits used after sexual assaults as akin to a procedure that scrapes out tissue lining the uterus.

In floor debate that would extend hours past midnight June 23, 2013, Rep. Jodie Laubenberg, R-Parker, mentioned "rape kits" after Rep. Senfronia Thompson, D-Houston, presented an amendment to Senate Bill 5 to exempt victims of rape and incest from limits on abortions after the 20th week of pregnancy. A day later, the GOP-majority House advanced the measure to the Senate for possible action before a 30-day special session was to end June 25.

Laubenberg, responding to questions from Democratic Reps. Joseph Moody of El Paso and Dawnna Dukes of Austin, framed her refusal to accept Thompson's amendment by implying that rape kits used in hospitals can prevent unwanted pregnancy. Laubenberg said that currently, in "the emergency rooms they have what's called rape kits, that the woman can get cleaned out, basically like a D and C" -- dilation and curettage surgery, often performed after miscarriages.

We looked into whether the representative was correct that a rape kit is akin to dilation and curettage surgery, ultimately finding no common ground or any factual basis for this claim.

Dilation and curettage, according to a fact sheet on the website of the American College of Obstetricians and Gynecologists, is a surgical procedure that removes tissue from the lining of the uterus; it is often performed after a miscarriage. A woman's cervix is dilated, or widened, to permit the use of instruments such as a curette, a thin metal tool with a scoop or ring on one end that is used to scrape the interior of the uterus.
The doctors' group put us in touch with Dr. Bonnie Dattel, a professor of obstetrics and gynecology at Eastern Virginia Medical School, who said by phone that a D&C is sometimes performed after a miscarriage to remove material left from the pregnancy that could cause infection or excessive bleeding if left in place.
In contrast, a rape kit typically consists of tools, storage containers and paperwork related to collecting evidence in the first days after a possible sexual assault, according to Texas experts we reached and information posted online by the Rape, Abuse and Incest National Network, which calls itself the nation's largest anti-sexual violence organization.

The network says: "Following a sexual assault, the victim has the option to go to the hospital to have a forensic examination by a trained professional. During a forensic medical exam, a sexual assault evidence collection kit may or may not be used. The evidence kit affords the opportunity to collect any DNA that may have been left by the suspect."

The network's web page makes no mention of surgical procedures, instead saying a kit may contain instructions, bags and sheets for evidence collection, swabs, a comb, envelopes, blood collection devices and documentation forms.

An exam using the kit "will most likely begin with the examiner obtaining a complete and thorough medical history from the victim. The medical forensic exam also involves a head-to-toe physical examination, which includes the genital area," the network says. The exam may also involve the collection of blood, urine, hair and other body secretion samples; photo documentation; the collection of the victim's clothing, especially undergarments; and the collection of any possible physical evidence that may have transferred onto the victim from the rape scene, the network says.

"Once the examination is completed and all specimens are collected," the network says, "they are carefully packaged and stored to assure that they are not contaminated."

In interviews, representatives of the Texas Association Against Sexual Assault, which says it's committed to ending sexual violence in Texas, and the Collin County-based Turning Point Rape Crisis Center, which counsels rape survivors, elaborated on what a rape kit is and isn't.

TAASA spokesman Rick Gipprich said by telephone that certified sexual assault nurse examiners typically use the kits to gather information and collect relevant samples.

Sometimes a pregnancy test is administered, Gipprich said, but that is solely to see if a survivor might have been pregnant before the assault. Also, he said, the pregnancy test is not part of the kit. In addition, Gipprich said, a survivor may be offered high-dose antibiotics to ward off sexually transmitted diseases as well as a "morning after" pill to prevent impregnation, though such drugs and those offers are not part of the kit, he said.

Jennifer Spugnardi, director of the Turning Point center, said by telephone that a rape kit is "really papers and envelopes," reflecting the nurse examiner's responsibility to document an incident. Spugnardi said the kits are sometimes called "Sirchie kits," referring to a forensics supplies company that sells the kits. Online, we found a photo of a $15 Sirchie kit designed to meet criteria for a kit as spelled out in a publication from the Texas attorney general's office. Sirchie describes the kit as containing legal and medical forms, oral swabs and hair combs and containers to separately hold clothing or biological samples.

Like Gipprich, Spugnardi said any prescribed medicines are not part of a rape kit. She also pointed out that a kit can be used for a female or male victim. Regardless, she said, a kit is not equivalent to the D and C surgery or related to it.

Spugnardi called the legislator's statement "a very poor choice of words."

By email and telephone, we asked Laubenberg how she reached her conclusion. She didn't immediately respond. After this article posted, however, Laubenberg said by telephone that she knows a rape kit does not include the D and C procedure and that a kit does not cause abortions. In the floor debate, Laubenberg said, she also was trying to say that a rape survivor who goes to a hospital might be offered the morning-after pill to ward off pregnancy, though she said that she is aware that the pill is not part of a rape kit.

In the debate, Laubenberg said, her point may have been muddled. "You're trying to get your thoughts out as fast as you can," she said.
Our ruling

Laubenberg said a rape kit is equivalent to dilation and curettage surgery.

A rape kit consists of items a medical specialist employs to gather evidence related to a possible sexual assault. It is not the same as the D and C procedure, which removes the lining of the uterus.

We find this unsupported claim incorrect and ridiculous. Pants on Fire.
UPDATE, 10:20 a.m., June 25, 2013: After this article posted, we heard back from Laubenberg. We amended the story to include her comments about her statement. The Truth-O-Meter rating was not affected.