Did crime plummet after U.S. let guns into national parks?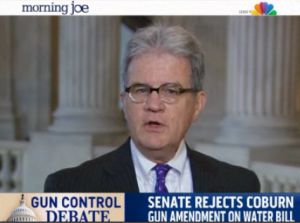 During an interview on the MSNBC show Morning Joe, Sen. Tom Coburn, R-Okla., argued for legislation he's proposing that would allow guns to be carried into lands controlled by the Army Corps of Engineers. A similar measure for national parks took effect in 2010.
"In 2010," Coburn said on Morning Joe, "everybody said you can't dare let guns go into the national parks, and of course the rapes, murders, robberies and assaults are down about 85 percent since we did that."
That's a pretty stunning drop. Is it accurate? In a word, no. We rated the statement False. Read our full report to see the numbers for yourself.