QAnon and Donald Trump rallies: What's that about?
By Miriam Valverde on Friday, August 3rd, 2018 at 4:08 p.m.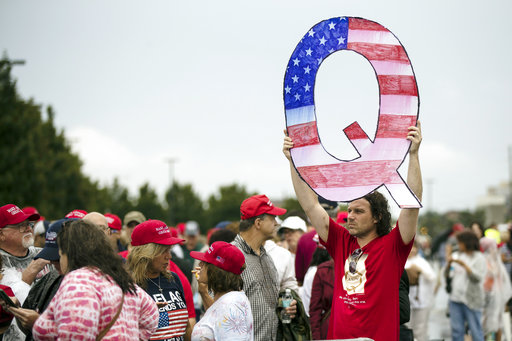 At President Donald Trump's recent Florida rally, "Q" stood out.
Among Trump supporters wearing signature red MAGA hats were others donning white t-shirts with a large printed "Q" and raising signs that said: "We are Q."
Who, or what, is Q?
It traces back to an anonymous online persona claiming to be a government insider on a mission to expose the "deep state" allegedly working against Trump.
Q's vague and cryptic "breadcrumbs" posted on fringe online forums have become fodder for a wide-ranging conspiracy theory embraced by Trump's supporters that casts him as victorious over evil forces.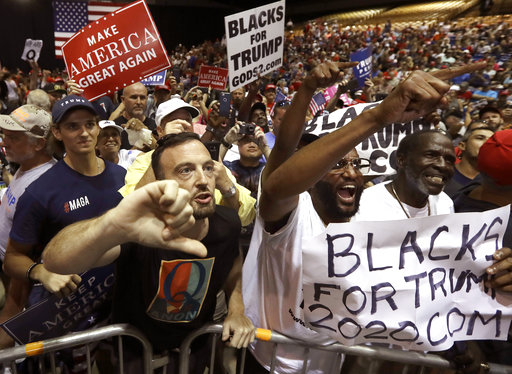 The term "QAnon" has been used in reference to Q and its followers and to describe the broad conspiracy theory and movement.
It's not entirely unusual for followers of conspiracy theories to attend Trump's rallies — Trump himself is known for promoting such theories. But it was jarring to see a physical representation at an event for a U.S. president.
Here's a closer look at the QAnon phenomenon making its way from online forums to Trump rallies.
Q's unclear message
Q's posts started last fall. The Q in its anonymous name is billed as a reference to a security clearance needed for high-level government information.
It's difficult to figure out Q's exact message, and varying plot lines exist. But the general idea is that presidents before Trump were conspiring with evil groups, including pedophile rings, and that the military convinced Trump to run for president in order to stop them, The Daily Beast reporter Will Sommer wrote in a July 6 article.
The belief is that the alleged perpetrators will end up in prison at the coming of "the storm." The "storm" latches on to comments Trump made to reporters in October during a photo opportunity with senior military officers: "You guys know what this represents? Maybe it's the calm before the storm."
The conspiracy theory is far-fetched and unproven. But the QAnon movement is compelling to some people because it's like a puzzle, said Kathryn Olmsted, a history professor at the University of California, Davis.
"The alleged leaker puts out clues for his followers to decode. And they work with one another to figure it out," she said. "That's very appealing."
In their view, Olmsted said, "there's a group of insiders who control the U.S. government, and brave citizens need to uncover the truth to stop them."
The nuggets of information Q leaves are abstract enough that they can't necessarily be disproven, said Mark Fenster, a law professor at the University of Florida.
He offered this example: When Trump at a July White House meeting was saying he had "full faith" in the U.S. intelligence agencies, the lights briefly went out in the room.
Fenster said some connected that to a "dark to light" QAnon clue. Q reportedly has used that phrase in several drops, including one that said: "Boom. Boom. Boom. Boom. A week to remember. Dark to light. Blackout necessary. Q."
As the lights went out and back on, Trump said: "Whoops, they just turned off the light. That must be the intelligence agencies." He called the incident "strange."
The QAnon conspiracy theory appeal
Usually, people who support the losing candidate in an election are more inclined to believe conspiracy theories, Olmsted said, but in this case it's the winning side that's embracing these theories.
QAnon "is hitting the nail in the head" for Trump supporters, said Joseph Uscinski, a political science associate professor at the University of Miami.
"Conspiracy theories are believed by people who are already predisposed," Uscinski said. "It matches their dispositions."
Actress Roseanne Barr and former baseball player Curt Schilling, both Trump supporters, seem to back the QAnon conspiracy, posting links about it on their social media pages.
Conspiracy theories aren't just limited to Trump's supporters, however. Everyone is susceptible.
Many people who oppose Trump are extremely interested on whether Putin has compromising material on Trump, said Fenster, the UF professor. In order to prove this, many spend a lot of time reading about Trump's former campaign chairman Paul Manafort believing there's a conspiracy afoot, he said.
"It's important to understand that people on the right and left have their own theories and when they believe (a conspiracy theory), they believe it because they think it's true," Uscinski said.
How conspiracy theories can encourage action
In the short term, conspiracy theories could prompt violent attacks against government officials or buildings, which is what happened in Oklahoma City in the 1990s, said Olmsted, the UC Davis professor. Because the latest theories are against the government, they make it hard for the government and democratic process to function.
In June, an armed man drove an armored vehicle to the Hoover Dam and blocked traffic. He had a sign that said "Release the OIG report." The Justice Department's Office of the Inspector General had already released a report related to the conduct of FBI officials during the investigation of Clinton's emails.
But followers of the QAnon conspiracy theory believed there was a second, more damning report that would expose the "deep state." Police arrested the man and no one was injured. The Las Vegas Review-Journal in July reported that the man faces terrorism charges and has written letters from jail to Trump and other elected officials. While his letters don't explain a motive, they include a signoff popular among QAnon followers, the newspaper reported.
Before QAnon, there was Pizzagate. The Pizzagate conspiracy theory spread online before Election Day after WikiLeaks released emails of John Podesta, Hillary Clinton's campaign manager. Online forum users noticed that Podesta corresponded with the owner of Comet Ping Pong pizzeria in Washington to discuss a potential Clinton fundraiser.
A fake theory emerged claiming that Podesta's repeated use of the word "pizza" in emails was actually a code word for pedophilia, and that the pizzeria was allegedly the base for secret rooms in which Clinton and her allies kidnapped and imprisoned children to be sexually abused, tortured or even sacrificed in the name of Satan. The theory alleged Democrats in both Clinton's campaign and the federal government colluded to hide the abuse.
In December 2016, a North Carolina man entered the pizzeria with an assault rifle to "self-investigate" the claims. Police said the man pointed his gun at a worker (who fled) and then started firing the rifle inside the restaurant. The suspect surrendered to police and there were no reported injuries.
In the long term, anti-government conspiracy theories threaten democracy.
"These theories could undermine faith in the electoral process," Olmsted said. "The losing side could refuse to concede."
Trump's own dance with conspiracy theories
While conspiracy theories have been around throughout American history, what's new now is that the president himself supports these theories, which elevates them in politics and pop culture.
"That's unprecedented," Olmsted said.
A conspiracy theory often repeated by Trump is that there's been widespread voter fraud in California and other places, which explains his loss in the popular vote to Clinton. (Pants on Fire)
The false claim that 3 million votes in the presidential election were cast by people in the country illegally was peddled by the conspiracy-minded website, Infowars, run by Alex Jones. Trump appeared on Jones's show in 2015 while campaigning for the presidency and toward the end of the interview, Trump said, "Your reputation is amazing."
"Alex Jones used to be on the paranoid margins; now he claims that he inspires the president of the United States," Olmsted said. "Trump is giving credibility to fringe figures and theories."
Some of Trump's conspiracies pre-date his presidency.
— Trump for years promoted a debunked theory that President Barack Obama was born in Kenya and thus ineligible to be president. After falsely claiming Clinton and her 2008 campaign started the birther controversy, Trump said, "I finished it. I finished it. You know what I mean. President Barack Obama was born in the United States. Period." (Full Flop)
— He said that in the Philippines more than a century ago, Gen. John Pershing "took 50 bullets, and he dipped them in pigs' blood," and shot 49 Muslim rebels. "The 50th person, he said, 'You go back to your people, and you tell them what happened.' And for 25 years, there wasn't a problem." (Pants on Fire)
— He said Sen. Ted Cruz's father "was with Lee Harvey Oswald" before the assassination of President John F. Kennedy. (Pants on Fire)
— He said, "I watched in Jersey City, N.J., where thousands and thousands of people were cheering" as the World Trade Center collapsed. (Pants on Fire)
After the Tampa rally, White House reporters asked press secretary Sarah Sanders whether Trump "encouraged the support of people who showed up last night in these QAnon and Blacks for Trump fringe groups."
"The president condemns and denounces any group that would incite violence against another individual, and certainly doesn't support groups that would promote that type of behavior," Sanders said at the Aug. 1 briefing.