Michele Bachmann says "PolitiFact came out and said that everything I said was true" in last debate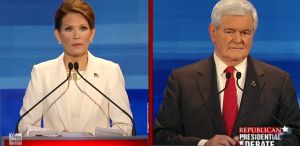 During the Dec. 15, 2011, Republican presidential debate in Sioux City, Iowa, Rep. Michele Bachmann made a claim that jolted us out of our seats.
"After the debates that we had last week, PolitiFact came out and said that everything that I said was true," she said.
It came during an exchange between Bachmann, a Minnesota Republican, and former House Speaker Newt Gingrich. Bachmann was attacking Gingrich's work after he left Congress. He has said he was a paid consultant, but critics such as Bachmann contend he was really a lobbyist.
Gingrich defended his work on behalf of the government-sponsored mortgage-bundling giant Freddie Mac, arguing that government does not necessarily taint whatever enterprise it touches.
He added, "I did no lobbying of any kind for any organization. That was a key part of every agreement we had."
Challenged by moderator Chris Wallace for hard evidence, Bachmann said that "we know that (Gingrich) cashed paychecks from Freddie Mac. That's the best evidence that you can have. Over $1.6 million. … The speaker had his hand out and he was taking $1.6 million to influence senior Republicans to keep the scam going in Washington, D.C. That's absolutely wrong. We can't have as our nominee for the Republican party someone who continues to stand for Freddie Mac and Fannie Mae. They need to be shut down, not built up."
Gingrich responded, "Well, the easiest answer is, that's just not true. What she just said is factually not true. I never lobbied under any circumstance. I never went in and suggested in any way that we do this. In fact, I tried to help defeat the housing act when the Democrats were in charge of the House. And if you go back and talk to former Congressman Rick Lazio, he'll tell you, when we were passing housing reform while I was speaker, I never at any time tried to slow down the reform effort. In fact, I helped him pass the reform bill. And I think some of those people ought to have facts before they make wild allegations."
At that point, Bachmann jumped back in. "Well, after the debates that we had last week, PolitiFact came out and said that everything that I said was true. And the evidence is that Speaker Gingrich took $1.6 million. You don't need to be within the technical definition of being a lobbyist to still be influence-peddling with senior Republicans in Washington, D.C., to get them to do your bidding."
Wait... what? We said that "everything" Bachmann had said was true?
Actually, that's not what we said.
At the Dec. 10 debate she was referring to, PolitiFact checked two claims from Bachmann and rated them Mostly True and Pants on Fire.
The fact-check she may have been referencing was, "In 1993, Newt Gingrich 'first advocated for the individual mandate in health care. And as recently as May of this year, he was still advocating' for it." We rated that one a Mostly True.
But we also rated her claim that Mitt Romney, as governor of Massachusetts, "put into place socialized medicine." We found that was ridiculously false and rated it Pants on Fire.
Her comment about our ratings was also a bit of a non-sequitur. Neither of the two items we checked addressed the subject at hand -- Gingrich's work for Freddie Mac, what he thinks of Freddie Mac today, or whether Gingrich was ever a lobbyist.
Maybe Bachmann was simply trying to burnish her image as a truth teller. However, using PolitiFact to back up that assertion is a bit unusual. Her PolitiFact report card shows 59 percent of her statements rated have earned either a False or Pants on Fire. She has earned five Trues, three Mostly Trues, six Half Trues, seven Mostly Falses, 19 Falses and 11 Pants on Fires.
Our ruling
During the Sioux City debate, Bachmann said that "after the debate that we had last week, PolitiFact came out and said that everything I said was true." That's simply not the case. We rated two statements by Bachmann from that debate and ruled one of them Mostly True and the other one Pants on Fire. So for claiming she had a perfect record, she earns another Pants on Fire.