Ad says stimulus tax credits funded traffic lights in China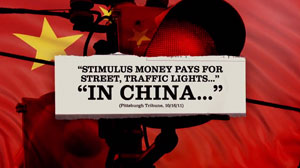 Is our stimulus money paying for traffic lights on Chinese streets?

A TV ad running in eight states blames President Barack Obama for sending stimulus money overseas while Americans are out of work.

"Tell President Obama, American tax dollars should help American taxpayers," the narrator says. Instead, $2.3 billion in tax credits funded jobs in Mexico, Finland and China, the ad claims.

Americans for Prosperity, a group dedicated to "educating citizens about economic policy" that works closely with tea party activists and has been funded by the conservative Koch family, released the ad April 26, 2012.

Here's the string of claims, starting with an image of the president signing a bill:

Washington promised to create American jobs. We passed their stimulus. But that's not what happened. Fact: Billions of taxpayer dollars spent on green energy went to jobs in foreign countries. The Obama administration admitted the truth, that $2.3 billion of tax credits went overseas, while millions of Americans can't find a job. $1.2 billion to a solar company that's building a plant in Mexico. Half a billion to an electric car company that created hundreds of jobs in Finland. And tens of millions of dollars to build traffic lights in China.
We've rated two claims from the ad, about stimulus tax credits supposedly funding a plant in Mexico (Pants on Fire) and paying for jobs in Finland (False). In this fact-check, we're examining if those tax credits included "tens of millions of dollars to build traffic lights in China."

(We've also checked many other exaggerations about the stimulus.)

The ad said its source for the China claim was a Pittsburgh Tribune-Review article, "Stimulus money pays for street, traffic lights made largely overseas."

Traffic lights in China
As the ad's narrator talks about China, the words, "Stimulus money pays for street, traffic lights …" "in China …" appear on the screen, over an image of a traffic light that's slowly layered with the deep red and yellow of the Chinese flag.

The ad was clearly suggesting U.S.-funded lights on Chinese streets. It wasn't until we pulled up the Tribune-Review article we realized the ad's claim could be heard another way.

Oh! Lights built in China, for American streets.

But even that clarification didn't get us to the complete story.

The Tribune-Review article, by Lou Kilzer, a reporter who has won Pulitzer prizes for investigative reporting and public service, digs into grant money — not tax credits, as the ad claimed — awarded under the American Recovery and Reinvestment Act of 2009. It says that tens of millions of stimulus dollars went to replace streetlights and traffic lights across the country with energy-efficient versions — "made mostly in Asia."

The reason? Certain components of those energy-efficient street and traffic lights, such as light-emitting diodes or LEDs, weren't available in large enough quantities from U.S. manufacturers back in 2010, so the Energy Department issued a waiver to the Recovery Act's "Buy America" provision for those parts.

The department found such components were manufactured "almost exclusively in China and Mexico."

That was February 2010. The Energy Department withdrew its waiver eight months later after at least one manufacturer of LED lights moved some work from Mexico back to the United States. Suddenly, enough parts would be available to satisfy stimulus grant recipients. They're now once again subject to "Buy America" provisions.

But, back to those eight months — could tens of millions of dollars have gone toward building street lights in China?

That's not clear. But it's also not proven by the Tribune-Review story, which talks not just about China, but also about Taiwan, Japan and South Korea. (We suspect the admakers chose China to make it sound more outrageous.)

Meanwhile, the companies building the streetlights told the Tribune-Review that "their products would be better labeled 'assembled in America' than 'made in America.'"

One example: Leotek Electronics USA, based in California. It's a subsidiary of Taiwanese companies, Kilzer reported. Leotek bought some of its LEDs from Philips Lumileds, an American subsidiary of a Dutch company. More than half of Philips' manufacturing production capacity is based in China. Note the complex path to a finished streetlight, as described by Kilzer:

• Philips produced the first component, semiconductor wafers, at its San Jose, Calif., plant.
• It shipped the wafers to Singapore, where they were cut into chips and sent to Malaysia.
• Malaysian workers molded them into LED modules.
• Some of those LED packages went to Leotek in Taiwan to be put on circuit boards.
• Boards and streetlight housings got shipped to Leotek's plant in Milpitas, Calif., where workers combined them with 'U.S.- and non-U.S.-made components' for assembly.

Kilzer said Leotek won more than a dozen stimulus street and traffic projects.

We found one such project, for the City of Palo Alto, which paid $355,281 from a stimulus grant to Leotek for LED streetlight fixtures. About 60 percent of its total grant of nearly $640,000 went toward fixtures, including others from GE Lighting and Genlyte Thomas Group. But more than 40 percent was spent on software and consulting services and installation.

So, did some stimulus money end up spent on parts made in China? Yes, according to Kilzer's reporting and a now-withdrawn Energy Department waiver indicating the parts were available there when they weren't widely manufactured in the United States.

Did it add up to tens of millions of dollars? Kilzer's piece talks about that amount of money being spent "to replace streetlights and traffic lights nationwide," and says the new, efficient lights would be made "mostly in Asia" — not just China.

It's not clear whether Kilzer's number also includes installation, consulting services and other non-fixture expenses — the kind of stuff that consumed 40 percent of Palo Alto's grant. (We asked him, but didn't hear back.) It is clear that the "tens of millions" reflects spending for American-assembled lights that included varying amounts of foreign-made components. But it's an exaggeration to say they were built in China.

None of this evidence supports the strong suggestion in the ad that Americans paid for streetlights on roads in China, or even that they paid to build streetlights in China. Instead, for less than a year, stimulus funds could be used to buy products that used components produced in other countries, including China.

Our ruling

We watched this ad and imagined Chinese street corners with shiny new American-funded traffic lights.

The reality is nearly the opposite: American cities, counties and states bought and installed new energy-efficient street and traffic lights with stimulus grants. Many of those lights contained foreign components, including some from China, but it's simply not clear how much stimulus money went toward those parts during the eight months it was allowed.

The ad's claim has a tiny sliver of truth, but it pairs words and images to create an altogether different impression. We'll have to put the brakes on this traffic light claim, and rate it Mostly False.