Graham: U.S. intelligence leaders predicting ISIS attack in America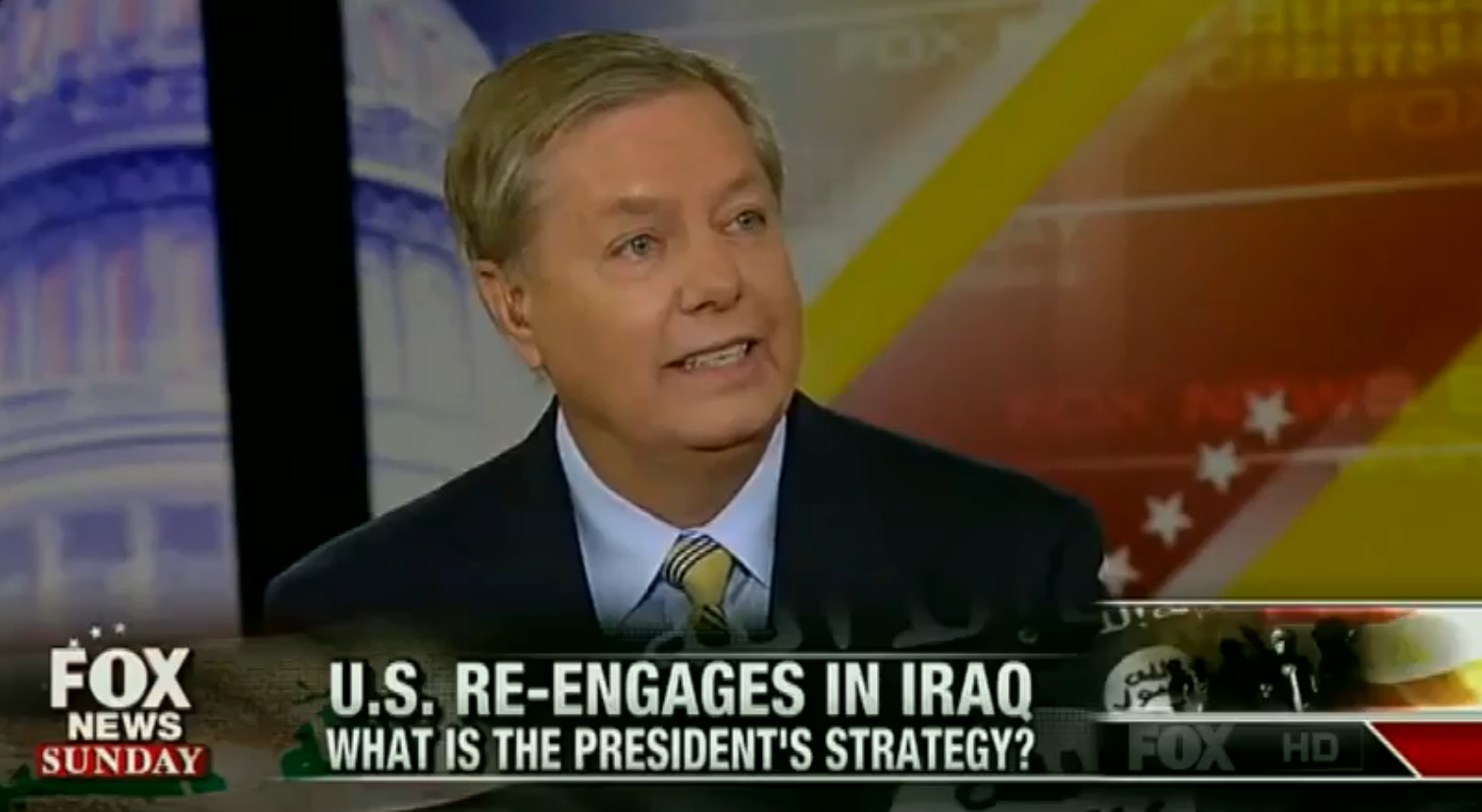 President Barack Obama's decision to launch limited, open-ended air strikes against Islamic militant positions in Iraq has drawn criticism that the situation demands a more muscular military response.
Republican Sen. Lindsey Graham, R-S.C., a member of the Armed Services Committee, described the Islamic State in Iraq and Syria, or ISIS, the force that has quickly occupied a large section of Iraq, as "an existential threat" to the United States.
"Do you really want to let America be attacked?" Graham asked on Fox News Sunday. "What is going on in Washington when the FBI director, when the head of national intelligence, the CIA, the Homeland Security secretary, tells every member of Congress, including the president, we're about to be attacked in a serious way because (of) the threat emanating from Syria and Iraq?
"If he does not go on the offensive against ISIS, ISIL, whatever you want to call these guys, they are coming here. This is not just about Baghdad. This is not just about Syria. It is about our homeland," Graham said.
In this fact-check, we examine whether each of those high ranking officials have said "we're about to be attacked in a serious way because (of) the threat emanating from Syria and Iraq."
Graham's office sent us several quotations from three of the officials the senator listed.
FBI director James Comey
On Jan. 9, 2014, FBI Director James Comey said: "My concern is that people can go to Syria, develop new relationships, learn new techniques and become far more dangerous, and then flow back."
This quotation appears in an ABC News report. We found three news reports of Comey answering journalists' questions about the threat posed by Americans who joined the fight against Syria's Bashar al-Assad and have returned to the United States. The New York Times reported on the high priority the FBI has put on tracking people returning from Syria.
"It's something we are intensely focused on," Comey said.
In an article later in January, the Los Angeles Times repeated that Comey said the FBI was putting a "tremendous amount of time and effort into identifying those who go to Syria." The article summarized Comey's assessment this way: "The threat 'keeps me up at night.' He (Comey) sees the region as a 'launching ground' for potential Sept. 11-style mass-casualty attacks in this country."
These stories emerged almost exactly at the time that ISIS began its assault in Iraq and had yet to show how effective it could be. Comey saw a threat from returning combatants, but a larger-scale attack was more a future risk than an immediate danger.
Homeland Security Secretary Jeh Johnson
Graham's office pointed to comments from Homeland Security Secretary Jeh Johnson from Feb. 7, 2014.
"We are very focused on foreign fighters heading to Syria," Johnson said. "Based on our work and the work of our international partners, we know individuals from the U.S., Canada and Europe are traveling to Syria to fight in the conflict. At the same time, extremists are actively trying to recruit Westerners, indoctrinate them, and see them return to their home countries with an extremist mission. … Syria has become a matter of homeland security."
Johnson made these comments during a speech at the Woodrow Wilson Center in Washington. Johnson spoke of the evolving terrorist threat and, like Comey, specifically mentioned the citizens who come back from fighting in Syria.
But Johnson went further and talked about the people who "self-radicalize" and never train with foreign fighters.
"In many respects, this is the terrorist threat to the homeland, illustrated last year by the Boston Marathon bombing, that I worry about the most," Johnson said. "It may be the hardest to detect; involves independent actors living within our midst, with easy access to things that, in the wrong hands, become tools of mass violence."
Johnson was describing less an imminent threat from ISIS and more a chronic risk posed by radical Islam.
Director of National Intelligence James Clapper
Graham's office pointed to comments from James Clapper, the director of national intelligence, on Jan. 29, 2104.
He spoke of "the sectarian war in Syria, its attraction as a growing center of radical extremism and the potential threat this poses to the homeland."
On Feb. 11, 2014, Clapper talked about forces in Syria: "The three most effective are the Al-Nusrah Front, Aura al Sham and the Islamic State of Iraq and the Levant, or ISIL, as it's known, whose numbers total more than 20,000. Complicating this further are the 7,500-plus foreign fighters from some 50 countries who have gravitated to Syria. Among them are a small group of AfPak (Afghanistan-Pakistan) al-Qaida veterans who have aspirations for external attack in Europe, if not the homeland itself."
The first quote comes from a Senate Intelligence Committee hearing where Clapper, like Comey and Johnson, was talking mainly about the conflict in Syria serving as a breeding ground for trained militants, some of whom might return to the United States.
Clapper said, "We should be very concerned about this."
In February, Clapper and CIA Director John Brennan testified before the House Select Intelligence Committee. Clapper, as the quotation from Graham's office said, talked about Syria as a magnet for radical fighters. Clapper did not necessarily tie ISIS to attacks on America itself, but for a subgroup of al-Qaida veterans, he spoke of their "aspirations" to launch an operation "in Europe, if not the homeland itself."
When Brennan was asked whether training camps in the region presented a real threat to America, he said they did. When asked if groups like ISIS might need to "prove themselves" with an operation outside of Syria, Brennan said, "It's a near-term concern, as well as a long-term concern."
Michael O'Hanlon, a foreign policy analyst at the Brookings Institution, an academic center in Washington, said Graham has a point that ISIS should be taken seriously, but O'Hanlon offers a caveat.
"The ISIS threat is very grave, but attacks are not — and in fact, virtually never are — inevitable," O'Hanlon said. "We have a host of defense mechanisms and shouldn't be fatalistic about protecting ourselves."
Our ruling
Graham said that four top administration officials have said "we're about to be attacked in a serious way because (of) the threat emanating from Syria and Iraq." Graham's office sent quotations from three of the four. While each of them voiced strong concern about attacks on American soil, the role of ISIS was more indirect and less immediate than Graham would have us believe.
The government officials spoke of the conflict in Syria as a training ground. Johnson, the Homeland Security director, also cast the Syrian civil war as a cause that could inspire "lone wolf" terrorists in the mode of the Boston Marathon bombers.
The government officials talked about the "aspirations" of some al-Qaida veterans and the steps they were taking to track the people who posed the greatest risk. They spoke of taking the threat seriously, but their words fell well short of Grahams' phrase that,"we're about to be attacked in a serious way."
We rate the claim Half True.