Bush says law requires religious screening of refugees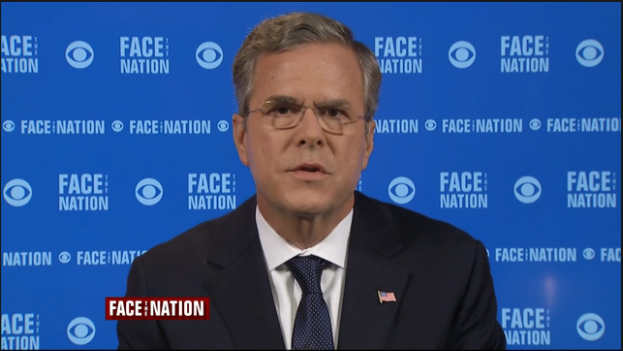 The probability that terrorists would try to take advantage of the refugee wave landing in Europe has led many Republicans and some Democrats to call for tighter policies here at home.
Republican candidate Jeb Bush has rejected one of the more hard-line proposals that would ban all Syrian Muslim refugees from entering the United States. But Bush has said that America ought to give priority to Christians fleeing the ravages of religious militants under the command of the Islamic State.
Asked on CBS News' Face the Nation if a Christian preference wouldn't play into the ISIL narrative that their war was a struggle between Islam and Christianity, Bush said this wouldn't represent any real change.
"It is already in the law that there is a requirement to screen for religion," Bush said Nov. 29, 2015. "This is the practice of our country. There was a bipartisan bill that of course didn't pass in Congress this year to provide preference for Christians who are being slaughtered in the Middle East, persecuted based on their faith. Religious minorities, I think, should have some preference."
We decided to look at whether American officials are legally bound to ask refugees about their religion.
The short answer is, it depends.
If a refugee says he or she fears religious persecution, then their religion absorbs a lot of time in the interview process. But if their fear stems from their political views, then there is no obligation to ask about their religion.
Still, experts said it is standard practice to ask refugees about their religion, even if they are not specifically escaping religious persecution.
The Bush press office pointed us to an opinion piece in the National Review that paraphrased the relevant part of the Immigration and Nationality Act (section 101(a)(42)) this way: "An alien applying for admission must establish that … religion [among other things] … was or will be at least one central reason for persecuting the applicant."
The full list of possible grounds for persecution includes "race, religion, nationality, membership in a particular social group, or political opinion."
A State Department spokesperson told PolitiFact that there is no legal requirement for refugees to indicate a religious preference. But if they make religion the basis of their claim, then many questions about their religious background follow.
In some particular cases, the State Department designates certain groups as ones of "special humanitarian concern" and in the past, religion has helped define such groups. Examples include Soviet Jews and Iranian religious minorities.
For those special groups, religion is an essential aspect of the person's background, said Mark Hetfield, president of HIAS, a refugee assistance group that began over a century ago to help Jews fleeing Eastern Europe. (HIAS today works with people of any faith from around the world and has worked with both the UN and the State Department to help refugees.)
"But this is not due to a legal requirement," he said. "This is to see if they fit in the parameters of the program."
A standard practice
Most refugees begin their formal path to resettlement with an interview conducted by staff of the United Nations High Commission on Refugees. If a person is headed toward the United States, their next stop is a Resettlement Support Center overseen by the U.S. State Department.
According to the department's press office, the resettlement centers routinely ask about religion. Hetfield affirmed that.
"There is a data field for religion which is always filled in," he said. "If it is not directly relevant to the claim, U.S Citizenship and Immigration (staff) won't ask about it, but it will be in the applicant's file."
We reached Bill Frelick, director of the refugee rights program at Human Rights Watch, when he was in Bulgaria interviewing Syrian, Iraqi and Afghan asylum seekers. Frelick said religious affiliation is a typical but optional question for refugees.
The practitioners we reached found Bush's emphasis on the legal dimension of asking about religion problematic. To them, simply asking is not screening. It provides information that might ease a refugee's transition to life in America and finding a place of worship. Screening in the sense of vetting takes place only when the refugee says he or she fears religious persecution.
Refugees are tracked based on the countries they have fled, not their religion, so we don't know the fraction of refugees claiming religious persecution. Anecdotally, religion plays a role in many refugee applications in the Middle East, whether the person is Sunni or Shia Muslim, Christian, Jewish, Baha'i, or some other faith.
Our ruling
Bush said that there is a legal requirement to screen for religion.
U.S. immigration law does state that American officials must dig into a person's religion if their refugee status is based on a fear of religious persecution. However, there is no formal requirement if the person bases the claim on other grounds. In practice, questions about religion are common even if they are not required.
His statement is accurate but needs clarification. We rate it Mostly True.