Sanfelippo says bill puts Milwaukee County Board spending in line with other major counties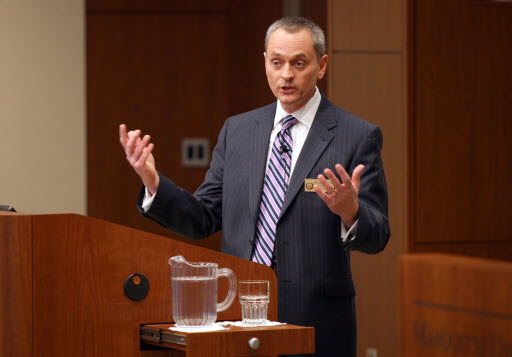 The former member of the Milwaukee County Board pushing state legislation to force his ex-colleagues into part-time status frequently compares the board's $6.5 million budget -- unfavorably -- to those in four other Wisconsin counties.
"You may hear supervisors tell you they need all that money because Milwaukee County is a special case as the largest county in the state," said state Rep. Joe Sanfelippo (R-West Allis) when he appeared April 10, 2013 before an Assembly committee. "Size alone ought not be the sole factor justifying the expense of a government unit."
Sanfelippo laid out his math:
"Consider, for example, that while the county board in Milwaukee has 38 staff members and spends $6.5 million annually on itself to serve 947,000 residents, county boards in Dane, Waukesha, Racine and Kenosha counties operate with just 10 total staff members and spend a combined $2.8 million on themselves."
His final pitch: "To most reasonable observers, there is something amiss that demands repair. (The state bill) ends the board's uninhibited spending by capping their budget and bringing it in line with other county boards around the state."
The budget numbers on those four counties are easy to find, but we have not seen an analysis of his claim that the bill would bring Milwaukee County "in line with other county boards around the state."
With the issue headed for a vote in May, this is a good time to check this.
The claim we are looking at is about more than the numbers. It asserts the county is currently out of line and the bill would change that.
When asked for backup, Sanfelippo said he was measuring the current per-capita spending of the Milwaukee board against that of boards in the next two most-populous counties (Dane and Waukesha) and two relatively urban counties nearby (Racine and Kenosha).
We ran those numbers and found Milwaukee County's board has more than double the per-capita price tag of Waukesha, more than triple that of Dane and Racine and more than four times that of Kenosha. The state bill would reduce Milwaukee County's board budget by about 67 percent, putting its per-capita price tag between Waukesha and the other three counties cited by Sanfelippo.
So Sanfelippo's sample of four yields numbers that support his claim -- at least as far as they go.
But his claim focused on counties "around the state." He used population as his standard, so what about other large counties?
Brown, Outagamie and Winnebago Counties all have higher populations than Kenosha, the smallest on Sanfelippo's list. If the bill became law, Outagamie's per-capita board spending would be about 50 percent higher than Milwaukee County's, we found. Brown and Winnebago would be very near Milwaukee County's number.
Washington County -- 10th-largest behind neighboring Milwaukee -- would be about 20 percent higher than Milwaukee, as would Marathon County. Rock County, by contrast, would still be spending at less than half Milwaukee County's number per capita.
It's worth noting, too, that Waukesha County from Sanfelippo's list would be spending about 30 percent more per capita than Milwaukee County on its county board.
The bottom line
By 2016, when all of the budget limits would finally kick in, Milwaukee County would fall roughly in the middle, and almost exactly at the average of the next 10 highest counties.
In fact, Milwaukee County's per-capita figure would almost exactly equal the average of the next 10 counties by population. That's if spending holds steady in those counties until 2016.
By a different measure -- County Board spending as a share of total county spending -- the story is a bit different.
Milwaukee County is the highest by that measure compared to the next 10 most-populous counties, but Waukesha County is a very close second. Under the bill, Milwaukee County would fall near the bottom of the pack compared to the 10 next-populous counties.
That's "in line" and then some.
All these comparisons are rough, in part because we don't know what the comparison counties will be spending on their boards come 2016.
Even Sanfelippo concedes that finding an appropriate comparison to Milwaukee County is very difficult.
And we heard another concern from Craig S. Maher, a former University of Wisconsin-Oshkosh professor who served on a panel studying Milwaukee County finances. Maher told us that while Milwaukee County's board spending was higher, the differences among counties are "on the margins."
Some numbers back that up.
For example, Milwaukee County's current board expenditures represent only about 0.49 percent of the county's total spending. In Waukesha County -- which is untouched by the state bill -- the figure is very close to that, 0.43, as we noted above. Other big counties range from 0.1 to 0.31.
"This isn't a fiscal debate," Maher said. "It's a power debate."
Maher, now at Northern Illinois University, was referring to the bill's underlying goal of restoring or increasing the power of the county executive at the expense of the county board in Milwaukee County.
Our rating
Sanfelippo said his bill checks the spending habits of the Milwaukee County Board of Supervisors by "bringing it in line with other county boards around the state."
Milwaukee County's board spending is significantly higher than most other large counties now, and it would fall to middle of the pack or lower under the bill depending on the measure.
His comparison ultimately may shed limited light, but Sanfelippo's claim is on target, with the cautions we noted.
We rate it Mostly True.