Bernie Sanders, in Madison, claims top 0.1% of Americans have almost as much wealth as bottom 90%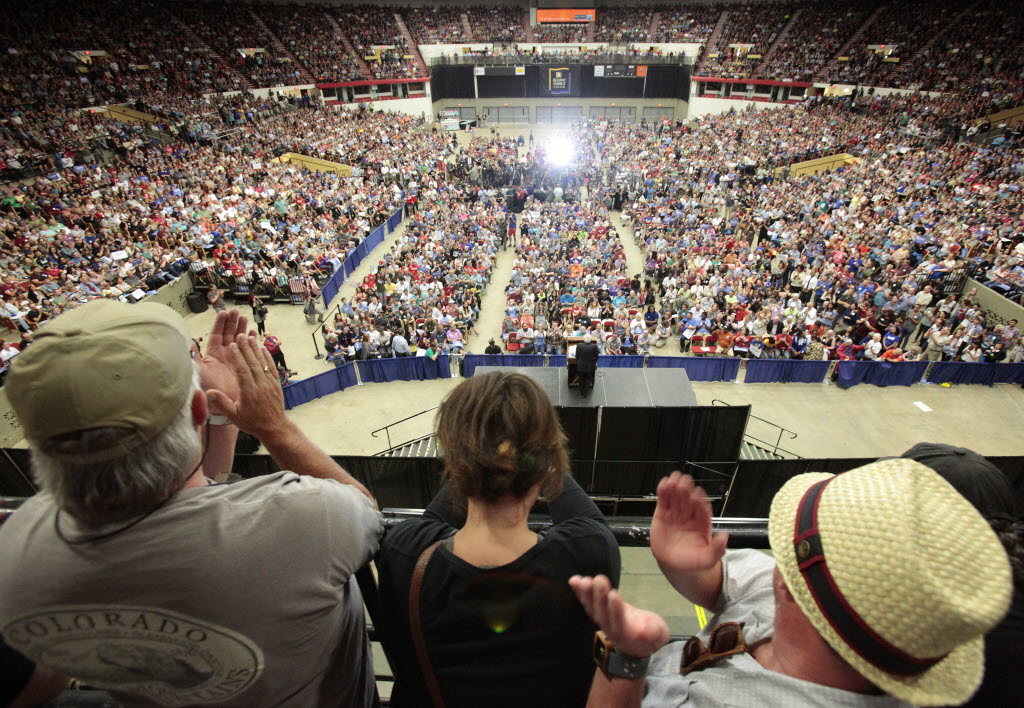 A month after launching his long-shot bid for the White House, a 73-year-old senator from Vermont appeared in Madison before perhaps the largest gathering for any candidate to that point in the 2016 campaign.
Bernie Sanders called for a political revolution against greed and took jabs at Wisconsin Gov. Scott Walker, a contender on the GOP side of the field. Cheering him on was an Alliant Energy Center crowd that his aides estimated at nearly 10,000 people.
At one point during his hourlong speech on July 1, 2015, Sanders said:
"The issue of wealth and income inequality, to my mind, is the great moral issue of our time. It is the great economic issue of our time and it is the great political issue of our time.
"Let me be as clear as I can be: There is something profoundly wrong when today, the top one-tenth of 1 percent own almost as much wealth as the bottom 90 percent."
Wealth inequality is sure to be an issue Sanders emphasizes as he challenges Hillary Clinton for the Democratic nomination.
So, does the top one-tenth of 1 percent of Americans own almost as much wealth as the bottom 90 percent?
Previous claims
Two of our most-clicked fact checks have found significant gaps in wealth in the United States.
Filmmaker Michael Moore -- also speaking in Madison, during the height of protests against Walker over his collective bargaining reforms in 2011 -- said 400 Americans have more wealth than half of all Americans combined. Our rating was True. As of 2010, the net worth of the Forbes 400 -- $1.37 trillion -- exceeded that of the poorest 60 percent of U.S. households.
We also rated True a 2013 statement by the liberal One Wisconsin Now advocacy group, which said the wealth of the Wal-Mart Walton family equalled the wealth of the bottom 42 percent of Americans combined. The wealth of Sam Walton's heirs, we found, was $89.5 billion -- equal to the bottom 42 percent of American families.
A note about those fact checks, in terms of helping explain the wealth gap: Many Americans make a good income, have some savings and investments, and own a nice home; they also have debt, for a mortgage, credit cards and other bills. Some people would still have a pretty healthy bottom line, but still have a negative net worth.
Meanwhile, so far in 2015, PolitiFact National has given Sanders a Mostly True for saying income equality in the U.S. is the widest since the 1920s; and a Mostly True for saying 99 percent of all new income is "going to the top 1 percent."
Now to his new claim, which is about wealth, rather than income.
Sanders' evidence
To back Sanders' statement, his Senate office cited a news article from The Guardian newspaper. The headline on the article, which reported on a wealth inequality study released in October 2014, matched Sanders' claim nearly word for word.
The study was done for the National Bureau of Economic Research, a nonpartisan organization in Cambridge, Mass. It is perhaps best known as the arbiter for determining whether the U.S. economy is in recession.
The authors of the study were economists Emmanuel Saez of the University of California, Berkeley, and Gabriel Zucman of the London School of Economics. Using tax records, they made estimates for 2012 on wealth -- that is, the value of all assets, such as a home, and savings and retirement accounts, minus all debts, such as mortgages and credit card balances.
The major finding, in terms of Sanders' claim:
The top 0.1 percent was composed of 160,000 families with average wealth of $72.8 million. All told, they owned 22 percent of the nation's wealth.
Meanwhile, the bottom 90 percent -- 144 million families with average wealth of $84,000 -- owned only 22.8 percent of the wealth.
In other words, the top 0.1 percent and the bottom 90 percent of U.S. households own virtually the same share of all the nation's wealth.
"Wealth is getting more concentrated in the United States," the researchers observed, "but this phenomenon largely owes to the spectacular dynamics of fortunes of dozens and hundreds of million dollars, and much less to the growth in fortunes of a few million dollars. Inequality within rich families is increasing."
Two other prominent economists -- Thomas Piketty of the Paris School of Economics and Edward Wolff of New York University -- told us that the study makes solid estimates about wealth inequality. Wolff said he was not aware of another study that examined the wealth of the top 0.1 percent.
But some fault the findings to some degree.
Another view
Richard Burkhauser, a professor of policy analysis at Cornell University, told us that Saez and Zucman are "very well respected economists," but that he has a major complaint about their study: it excludes Social Security. "To ignore it as they do grossly understates the wealth held by Americans in the bottom 99 percent of the population," Burkhauser said.
Another criticism is the study that it doesn't take into account changes in tax laws.
Daniel Mitchell, a senior fellow at the libertarian Cato Institute, pointed us to an article one of his colleagues wrote in the Wall Street Journal. It said, for example, that changes in tax laws in the 1980s and '90s skew any increase in wealth inequality by requiring more capital income of high-income taxpayers be reported on individual returns, while excluding most capital income of middle-income savers and homeowners.
Mitchell told us:
"Even if one makes the heroic assumption that the data is completely accurate, our friends on the left take these numbers and want people to believe that the wealth of the top 1 percent (or top 10 percent, or top .01 percent, etc) comes at the expense of the rest of us. This is generally nonsense. People such as Bill Gates become rich because they generate real value for others. There is no fixed pie."
Our rating
Sanders said "the top one-tenth of 1 percent" of Americans "own almost as much wealth as the bottom 90 percent."
His claim repeats a finding from a study by two internationally known economists that were supported by two other major economists we contacted. But the study has been criticized, for example, for not including Social Security in the wealth calculations.
For a claim that is accurate but needs additional information, a rating is Mostly True.