How Scott Walker's rejection of Medicaid expansion under Obamacare cost Wisconsin $1 billion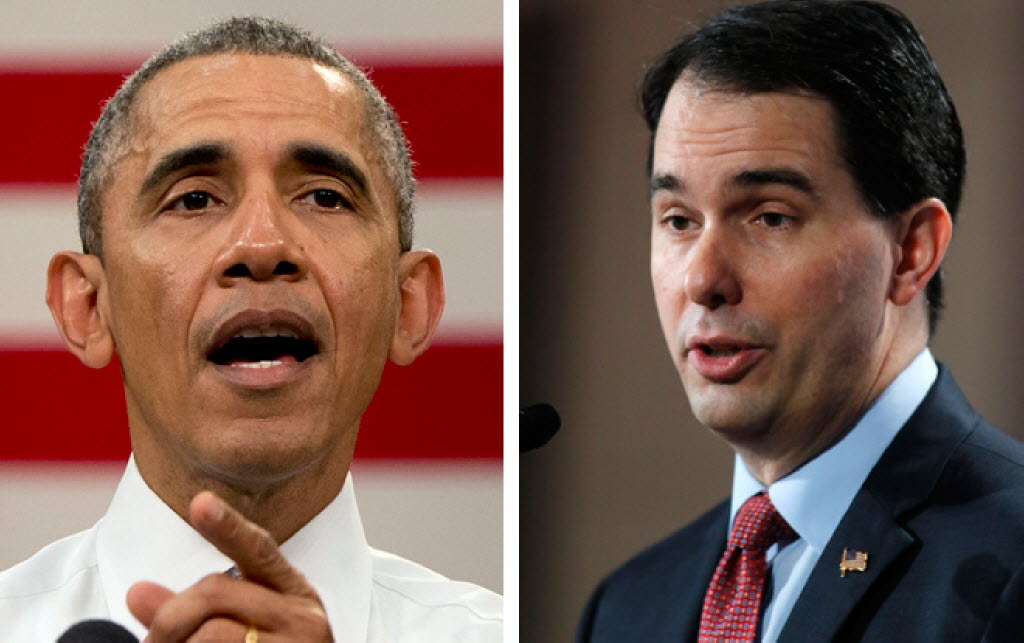 Health care is the most important thing the state does, Eau Claire state Rep. Dana Wachs declared, before launching into an attack on Gov. Scott Walker.
"Governor Walker has turned down a billion dollars in Medicaid money over the course of his tenure," Wachs claimed in a WisconsinEye TV interview on April 11, 2018.
That's a reference to additional federal money made available to do a "full expansion" of Medicaid under Obamacare, a law frequently attacked by the Republican governor, who is running for a third term in 2018.
Wachs has previously made the $1 billion claim. And it's likely he or one of the nine other Democrats running for governor will make it again.
So, let's check it.
Nonpartisan scorekeeper
To back Wachs' claim, his campaign cited an April 2017 memo from the Wisconsin Legislative Fiscal Bureau. We confirmed that the memo contains the nonpartisan state agency's most recent estimates on expanding Medicaid, the state-federal health insurance program for the poor.
According to the memo:
Had Wisconsin done the full expansion of Medicaid, people earning an income up to 133 percent of the federal poverty level would have been eligible for Medicaid. (In 2018, the poverty level is $12,140 for individuals and $25,100 for a family of four.)
With that full expansion, Wisconsin would have gained enough additional federal funding that it would be spending an estimated $1.07 billion less in state money on Medicaid, over roughly a five-year period.
The estimate is through the current, 2017-'19 state budget cycle, and assumes the state had done the full expansion when it could have in April 2014.
In responding to Wachs' claim, Walker's campaign did not challenge the $1 billion figure, but offered a statement that said in part:
Taking the Medicaid funding under Obamacare would require the state to expand eligibility for Medicaid beyond those living in poverty. The people pushing for Wisconsin to take the Medicaid expansion are really advocating for putting more able-bodied, working-age adults onto a new form of welfare.
Walker has also argued in rejecting the full expansion that because of persistent U.S. budget deficits, the federal government eventually would reduce the money available for the expansion, putting a financial burden on states.
Partial expansion
It's important to point out that Walker did do what is called a "partial expansion" of Medicaid. As a result of that change, for the first time in state history, essentially everyone living in Wisconsin at the federal poverty level is eligible for Medicaid.
In other words, in Wisconsin, you're eligible for Medicaid if your income is at or below 100 percent of the federal poverty level, rather than the 133 percent with the full expansion of Medicaid under Obamacare.
Walker's move did push Wisconsinites living slightly above the poverty level off of Medicaid. They in turn became eligible to buy, with federal subsidies, private health insurance in the Obamacare marketplace.
Our rating
Wachs says Walker "has turned down $1 billion of Medicaid money over the course of his tenure."
Leaving aside whether Walker chose good policy or not, his decision not to do a "full expansion" of Medicaid means the state is spending about $1 billion more in state money on Medicaid than if it had accepted additional federal money that would come with a full expansion.
With the caveat that the figure is an estimate from the state's nonpartisan budget scorekeeper, covering roughly 2014 to 2019, Wach's statement is accurate.
We rate it Mostly True.