State Sen. Kooyenga says doorbuster deals and holiday shopping specials are against the law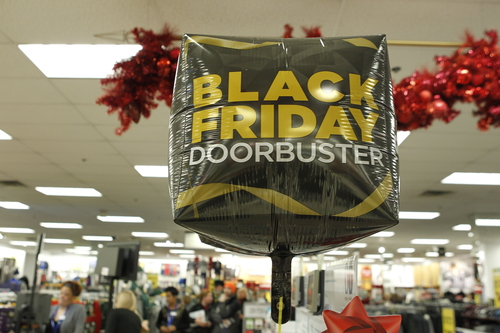 There's nothing Wisconsinites love more than a good deal — it's baked into all those not-so-subtle price drops we sneak into responses to compliments.
"Nice sweater!"
"Thanks, I got it for 43 cents at Kohl's since it was clearance and then I had 30% off coupon and I had Kohl's cash and…."
But one state lawmaker says there's a problem with some of those deals, especially when it comes to Black Friday-style doorbusters – they're illegal.
In a Dec. 13, 2019, email to constituents, state Sen. Dale Kooyenga condemned what he called the "Wisconsin Grinch" -- the state's minimum markup law.
The law — most commonly known for setting baseline prices for gas, alcohol and tobacco products — actually prohibits far more than that, he said.
"The minimum markup law also forbids retailers from selling most other products below cost," said the Brookfield Republican. "That makes many doorbuster deals and holiday shopping specials technically against the law. It's essentially a state-mandated profit margin."
Could doorbusters really be illegal?
Let's dig into the law books.
The history
The minimum markup law — technically called the Unfair Sales Act — dates back to the Great Depression. It seeks to ensure fair competition among businesses by taking aim at "loss leaders" -- items priced below cost to draw in customers for other purchases, or to drive a competitor out of business. Several other states have similar laws.
Wisconsin's nonpartisan Legislative Fiscal Bureau described the law's origin this way in a 2019 informational paper:
The Unfair Sales Act took effect in the 1930s with the intent of preventing predatory pricing by large firms. It was thought that large firms could reduce prices below cost to levels smaller firms could not match. Larger firms would incur short-term losses but drive smaller firms out of business. It was thought the remaining large firms would use near-monopoly power to charge exorbitant prices after smaller firms were mostly forced from the market.
The law itself describes selling below cost as "a form of deceptive advertising and an unfair method of competition in commerce."
These pricing limitations have remained on the books despite efforts from both parties to limit them.
Republican lawmakers proposed repealing the law, or parts of it, in 2015 and 2017, to no avail. The repeal was opposed by numerous agriculture and business and tourism interests, and favored by just one registered entity — Walmart, according to the Wisconsin Democracy Campaign.
And in 2019, Democratic Gov. Tony Evers hit a wall with a budget proposal to repeal the minimum markup for gasoline.
The Wisconsin Department of Agriculture, Trade and Consumer Protection enforces the law, along with local district attorneys. Violators can face forfeitures of up to $500 for first-time offenders and $2,500 for repeated violations, but there is no active monitoring of pricing since the agency only investigates based on complaints.
For example, someone filed a complaint in 2015 when Meijer, new to the area, was selling bulk instant coffee for $4.98, the Milwaukee Business Journal reported.
But no one has been fined for such a violation in at least a decade, said Ti Gauger, spokesman for the department.
So what exactly is banned?
Limits on retailers
The law is best known for its effect on prices for gas, alcohol and tobacco products. Each of these must be marked up 3% above cost by the wholesaler and 6% by the retailer, the statute says.
But the law also says all other products cannot be sold below the seller's cost under a section titled "illegality of loss leaders."
It says sales under cost "with the intent or effect of inducing the purchase of other merchandise or of unfairly diverting trade from a competitor, impairs and prevents fair competition, injures public welfare and is unfair competition. … Such sales are prohibited."
As proof of Kooyenga's claim, spokesman Chris Rochester pointed to the statutory wording above and a 2017 memo from the Legislative Fiscal Bureau that summarized the law as generally prohibiting sales below cost.
That said, the statute does offer a number of exceptions where sales below cost are allowed, including sales for charity, under court order or as part of a government contract. These are the other five exceptions spelled out in the law:
1. "Bona fide" clearance sales
2. Prices set to match a competitor's documented price
3. Perishable merchandise
4. Damaged or discontinued merchandise
5. Pre-closing liquidations sales
Statutes can be open to some interpretation, but we'll assume the "clearance sales" referenced are where retailers are clearing out excess stock, or making way for new stock. And doorbusters won't always involve matching a competitor's documented price. The other three wouldn't apply to doorbusters.
That leaves a swath of low-priced specials that would appear to violate the law if below cost.
But that's a key if.
It's often assumed that doorbuster deals like those on Black Friday are sold below cost, as referenced in reports published by CNBC, the Washington Post and others.
But Jerry O'Brien, an expert on retail industry trends at the University of Wisconsin, said the actual invoice cost is "incredibly difficult" to pin down.
That's because agreements between vendors and retailers often depend on many factors outside of actual production cost. They can factor in whether one side is providing advertising, whether the vendor provides in-store services, such as keeping the item stocked, and how returns are handled. For example, the vendor could lower the price by a set percentage if the retailer agrees to simply discard returns instead of sending them back to the vendor.
"I'm really not sure anyone in the state is openly breaking the law. I'd say the law has a lot of room for wiggle," said O'Brien, executive director of the Kohl's Center for Retailing Excellence. "When you've got these giant vendors selling to these giant retailers, they're negotiating some amazing invoices that would probably stand up (to the law's requirements)."
Kooyenga's office did not respond to a request for evidence of specific retailers that have sold below cost in Wisconsin.
Our ruling
Kooyenga said in a letter to constituents that "many doorbuster deals and holiday shopping specials are technically against the law."
The Unfair Sales Act does generally ban prices below cost in Wisconsin, with some exceptions. And there have been reports over time of stores offering loss-leaders or below-cost prices to get customers through the door.
But Kooyenga's claim assumes Wisconsin retailers actually routinely sell doorbusters below cost. His office didn't provide proof of that element, and the state hasn't fined anyone for doing that in at least a decade. What's more, a retail expert said the nuances involved in the deals between vendor and retailer make it very difficult to pin down the actual invoice cost.
We rate this claim Half True.