American Family CEO makes a point about black male enslavement and today's incarceration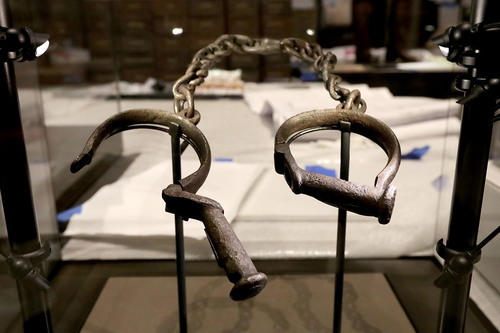 It's not uncommon for CEOs of top corporations to give speeches.
It is uncommon for them to make the African American incarceration rate the focus of those speeches.
Yet, that's what American Family CEO Jack Salzwedel did Oct. 8, 2019, at an event honoring the Deloitte Wisconsin 75, a list of the top privately and closely held companies in the state. Madison-based American Family is fourth on the list, with revenue of about $10.2 billion in 2018.
"There's more African American males in the penal system right now than there were at the height of slavery," Salzwedel said. "And it's something that needs to be addressed because as a business this is an important issue for us, not just as a feel good. This is an important issue for us we think about our markets, demand for our products, the workforce, all of these things."
Salzwedel acknowledged that his speech could be controversial, adding:
"I truly believe that if people will be looking back 50 years from now at this time right now, that they'll look at what's going on with the mass incarceration movement right now and they'll look at us the same way we look back 100 years and look at slavery."
Salzwedel's entire statement is interesting, but we decided to focus on the imprisoned-enslaved comparison.
Is he right that there are "more African American males in the penal system right now than there were (enslaved) at the height of slavery"?
The background
The 13th Amendment to the United States Constitution was passed by Congress on Jan. 31, 1865, declaring, "neither slavery nor involuntary servitude, except as a punishment for crime whereof the party shall have been duly convicted, shall exist within the United States, or any place subject to their jurisdiction."
Although slavery was abolished in the 19th Century, the long-term ramifications of the practice, which persisted for three centuries, continues to reverberate in public discourse, classrooms and even amongst the highest levels of corporate America.
For instance, the board of the Metropolitan Milwaukee Association of Commerce has identified "racial disparity/inequity" as the region's top liability.
"Business leaders are by nature forward looking -- they can see that to be successful we need to be a region of choice for all-inclusive of diverse talent," said Tim Sheehy, MMAC president.
On Sept. 26, 2019, the MMAC announced that 65 employers with 130,000 workers had signed a pledge to increase the diversity of their managers and workforce. Those companies included Harley-Davidson, MillerCoors, the Milwaukee Bucks and Johnson Controls.
"AmFam was not approached in the original outreach as their corporate footprint is relatively small in Milwaukee -- though that will be changing," Sheehy said. "They are very supportive."
Now, what about Salzwedel's incarceration vs. enslavement claim?
The evidence
When asked to provide backup, American Family spokesman Ken Muth pointed us to "The New Jim Crow: Mass Incarceration in the Age of Colorblindness," a 2010 book by civil rights lawyer Michelle Alexander.
In the introduction to the book, the author writes "we have not ended racial caste in America; we have merely redesigned it."
Alexander goes on to say: "More African American adults are under correctional control today—in prison or jail, on probation or parole — than were enslaved in 1850, a decade before the Civil War began."
As evidence, though, that quote simply mirrors what Salzwedel said.
What about the numbers?
In 2014, PolitiFact Rhode Island fact-checked a similar claim: "There are more African American men in prison, jail, on probation or parole than were enslaved in 1850."
That item noted:
"The U.S. Census Bureau records for 1850 showed that 872,924 male African American slaves over age 15 lived in the United States at that time. (The same Census found that there were a total of 3.2 million African-American slaves of all ages, at a time when the total U.S. population, including slaves and "free coloreds" was 23.2 million.)"
Meanwhile, federal Bureau of Justice statistics statistics showed about 1.68 million African American men were under state and federal criminal justice supervision.
Salzwedel's statement was worded a bit differently, in that it referred broadly to the "penal system." When taken broadly, we think that takes in those on probation and parole, as well as those in the nation's local jails.
The latest available nationwide data on parole and probation is from 2016, so we'll zoom in there.
At the end of 2016, there were 487,300 black men serving time in state or federal prison and about 200,000 serving time in local jails, according to the BJS report "Jail Inmates in 2016." The agency also recorded 771,355 on probation and 289,000 on parole.
That means about 1.75 million black men were under federal, state and local criminal justice supervision.
That is about double the 872,924 black men who were enslaved in 1850.
Considering population growth
Of course, the nation's population has grown a lot since 1850.
Indeed, there are far more black residents in the United States now — about 40 million -- than the 23.2 million total residents in 1850.
In 2016, the total U.S. population stood at 308,745,538.
By that comparison, black enslaved males tallied 3.7% of the population in 1850, while African American males imprisoned today represent about 0.6% of the population.
Reggie Jackson, head griot/docent at America's Black Holocaust Museum in Milwaukee and a consultant at Nurturing Diversity Partners, also pointed to the issue of population growth
"Obviously, there are over 10 times more blacks today than there were then, so it would only make sense that more are incarcerated now," Jackson said in an email.
Our ruling
Salzwedel said "There's more African American males in the penal system right now than there were (enslaved) at the height of slavery."
On a strictly numerical basis, the claim is on point. There is some clarification needed, though -- chiefly the fact that the nation's population growth means a lower figure on a percentage basis.
Our definition for Mostly True is "the statement is accurate but needs clarification or additional information."
That fits here.