Stand up for the facts!
Our only agenda is to publish the truth so you can be an informed participant in democracy.
We need your help.
I would like to contribute
Have fatal shootings by police in California dropped 40 percent since 2015?
The fatal shooting of Stephon Clark by two Sacramento police officers last year, and the recent decision by local and state prosecutors not to charge them, has added extra scrutiny to California law enforcement's use of deadly force.
Competing bills in the Legislature would reform the state's use-of-force law. Assembly Bill 392 by Asm. Shirley Weber, D-San Diego, and Asm. Kevin McCarty, D-Sacramento, restricts the use of deadly force to only when "necessary."
The current standard allows lethal action based on what a typical officer might "reasonably" do, a threshold critics say is too lax. Supporters note it's extremely rare for officers to ever face charges after a fatal shooting.
"There is a fear that we have consistently in our communities about what happens to our children when they simply go out the door," Weber said at a news conference introducing the bill last month. "That is unacceptable anywhere. And because of that, we are offering AB 392 to begin the process of changing the standards by which lethal force can be used in California."
Senate Bill 230, sponsored by state Sen. Anna Caballero, D-Salinas, would require police agencies to create guidelines that include alternatives to deadly force. It doesn't change the standard for when officers can use it.
But in the midst of the calls for reform, are fatal police shootings actually on the decline in the state?
That's the contention by Protect California, a nonprofit law enforcement-backed group that supports SB 230. The group has produced ads in support of that bill, including one airing on television in Sacramento.
Here's what Protect California claimed in a recent online video:
"Heard the ACLU talk about California's epidemic of police violence? It's not true. Fatalities in officer-involved shootings have actually decreased 40 percent in California since 2015."
Describing police violence as "an epidemic" is subjective, but we'll examine the claim about a 40 percent decrease in our analysis below.
Our research
Tom Saggau, a spokesman for Protect California, said his group used data from Fatal Force, The Washington Post's grim tally of people shot and killed by police across America each year.
There are other resources, including figures from the FBI and U.S. Centers for Disease Control. But as the Post reported, federal officials "acknowledge that their data is incomplete. Since 2015, the newspaper has documented more than twice as many fatal shootings by police as recorded on average annually."
Data from Fatal Force show there have been nearly 1,000 people shot and killed by police each year since 2015 across the United States.
Looking at California, the database shows the number of people shot and killed by police dropped from 190 in 2015 to 115 last year. That matches with the group's claim of a 40 percent decline "since 2015. Saggau attributed that decline to the introduction of de-escalation training at some police agencies across the state.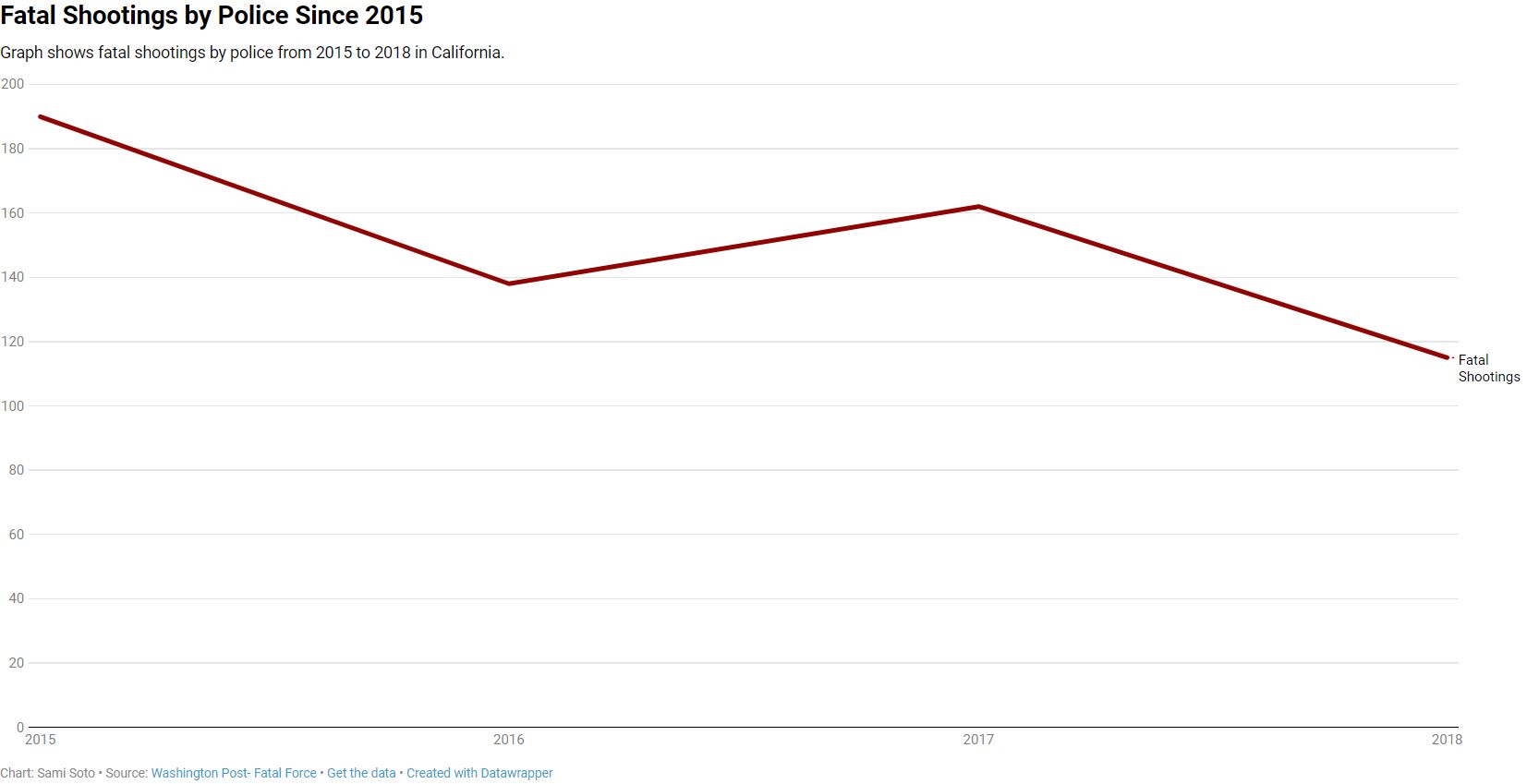 The numbers, however, don't show a consistent pattern. Instead, the deadly shootings fluctuated considerably, dropping to 138 in 2016 and then going back up to 162 in 2017.
Franklin Zimring, a criminologist at the University of California at Berkeley, said 2018's drop in fatal shootings "was good news," but "it doesn't tell you if there's been any real, long-term secular trend."
"It's vastly too early" to draw those conclusions, he added.
We also asked the ACLU about the group's claim there's no "epidemic" of police violence. Lizzie Buchren, a lobbyist at the ACLU of Northern California, wrote in a February blog post that there was an epidemic.
Buchren, whose organization supports AB 392, said she stands by what she wrote, noting the average of those killed in each of the four years was about 150 people.
"They might not think that it's an epidemic. But I do," she said. "That's a large number of people."
Our conclusion
Protect California claimed there's no "epidemic" of police violence in the state and that the number of fatal shootings by police in California is down 40 percent since 2015.
The number of people shot and killed by police varies each year, and averages about 150 annually. The ACLU says that's "an epidemic." Protect California says it's not. That's a debate that will continue on as long as there are shootings.
There's no consistent pattern of increases or decreases within this short period of time. The portion about a 40 percent drop since 2015 is correct, based on data from The Washington Post's Fatal Force database, but only tells part of the story.
RELATED: What are the facts on police shootings following death of Stephon Clark?
Do you have an idea for a fact-check on police shootings? Have you heard something that makes you say: 'Is that true?' If so, fill out a form here with your idea. Email us at [email protected], or contact us on Twitter or Facebook.
Protect California, video, Fact: 40% Drop in CA Fatal Police Shootings, March 1, 2019
The Washington Post, Fatal Force database, accessed March 2019
The Washington Post, Four years in a row, police nationwide fatally shoot nearly 1,000 people, Feb. 12, 2019
Capital Public Radio, There Will Be Two Police Use-Of-Force Bills In California This Year After Negotiations Experience Setback, Feb. 6, 2019
Capital Public Radio, Insight Web Special: Professor Robert Weisberg Explains California's Police Use Of Force Bills, March 6, 2019
PolitiFact California, What are the facts on police shootings following death of Stephon Clark?, March 29, 2019
ACLU, New Bill Limits When California Police Can Use Deadly Force, Feb. 8, 2019
Lizzie Buchren, Legislative Advocate, ACLU of Northern California, phone interview March 6, 2019
Frank Zimring, criminologist, UC Berkeley Law School, phone interview March 7, 2019
Tom Saggau, spokesman, Protect California, phone interview March 7, 2019
Browse the Truth-O-Meter
More by Chris Nichols