Stand up for the facts!
Our only agenda is to publish the truth so you can be an informed participant in democracy.
We need your help.
I would like to contribute
If Your Time is short
Arizona is one of many states in which candidates are echoing Donald Trump's falsehoods about a "stolen" 2020 election.

There are multiple pieces of evidence showing that the 2020 presidential election was secure. A review of ballots cast in Maricopa County confirmed that Joe Biden won, and courts rejected allegations of fraud or attempts to deny certification for Biden.

Only a few people have been charged with voter and election fraud over the past decade in Arizona, and those cases were not enough to change election outcomes.
When Kari Lake took the stage on election night Aug. 2 in Arizona, partial results showed her leading. But she cast Arizona's elections as corrupt.
"Why are we in this?" Lake asked. "We are in this because of the corruption, and we need somebody who is honest to turn it around. We knew our elections were corrupt, we are still going to turn that corruption around and root it out when I am governor."
Yes, it is confusing that Lake called the state elections corrupt, but then obviously agreed with the partial results showing she was ahead. We emailed her to ask about that contradiction and received no response. At noon Aug. 3, Lake declared victory while counties continued the count, including mail ballots that arrived before the polls closed on Election Day.
Arizona is one of the battleground states in which "stop the steal" candidates affiliated with QAnon and backed by Donald Trump tout the dangerous falsehood that the 2020 election was stolen by Democrats. These election deniers include Mark Finchem, who won the Republican primary for secretary of state and wants to largely get rid of voting by mail in a state where most voters support and use it. Blake Masters, who won the U.S. Republican Senate primary, has suggested cheating will occur during the midterms. And Abraham Hamadeh, who won the primary for attorney general, has promised to "prosecute the crimes of the rigged 2020 election."
Democracy experts including Joanna Lydgate, the CEO of States United Action, say giving any election denier power over elections would endanger our democracy.
"Our freedom to vote is on the ballot this fall," said Lydgate, whose nonprofit organization has been tracking election-denying candidates running for governor, attorney general and secretary of state nationwide. "Voters still have the power here. We wouldn't put arsonists in charge of the fire department, and we shouldn't put people who don't believe in fair elections in charge of running them."
Evidence from state officials, including the Republican governor and the courts, debunks the myth of corrupt elections in Arizona.
What election deniers running statewide in Arizona have said about the state's elections
Mark Finchem, a Republican candidate for Arizona Secretary of State, waves to the crowd as he arrives to speak at a Save America rally July 22, 2022. (AP)
The election deniers have campaigned for months on falsehoods about 2020:
Lake, a former TV news anchor in Phoenix, has repeatedly said that the 2020 election was "stolen" and "corrupt." "Our 2020 election was Corrupt, Rotten & Rigged!" she tweeted in March.
Lake said in July that her top Republican opponent "might be trying to set the stage for another steal." Lake suggested Aug. 2 that using ballots in the names of dead people could be a strategy employed this cycle, though it wasn't clear whether she meant by Democrats or her Republican rival. "The only way they can win is if they load up the voter rolls with dead people, people who moved, and imaginary friends."
Republican Gov. Doug Ducey said Arizona has several laws to deliver secure elections, including checking signatures on mail ballots, allowing bipartisan poll observers and requiring IDs for in-person voters. He has also said Arizona has used expansive voting by mail for decades.
"In Arizona, we have some of the strongest election laws in the country, laws that prioritize accountability and clearly lay out procedures for conducting, canvassing, and even contesting the results of an election," Ducey said in 2020.
Finchem, an Arizona state representative from Oro Valley, authored unsuccessful bills that furthered the former president's myths about voter fraud, including a resolution to decertify the election, a process that does not legally exist. He also authored a bill to get rid of early voting in a state where about 89% of voters in 2020 cast ballots before Election Day. Ironically, unofficial results show that about two-thirds of the votes cast for Finchem were cast early.
Finchem was outside the U.S. Capitol on Jan. 6, 2021.
"Ladies and gentleman, we know it and they know it: Donald Trump won," Finchem said at a January Trump rally in Arizona. On the Democratic side, Adrian Fontes, a former Maricopa County official, was in the lead Aug. 3.
Masters, a venture capitalist and businessman, will take on the Democratic incumbent, Sen. Mark Kelly.
In November 2021, Masters released an ad saying, "I think Trump won in 2020." During a campaign event June 30, Masters recalled a conversation he had with Trump in which the former president told Masters he would beat Kelly "if you can get a fair election." Masters then told the room of supporters he thinks there's cheating in every election.
"Whatever their cheating capacity is, I'm pretty sure they pulled out all the stops," he said about the 2020 presidential election. "And the question is, will that happen again?"
If elected to the Senate, Masters will have limited say on election security. Most laws to restrict or expand voter access are being formed at the state level. But if he wins, Masters could vote on two pieces of election legislation being considered in the Senate if they come up for a vote next year.
Hamadeh, a former Maricopa County prosecutor, has repeatedly said that if he becomes attorney general, he will prosecute people involved in the 2020 election, which he called the most "rigged election in American history." He has also supported a documentary from a right-wing filmmaker that claims to expose debunked narratives of voter fraud in the 2020 election.
Multiple pieces of evidence confirm that Arizona's elections are secure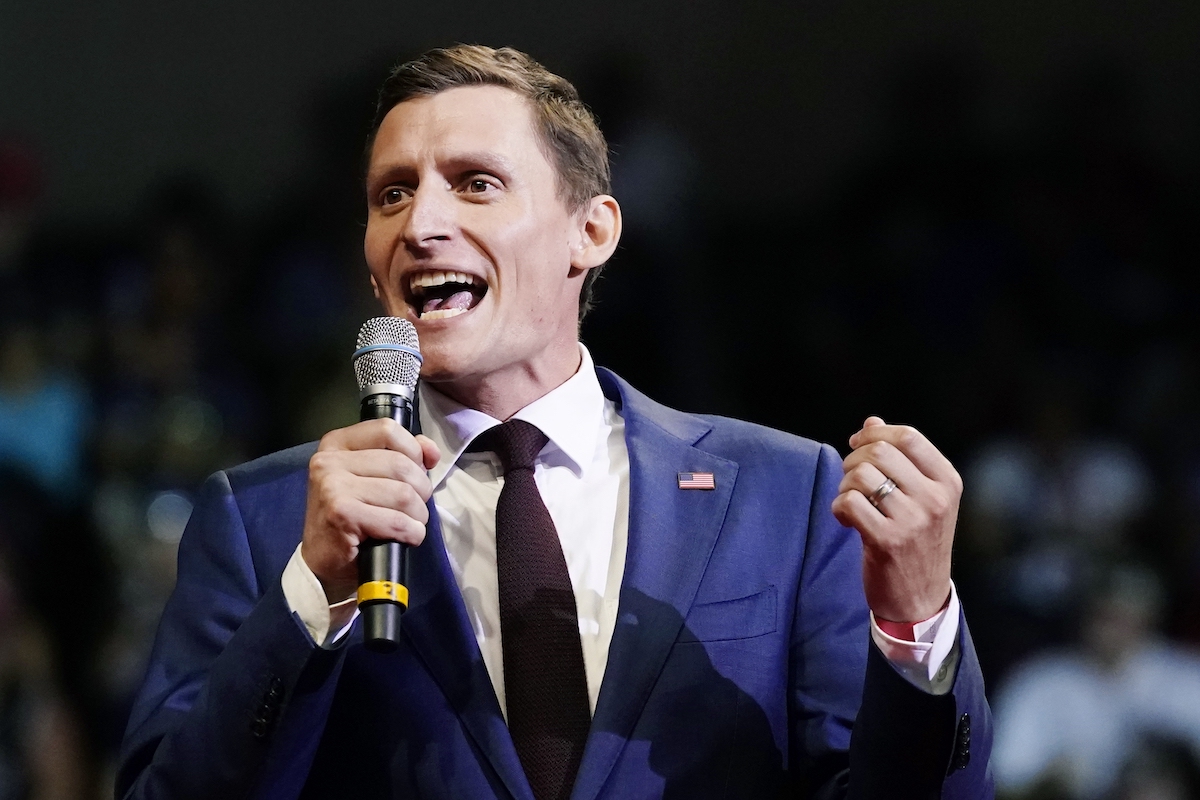 Arizona Republican U.S. Senate candidate Blake Masters speaks to supporters at a campaign party, Wednesday, Aug 2, 2022, in Chandler, Ariz. (AP)
Biden beat Trump in Arizona by about 10,500 votes in 2020. The outcome led to a series of challenges, but those processes upheld Biden's victory:
Review of ballots in Maricopa County. Arizona state Senate Republicans ordered a review in 2021 of 2 million ballots in Maricopa County, the county with the state's largest number of voters. That review, although maligned by election experts for not following proper procedures, found that Biden won Maricopa by about 45,000 votes — a slightly larger margin than the county's official canvass.

Dead voters were not a widespread problem. Arizona Attorney General Mark Brnovich, a Republican who lost the U.S. Senate primary, investigated allegations that ballots were cast by 282 dead people and substantiated only one of them. Brnovich didn't identify the one case in the letter, but he previously announced the conviction of Tracey Kay McKee of Maricopa County, a Republican, who cast her late mother's ballot. Brnovich called some of the allegations he had received "absurd."

Courts have rejected cases that allege fraud or seek to overturn results. Arizona courts ruled against a lawsuit seeking to block the certification of the 2020 election, and the U.S. Supreme Court denied review. The challenge filed by Kelli Ward, the head of the state Republican Party, failed to prove any degree of fraud that would undermine the certainty of the results, the Arizona Supreme Court ruled. Lawsuits alleging that ballots in Maricopa County filled out with Sharpie markers were not counted were eventually dismissed or dropped. There was no evidence that the ballots were invalidated.
Since 2010, Arizona's attorney general has prosecuted three dozen cases related to voting or elections, representing a tiny speck of the millions of ballots cast. Recent cases include two defendants who violated the state's law that bans so-called ballot harvesting and allows only certain people, such as family members, household members or caregivers to collect voted ballots from another person.
Guillermina Fuentes, a former San Luis mayor, and Alma Juarez pleaded guilty to collecting four completed ballots from another person in the August 2020 primary and are expected to face sentencing in September. Masters' spokesperson pointed to these cases when asked for evidence about cheating. Separately, a handful of defendants were charged with casting a vote in 2020 when they were not eligible to do so as a result of felony convictions.
After declaring victory, Lake told reporters, "We have a lot of evidence of irregularities and problems, and we're going to address those." When reporters asked Lake whether she would release this evidence, she said "I'm not going to release it to the fake news, but we'll release it to the authorities."
The only specific problem she cited was that Pinal County ran out of ballots. Around 20 polling sites ran out of or ran low on ballots out of 95 polling sites; the county then supplied more ballots. Everyone who was in line at 7 p.m. was able to vote, and the final polling site finished processing voters between 8:30 p.m. and 9 p.m., a county spokesperson said. Mistakes can occur in any election, but they don't signal fraud.
Candidates who ran on messages of a "stolen" election in the primary will struggle with independent voters in the general election, said Paul Bentz, who specializes in public opinion surveys at HighGround, a Phoenix consulting company. One of HighGround's 2021 surveys found that about two-thirds of independent voters do not believe there was fraud in 2020. Independents will comprise about 26% of the electorate in November.
"Those are not the people who show up at precinct committee meetings chanting, 'Lock her up,'" said Bentz, who said independents helped elect Democratic U.S. Senators Mark Kelly and Kyrsten Sinema and Biden in 2020. "You can't win statewide office in Arizona with one party alone."
RELATED: No, pens provided by Arizona election officials aren't part of a plot to rig state primary
RELATED: How 'stop the steal' Republicans seeking office hope to restrict voting
RELATED: ​​Why many voters in Arizona, Missouri will use voting centers, not precincts, on Election Day
RELATED: All of our fact-checks about Arizona
Arizona Secretary of State, Elections results, Aug. 3, 2022
Kari Lake, Arizona candidate for governor, Facebook live, night of Aug 2-Aug. 3, 2022
Kari Lake, tweets about "stolen" election and "corrupt" election, accessed Aug. 3, 2022
Brennan Center, Arizona: Election Denial in Races for Election Administration Positions, Updated July 21, 2022
AP, GOP establishment works to block Trump ally in Arizona, July 18, 2022
PolitiFact, Trump falsely describes Arizona audit findings, Sept. 28, 2021
Blake Masters, tweet, Nov. 9, 2021
Blake Masters, tweet, June 1, 2022
Blake Masters, tweet, Oct. 21, 2021
Rumble, Candidate Blake Masters Meet N Greet Town Hall Discussions, July 1, 2022
Gov. Doug Ducey, Twitter threat, Nov. 30, 2022
Arizona Republic, Arizona secretary of state race: Mark Finchem wins, Adrian Fontes leads in early results, Aug. 2, 2022
Arizona Attorney General Mark Brnovich, Letter to Senate President Karen Fann, Aug. 1, 2022
PolitiFact, Bipartisan bill aims to close the legal gaps in the Electoral Count Act Trump used to disrupt Jan. 6, July 21, 2022
Politico, Trump followers zero in on secretary of state campaigns, Jan. 24, 2022
Democracy Docket, Lawsuits filed about Arizona elections, November 2020
Arizona Attorney General's Office - Fraud & Special Prosecutions Section, Prosecutions Related to Voting or Elections Since 2010, Accessed Aug. 3, 2022
Abraham Hamadeh, tweet, Jun. 23, 2022
Abraham Hamadeh, tweet, April 6, 2022
Abraham Hamadeh, tweet, May 8, 2022
Abraham Hamadeh, tweet, Jan. 13, 2022
Arizona Mirror, Mark Finchem is the latest in a wave of election deniers moving toward controlling elections, Aug. 2, 2022
PolitiFact, The faulty premise of the '2,000 mules' trailer about voting by mail in the 2020 election, May 4, 2022
Chuck Coughlin, HighGround consulting CEO, Fraud & Republican Failure in 2022, May 6, 2021
Rumble, ​​Kari Lake SLAMS Ducey and CNN, Details Mail-In Ballot Irregularity, Aug. 2, 2022
Email interview, Paul Bentz, Senior Vice President ‐ Research & Strategy at HighGround Inc. consulting firm, Aug. 3, 2022
Email interview, Joanna Lydgate, the CEO of States United Action, Aug. 3, 2022
Email interview, James Daniels, Pinal County spokesperson, Aug. 3, 2022
Browse the Truth-O-Meter
More by Maria Ramirez Uribe