Stand up for the facts!
Our only agenda is to publish the truth so you can be an informed participant in democracy.
We need your help.
I would like to contribute
The faulty premise of the '2,000 mules' trailer about voting by mail in the 2020 election
If Your Time is short
The 2020 presidential election was secure and evidence from state and federal officials and courts shows no indication of widespread fraud. While authorities identified isolated cases of voter fraud, these instances were in such small numbers it would not have changed the election's outcome.

A documentary by Dinesh D'Souza, a far-right commentator, furthers the myth that something sinister occurred with mail ballots during the 2020 election. D'Souza told Fox News that "mules" delivered 400,000 illegal votes. Experts say the evidence D'Souza points to is inherently flawed.

Many states have laws allowing people to return completed mail ballots on behalf of others, such as family members. Ballot drop boxes are more secure than standard mail boxes.
"2000 mules," a new documentary from a right-wing filmmaker with a history of spreading false claims, promises to give evidence to millions of Americans who believe something went wrong in the 2020 election.
The trailer for Dinesh D'Souza's movie resembles a sci-fi flick, set to dramatic horror movie music with grainy video footage of what appears to be people dropping off ballots at ballot drop boxes.
The trailer suggests a nefarious conspiracy in which so-called "mules" – people it defines as collecting and returning completed mail ballots – submitted ballots en masse. The movie's allegations are based on surveillance footage of ballot drop boxes and cell phone tracking data.
Now more than ever, it's important to sort fact from fiction. Please donate to support our mission.
"This is organized crime," the trailer states, adding, "Bold accusations require bold evidence."
But experts on mail voting who viewed the trailer said it can't support the allegations.
"If there is credible evidence, where is it?" said Kenneth Mayer, a professor of political science at the University of Wisconsin-Madison. "This is not it."
The trailer has been widely shared on social media and promoted by former President Donald Trump. The full movie was slated to air in theaters during the first week in May.
Dinesh D'Souza's poor record with the truth
D'Souza is a far-right commentator, author and documentary filmmaker whose provocation and incendiary rhetoric traces back to his time at Dartmouth College. There, a conservative publication under his leadership published an interview with a former Ku Klux Klan member and publicly outed members of the college's Gay Student Alliance.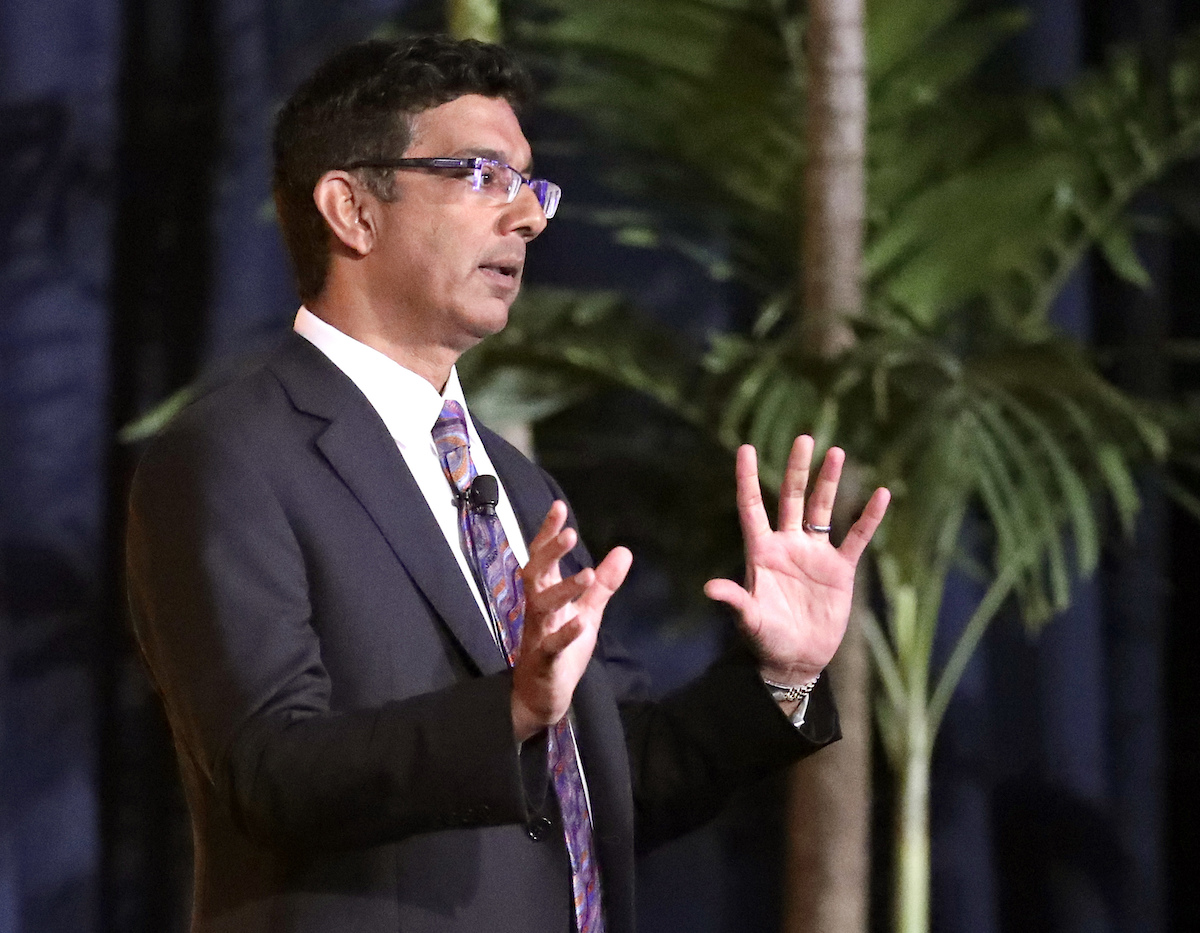 Dinesh D'Souza addresses the Republican Sunshine Summit on June 29, 2018, in Kissimmee, Fla. (AP)
D'Souza worked briefly on domestic policy issues in former President Ronald Reagan's White House and for conservative think tanks such as the American Enterprise Institute. He spent two years as president of King's College, a small Christian school in New York, before resigning amid reports that he was seen at a hotel with a woman who was not his wife.
In 2014, D'Souza pleaded guilty to a felony campaign finance violation after he used straw donors to donate in excess of the personal limit to a friend who was running for a U.S. Senate seat in New York. Trump pardoned D'Souza in 2018, just months after D'Souza publicly mocked survivors of the mass school shooting in Parkland, Florida.
D'Souza's numerous books and films have stirred controversy around topics such as race; one 1995 book said people born into slavery were treated "pretty well."
D'Souza once said he "never advanced a conspiracy theory in my life," but he has promoted several: questioning President Barack Obama's birthplace; suggesting that billionaire philanthropist George Soros collaborated with the Nazis and bankrolls antifa; and tweeting that the 2017 white supremacist rally in Charlottesville, Virginia, might have been staged.
D'Souza repeatedly claimed that the 2020 election was stolen in the days and months after Election Day. Following the Jan. 6, 2021, attack on the U.S. Capitol, D'Souza defended the rioters with false claims that they were "political protesters" who had been unarmed, unfairly attacked by police and wrongly labeled as insurrectionists. "This was a bunch of rowdy people walking through a hallway," he said on Fox News less than two months after the attack.
D'Souza did not respond to our questions for this article.
The allegations in the trailer stem from cell phone data
The "2,000 mules" trailer begins with an out of context clip of Joe Biden talking before the election about pulling together "the most extensive and inclusive voter fraud organization in the history of American politics." Biden was describing a project to help people learn where and how to vote legally, but the trailer falsely frames his quote as an admission to election fraud.
The trailer then casts doubt over the security of the election, asking, "Do we know the truth about what really happened in the 2020 election?"
The movie is based on research by Texas-based True the Vote, a national conservative organization founded in 2010 that has spread misinformation in the past.
True the Vote didn't respond to our questions, but the group's founder, Catherine Engelbrecht, told Newsweek that her group obtained geospatial information and ballot drop box surveillance video from counties and cities in Georgia, Arizona, Wisconsin, Michigan and Pennsylvania.
She said her team cross-referenced the two to determine who visited drop box location zones multiple times. D'Souza said on Fox News that the movie identifies 2,000 mules "harvesting, in total, something like 400,000 illegal votes. More than enough to tip the balance in the 2020 presidential election. … We've kind of caught the criminal operation on tape."
D'Souza's argument ignores that in many states, it is legal to drop off a ballot on behalf of another voter, which is especially helpful for voters with disabilities or the elderly. Critics of this practice call it "ballot harvesting," while election administrators typically use other terms such as "ballot collection."
In 31 states, someone other than the voter – often a family member or designated person – is allowed to return a completed ballot on behalf of another voter, according to the National Conference of State Legislatures. Some states only allow the voter to return the ballot, while others do not explicitly specify who may or may not return a ballot on behalf of a voter.
Ballot drop boxes were used for about two decades without controversy before the 2020 election including in Republican-led Utah. They typically weigh more than 600 pounds and have tamper-proof mechanisms, making them more secure than standalone mail boxes.
There have been isolated cases of fraud associated with ballot harvesting, such as a North Carolina Republican in a 2018 congressional race. It's possible some people in 2020 collected and returned mail ballots in violation of their state laws. But D'Souza's portrayal of the practice as leading to fraud on the scale of 400,000 illegal votes is not supported by evidence.
In fact, True the Vote told Wisconsin lawmakers that they aren't alleging that the ballots were illegal, but that the process was abused.
"There is no way to know who the votes were cast for. But what we do know is the claim that 2020 was 'the most secure election ever' is false," Engelbrecht told Newsweek.
Mayer, the University of Wisconsin-Madison political scientist, said it's not credible to rely on the cell phone data to conclude that these 400,000 ballots were illegal.
"It is conspiracist thinking," he said. "They are interpreting data that confirms their pre-existing conclusions. It's a zombie claim; no matter how many times you kill it, it keeps coming back."
Such geospatial data is not precise enough to prove without uncertainty that a person submitted a ballot to a drop box, only that they came within a short distance of it, the Associated Press reported. There are many reasons why a person might repeatedly enter the zone where a drop box is stationed, as the boxes are often strategically placed in busy areas.
D'Souza's trailer also doesn't explain why the supposedly overwhelming evidence of "criminal" activity he found hasn't made its way into the hands of prosecutors.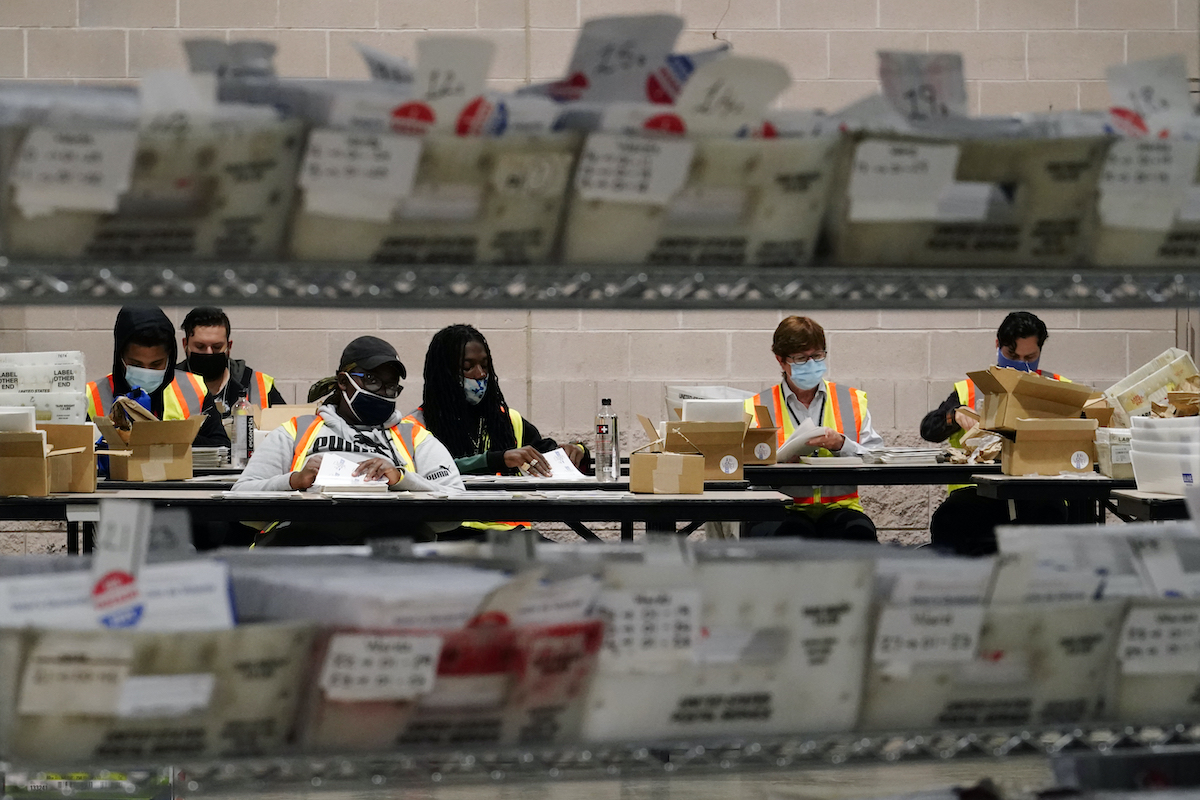 Workers with the Philadelphia City Commissioners office sort election materials for the 2020 election at city's mail-in ballot sorting and counting center on Oct. 26, 2020, in Philadelphia. (AP)
Such a scheme employing people to collect ballots would likely have come to light by now, said Michael McDonald, a University of Florida political scientist: "There would be a paper trail and social media trail and there would be some witnesses out there to verify this was going on."
True the Vote and the Georgia Republican Party in 2021 made allegations about ballot harvesting in Georgia, but the Georgia Bureau of Investigation said there wasn't enough evidence to proceed on the allegation. State officials said that cell phone data that allegedly showed 279 cellphones tracked multiple times within 100 feet of an absentee drop box was not evidence of a crime, Georgia Public Radio found.
True the Vote has since said it has a witness but has yet to reveal the person's identity.
We asked True the Vote if it had turned over information to prosecutors and, if so, in which jurisdictions. In response, the group said it will release information in the coming weeks. State election officials in Michigan and Wisconsin were not aware of any such prosecutorial investigations by state agencies based on True the Vote's allegations. A spokesperson for the Philadelphia district attorney said such claims were not referred to local law enforcement for investigation.
"The actual evidence hasn't been made public so it's hard to evaluate the claims when the people making the allegations won't share the information that is the basis for their claims," said McDonald.
More than a year after the presidential election, the evidence has only grown that there was a secure election.
The Associated Press found in December 2021 fewer than 475 potential voter fraud cases in six battleground states: Arizona, Georgia, Michigan, Nevada, Pennsylvania and Wisconsin.
"Have there been isolated incidents of fraud? Yes," McDonald said. That's true in any election in which tens of millions of people cast ballots. "But is there any evidence of some sort of mass fraudulent voting of any sort? No."
RELATED: Dinesh D'Souza's Truth-O-Meter
RELATED: 'Zuckerbucks' for 2022 elections? Republicans say thumbs down
RELATED: What can the federal government do right now to protect voting rights before the 2022 midterms?
RELATED: Republicans facing off in 2022 GOP primaries are running ads claiming the 2020 election was stolen
National Conference of State Legislatures, Ballot drop box laws, Feb. 14, 2022
Pew Research Center, Republicans and Democrats Move Further Apart in Views of Voting Access, April 26, 2021
Washington Post, The dishonest pivot at the heart of the new voter-fraud conspiracy, April 29, 2022
Fox Business, Dinesh D'Souza details compelling new documentary, April 28, 2022
Newsweek, Film Claims It Has Video of "Mules" Stuffing Ballot Boxes in 2020 Election, March 2, 2022
PolitiFact, What is ballot harvesting, and why is Trump tweeting about it during an election-year pandemic? May 20, 2022
PolitiFact, Ballot drop boxes have long been used without controversy. Then Trump got involved, Oct. 16, 2020
Phone interview, Kenneth Mayer, professor of political science, University of Wisconsin-Madison, May 2, 2022.
Phone interview, Michael P. McDonald, professor of political science at the University of Florida, May 2, 2022
Telephone interview, Tracy Wimmer, Michigan Secretary of State spokesperson, May 3, 2022
Email interview, Jane Roh, Philadelphia District Attorney spokesperson, May 2, 2022
Email interview, Riley Vetterkind , Wisconsin Elections Commission spokesperson, May 2, 2022
Email interview, Kylee Zabel, spokesperson for the National Vote at Home Institute, May 2, 2022
Washington Post "'Ballot trafficking' is the next front in the unending fight over 2020," April 6, 2022. Accessed April 28, 2022
Milwaukee Journal-Sentinel "Wisconsin Supreme Court considers whether to allow absentee ballot drop boxes this fall," April 13, 2022. Accessed April 29, 2022
Dinesh D'Souza on Twitter, accessed May 2, 2022
Vox, Dinesh D'Souza, America's greatest conservative troll, explained, May 31, 2018
The New York Times, A Look at Dinesh D'Souza, Pardoned by Trump, May 31, 2018
The Tampa Bay Times, Dinesh D'Souza mocks Parkland students then apologizes, Feb. 21, 2018
Vanity Fair, Dinesh D'Souza's Life After Conviction, April 13, 2015
The New York Times, D'Souza, Set for Trial, Pleads Guilty to a Campaign Finance Violation, May 20, 2014
Mother Jones, Remember How Dinesh D'Souza Outed Gay Classmates—and Thought It Was Awesome? Jan. 14, 2014
The New York Times, Star Commentator Is Out as Christian College President After ScandalStar Commentator Is Out as Christian College President After ScandalStar Commentator Is Out as Christian College President After Scandal, Oct. 18, 2012
The New York Times, Conservative Paper Stirs Dartmouth, Oct. 13, 1981
PolitiFact, D'Souza falsely claims Jan. 6 video shows police using 'massive' force on 'unarmed Trump supporters,' Jan. 10, 2022
Browse the Truth-O-Meter
More by Bill McCarthy