Stand up for the facts!
Our only agenda is to publish the truth so you can be an informed participant in democracy.
We need your help.
I would like to contribute
If Your Time is short
When top officials in the Justice Department refused to endorse false claims of election fraud, Trump tried to replace them with someone who would. Trump only backed down when he was told there would be a "mass resignation" at the department if he fired the acting attorney general.
Not long after news organizations called the 2020 election for Joe Biden, then-President Donald Trump started asking the Justice Department to dig into allegations of election fraud. Trump's Attorney General William Barr told the House select committee investigating the Jan. 6, 2021, attack on the Capitol that his staff followed orders.
But Barr's people found nothing of any note. The Jan. 6 committee's June 23 hearing focused on Trump's growing pressure on the Justice Department to back his claims of fraud. Trump's effort started in mid-December 2020 and reached a crescendo on Jan. 3, 2021, when he threatened a full takeover of the department.
Key to Trump's strategy was Jeffrey Clark, an assistant attorney general who Trump tried to install as head of the department.
Below is a timeline of that pressure campaign as described to the House committee by three former top Justice Department officials: Acting Attorney General Jeffrey Rosen, Assistant Attorney General Steven Engel and Acting Deputy Attorney General Richard Donoghue.
The officials described their calls and meetings with Trump, how they painstakingly debunked each tale of fraud he raised, and how they repeatedly pushed back against his demand that they give credence to his beliefs.
Timeline:
2020
Nov. 29: In an interview with Fox News, Trump says when it comes to investigating election fraud, the Justice Department is "missing in action."
Dec. 1: Contrary to what Trump told Fox News, the Justice Department had been investigating whether any election fraud happened in the presidential election. Barr tells the Associated Press that there is no evidence of widespread fraud that would have changed the outcome of the election.
Dec. 14: Barr announces he will step down from his role on Dec. 23.
Dec. 15: In a meeting with Rosen and Donoghue, Trump says the Justice Department has not done enough to investigate election fraud. Trump brings up appointing a special counsel to spearhead the effort. He focuses on a report out of Antrim County, Michigan, that said Dominion Voting Systems voting machines in Antrim had a 68% error rate.
Dec. 18: Trump asks Sidney Powell, an outside lawyer and purveyor of conspiracy theories, to be part of a Justice Department special counsel team to address election issues.
Dec. 21: A group of congressional Republicans meet with Trump in the Oval Office to talk about exposing fraud in the 2020 election. The group includes Rep. Scott Perry of Pennsylvania, Rep. Mo Brooks of Alabama, Reps. Jody Hice and Marjorie Taylor Greene of Georgia, Rep. Jim Jordan of Ohio, and Reps. Andy Biggs and Paul Gosar of Arizona.
Dec. 22: Perry brings Clark to meet Trump at the White House.
Dec. 23: Trump tweets about the need to appoint a special counsel to investigate election fraud claims.
Dec. 24: Rosen's first official day as acting attorney general. Trump calls Rosen with more conspiracies of election fraud. This is the first time Trump mentions Clark's name to Rosen.
Dec. 26: Rosen asks Clark why Trump brought him up. Clark says he went to a meeting in the Oval Office shortly before Christmas. Clark apologizes and says he won't go behind Rosen's back again.
Dec. 26: Perry presses White House Chief of Staff Mark Meadows to appoint Clark as acting attorney general. Perry texts Meadows: "Time continues to count down. 11 days to Jan. 6 and 25 days to inauguration. We gotta get going!"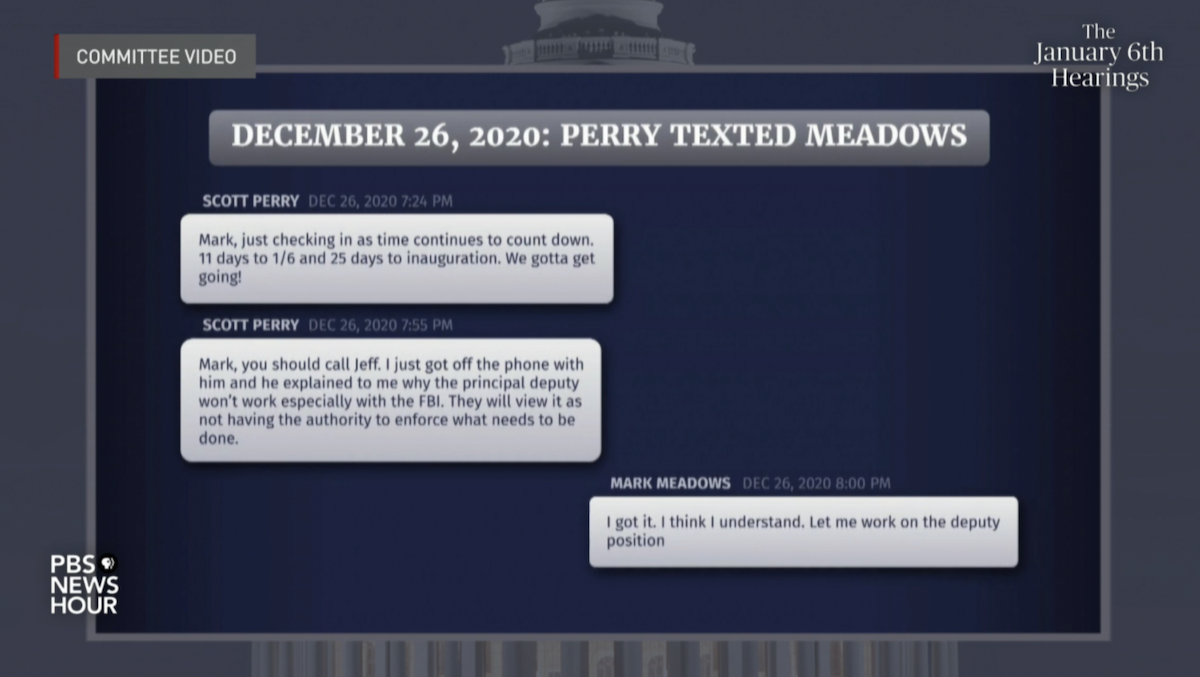 Dec. 27: Donoghue and Rosen talk to Trump on the phone, and Trump becomes "more adamant that we need to do our job," Donoghue told the Jan. 6 select committee. The two rebutted Trump's examples of fraud, including that the voting machines in Atrium County had a 68% error rate. The Justice Department found the error rate to be .0063%.
During the call, Rosen tells Trump, "DOJ can't and won't snap its fingers and change the outcome of the election." Trump replies that that was not what he was asking them to do.
"Just say the election was corrupt and leave the rest to me and the Republican Congressmen," Trump says, according to Donoghue's notes during the call.
Dec. 27: Perry calls Donoghue alleging more conspiracies. Perry mentions Clark by name and says he trusts Clark to investigate the claims.
Dec. 28: Clark emails Donoghue and Rosen a draft letter intended for Georgia state officials. The letter said the Justice Department had "identified significant concerns that may have impacted the outcome of the election in multiple states, including the state of Georgia." Rosen and Donaghue refuse to sign the letter.
Dec. 31: Trump returns from Mar-a-Lago to have an emergency meeting with the Justice Department leadership. Donoghue said Trump asked that the department seize voting machines.
Dec. 31: Perry sends Meadows a video that alleges that an Italian defense contractor uploaded software to a satellite that switched votes from Trump to Biden.
2021
Jan. 1: Meadows sends the video link to Rosen, who sends it to Donoghue. Donoghue assesses the claim as, "pure insanity."
Jan. 2: Rosen and Donoghue meet with Clark again. Clark tells them Trump had asked him if he would be willing to take over the Justice Department. Clark again presses Rosen and Donoghue to sign the letter to Georgia, and says he would not take Trump's offer to replace Rosen as acting attorney general if they agreed to sign it. They both refused.
Jan. 3: At about 4 p.m., Clark tells Rosen that Trump had asked him to be acting attorney general and he had accepted it. Clark says Rosen could stay on as his deputy. Clark repeats that he will decline Trump's offer if Rosen and Donoghue sign the letter to Georgia. Rosen and Donoghue connect with the other assistant attorney generals and they offer to resign if Clark replaces Rosen.
Jan. 3: Shortly after 6 p.m., Rosen meets with Trump in the Oval Office. Donoghue, Engel and Clark are there, along with White House lawyers Pat Cipollone and Eric Herschmann. Cipollone and Herschmann tell Trump not to replace Rosen with Clark. Trump asks Donoghue and Engel if they will leave if he does. They tell him yes, and that the rest of the department leadership would, too. They also predicted hundreds of resignations among U.S. attorneys across the country. Trump decides to keep Rosen.
AP, "Disputing Trump, Barr says no widespread election fraud," Dec. 1, 2020
AP, "Trump says Barr resigning, will leave before Christmas," Dec. 14, 2020
PBS NewsHour, Jan. 6 Committee hearings — Day 5, June 23, 2022