Stand up for the facts!
Our only agenda is to publish the truth so you can be an informed participant in democracy.
We need your help.
I would like to contribute
Fact-check: Donald Trump's false and misleading responses after charges over role in Jan. 6 riot
After a grand jury voted Aug. 1 to indict former President Donald Trump — his third indictment, this one related to efforts to overturn the 2020 election — he and his team shifted into defense mode. 
In a campaign statement, fundraising email and Truth Social posts, Trump downplayed his role in the Jan. 6, 2021, riot, compared the indictment with Nazi Germany and highlighted instances when Democrats objected to past elections. 
We fact-checked four of Trump's claims, which include inaccuracies and revisionist history.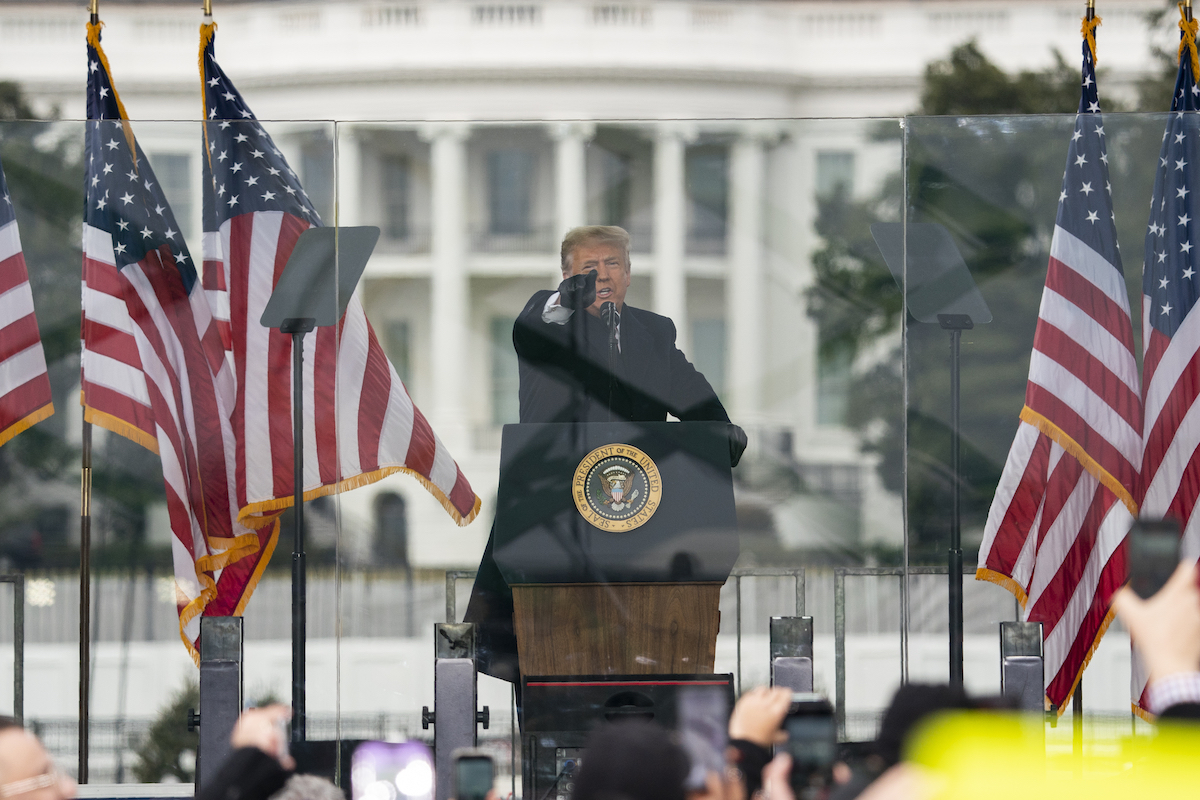 In this Jan. 6, 2021 photo, President Donald Trump speaks during a rally protesting the electoral college certification of Joe Biden as President in Washington. (AP)
"As you know, I did nothing wrong. It's well-documented that I told Americans to act 'PEACEFULLY' and discouraged the use of any violence" on Jan. 6, 2021. — Aug. 1 Trump campaign fundraising email 
Trump's words and actions before and during the Jan. 6 riot paint a different picture. 
In December, Trump repeatedly encouraged his supporters to fight the election results and gather at the Capitol. At a Jan. 4 rally in Georgia, Trump repeated his grievances and told the crowd that Democrats weren't going to take the White House and that "we're going to fight like hell" and "take it back." 
On Jan. 6, Trump used his "Save America" rally to repeat inaccurate claims that he won the election. He continually urged the crowd to "fight" before inviting them to march to the Capitol. "Our country has had enough," Trump said. "We will not take it anymore and that's what this is all about. To use a favorite term that all of you people really came up with, we will stop the steal." The crowd later chanted: "Fight for Trump! Fight for Trump! Fight for Trump!"
He used the word "peacefully" once during the speech: "I know that everyone here will soon be marching over to the Capitol building to peacefully and patriotically make your voices heard."
By the time Trump finished speaking, crowds had already started gathering outside the Capitol. After the mob had shattered windows as they pushed inside the building, and evacuations of lawmakers had begun, Trump tweeted at 2:38 p.m., "Please support our Capitol Police and Law Enforcement. They are truly on the side of our Country. Stay peaceful!" 
Hours after rioters first breached the Capitol, Trump released a video statement that repeated his false claims about a fraudulent election and said, "We have to have peace. So, go home. We love you. You're very special."
"The lawlessness of these persecutions of President Trump and his supporters is reminiscent of Nazi Germany in the 1930s, the former Soviet Union, and other authoritarian, dictatorial regimes." — Aug. 1 Trump campaign statement
This is inaccurate. In the 1930s, Nazi Germany orchestrated the systematic, state-sponsored persecution and murder of political dissenters and millions of European Jews. The Soviet Union instituted forced labor camp systems and executed dissidents.
By comparison, the Justice Department appointed a special counsel to oversee the investigation into Trump's efforts to overturn the 2020 presidential election and block the transfer of power. The indictment cites evidence gathered from witness testimony, social media and phone records.
Leaders of other democratic governments have been prosecuted while in and out of office. These prosecutions are not exclusive to dictatorships or authoritarian nations.
Jeffrey Herf, a University of Maryland emeritus history professor who specializes in 20th century Germany, told us there is "no truth whatsoever" to Trump's comparison.
The denunciation of the rule of law "was a core theme of the Soviet regime," Herf, who has authored several publications about Nazi Germany, wrote in an email. "So Trump's accusation is doubly absurd, dangerous, and is a sign of the historical ignorance of Trump and whoever wrote that claim."
Anti-Defamation League Director Jonathan Greenblatt on Aug. 1 posted on X, formerly known as Twitter, that Trump's comparison to Nazi Germany was "factually incorrect, completely inappropriate and flat out offensive."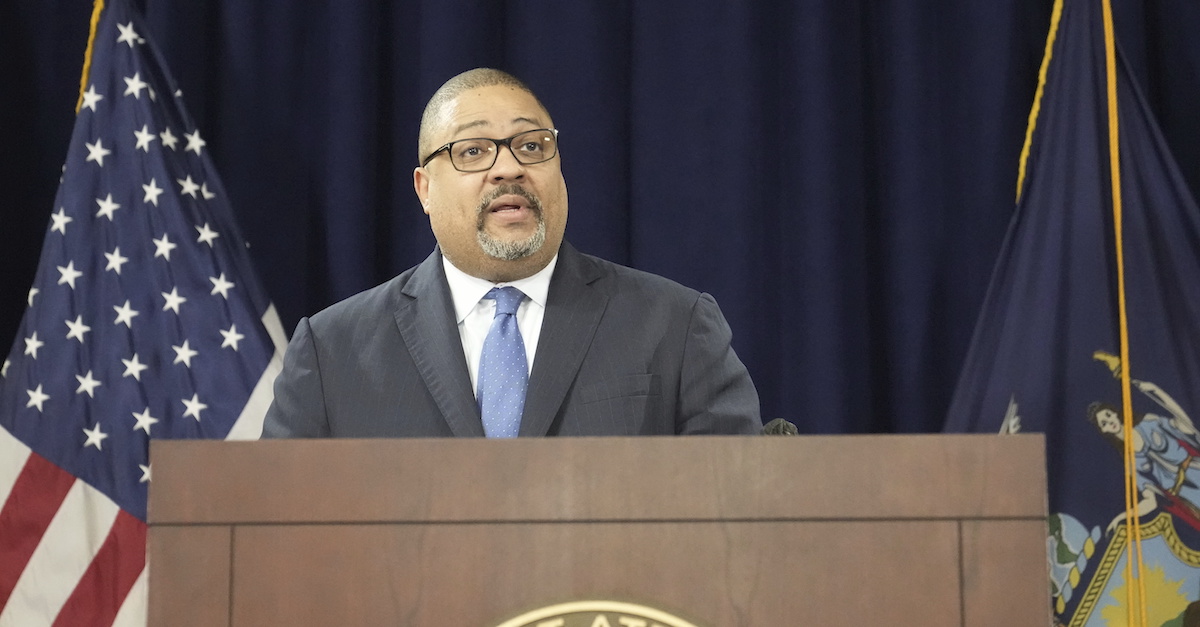 Manhattan District Attorney Alvin Bragg speaks at a press conference April 4, 2023, after the arraignment of former President Donald Trump in New York. (AP)
"A Soros-backed state prosecutor first tried to break us when he indicted and arrested me earlier this spring despite having committed no crime at all." — Aug. 1 Trump campaign fundraising email
Trump is referring to Manhattan District Attorney Alvin Bragg, who brought charges against the former president following a grand jury indictment in a case that involved a $130,000 hush money payment in 2016 to adult film actor Stormy Daniels. In April, Trump pleaded not guilty to 34 felony counts. 
Liberal billionaire George Soros did not donate directly to Bragg's campaign. Soros donated $1 million in May 2021 to Color of Change, a progressive racial justice group that endorsed Bragg and pledged to spend more than $1 million supporting his campaign. Color of Change supported other progressive district attorney candidates, too.
Democrats called Trump an illegitimate president and objected to presidential election results in the past. — Aug. 1, Truth Social 
Following the indictment, Trump posted a 10-minute video of Democrats "denying election results" through the years. 
The clips focused on what some Democrats said or did after four elections the party lost. The claims highlighted include:
Democrats saying Trump's 2016 victory was illegitimate due to Russia's meddling in the election; 

Democrats saying Vice President Al Gore would have won the 2000 presidential election if the Supreme Court hadn't voted 5-4 to stop a vote recount in Florida;

Objections by 31 Democrats in the House of Representatives to certify Ohio's electoral votes in President George Bush's 2004 defeat of Sen. John Kerry, D-Mass. 

Stacey Abrams' refusal to concede in the 2018 Georgia gubernatorial race against Gov. Brian Kemp over voter suppression claims. 
This comparison has come up before. It is true that some Democrats called Trump an illegitimate president and objected to the certification of electoral counts in previous elections. They did so following a lawful process, unlike Trump's supporters who disrupted Congress' certification of the 2020 election results. 
In Trump's indictment, Special Counsel Jack Smith clarified that Trump was "entitled to formally challenge the results of the election through lawful and appropriate means." However, it was Trump's alleged attempts to illegally subvert the election results that could amount to crimes.
In all of Trump's examples except for Abrams, the losing Democratic candidate conceded the election. Trump did not. And none of the House Democrats' electoral vote count objections were supported by the presidential candidates, Norman Eisen, a senior fellow at the Brookings Institution told PolitiFact in September 2022. 
"Comparing 'election results denial' in 2016 and 2020 is not just comparing apples and oranges, it's more like comparing a tricycle to an 18‐​wheeler," said Cathy Young, a fellow at the libertarian Cato Institute in a 2022 article.
RELATED:  Read indictment of Donald Trump in the special counsel's 2020 election, Jan. 6 investigation
RELATED: Read all of PolitiFact's coverage on Donald Trump indictments
RELATED: What the indictment about the 2020 election and Jan. 6, 2021, tells us about Donald Trump's actions
RELATED: Donald Trump indictment: What to know about 2020 election, Jan. 6 investigation and charges
Truth Social, Trump campaign release, Aug. 1, 2023
PolitiFact, Read indictment of Donald Trump in the special counsel's 2020 election, Jan. 6 investigation, Aug. 1, 2023 
NPR, Read Trump's Jan. 6 Speech, A Key Part Of Impeachment Trial, Feb. 10, 2021 
PolitiFact, A timeline of what Trump said before Jan. 6 Capitol riot, Jan. 11, 2021
CNN, Trump did not want to tweet 'stay peaceful' during January 6 riot, key former aide says, Jan. 6, 2022 
Trump Twitter Archive, accessed Aug. 1, 2023
Rev.com, Donald Trump Rally Speech Transcript Dalton, Georgia: Senate Runoff Election, Jan. 4, 2021 
PolitiFact, Indictment of a president was unprecedented before Trump in the U.S., but not other countries, April 4, 2023 
X, Jonathan Greenblatt post, Aug. 1, 2023
X, American Jewish Committee post, Aug. 2, 2023   
PolitiFact, Trump's attacks on Manhattan DA Alvin Bragg's backing by George Soros: What to know, March 23, 2023
PolitiFact, Here's what Manhattan District Attorney Alvin Bragg said about Donald Trump during his DA campaign, april 12, 2023
Truth Social, Trump video, Aug. 1, 2023
PolitiFact, House Democrats have objected to presidential election results, though under different circumstances, Sept. 21, 2022
PolitiFact, Did Democrats suggest 2016 presidential election was stolen?, Oct. 5, 2022
X, post, Aug.1 ,2023
PolitiFact, 2017 Lie of the Year: Russian election interference is a 'made-up story', Dec. 17, 2017
PolitiFact, No, every vote wasn't previously counted on election night, Nov. 4, 2022
Cato Institute, Yes, Democrats have called some elections illegitimate. GOP election denialism is far worse., Nov. 8, 2022
Daily Beast, There's no Democrat equivalent to GOP election deniers' scumbaggery, Oct. 3, 2022
PolitiFact, Democrats didn't refuse to acknowledge Trump's 2016 victory, Nov. 24, 2020
PolitiFact, Read indictment of Donald Trump in the special counsel's 2020 election, Jan. 6 investigation, Aug. 1, 2023
PolitiFact, Who is Jack Smith, special counsel for Trump classified documents, 2020 election indictments?, Aug. 1, 2023
Email interview, Jeffrey Herf, emeritus professor of history at the University of Maryland, Aug. 2, 2023
Browse the Truth-O-Meter
More by Samantha Putterman