Net worth of Ted Cruz is not $4.6 million, according to best calculations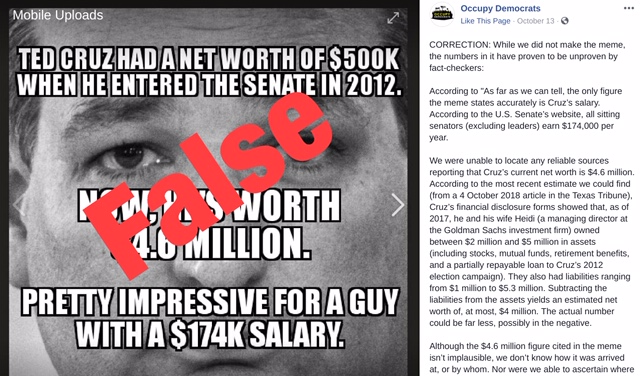 As U.S. Rep. Beto O'Rourke, D-El Paso, tries to unseat Republican Sen. Ted Cruz, a Democratic group is sowing suspicion about the finances of the junior senator from Texas.
"Ted Cruz had a net worth of $500K when he entered the Senate in 2012," starts the text stamped on a viral black and white image of Cruz. "Now he's worth $4.6 million. Pretty impressive for a guy with a $174K salary."
"Follow the money, folks…" Occupy Democrats wrote when posting the picture to Facebook on Oct. 13. By this week, it had been shared nearly 40,000 times.
This photo was flagged as part of Facebook's efforts to combat false news and misinformation on its News Feed. (Read more about our partnership with Facebook.)
Occupy Democrats calls itself a political organization and information site that "provides a new counterbalance to the Republican Tea Party." In response to an email seeking more information about the meme, the group said that it didn't make the graphic but, faced with questions about its accuracy, has edited its description to quote Snopes.
"As far as we can tell, the only figure the meme states accurately is Cruz's salary," it says. "Although the $4.6 million figure cited isn't implausible, we don't know how it was arrived at, or by whom. Nor were we able to ascertain where the other amount cited—Cruz's alleged net worth of $500,000 in 2012—came from."
Occupy Democrats originally fact-checked the $4.6 million figure "and found it to be generally accurate," the group said in an email to PolitiFact on Oct. 24: "Thank you for reaching out and for allowing us to acknowledge and correct our mistake. We will be more careful in the future when backchecking graphics that we did not create ourselves."
The Cruz campaign didn't respond to an email about the Facebook post.
Here's what we know
Cruz does make $174,000 annually. All senators have been offered such a paycheck since 2009, when their salaries were increased from $169,300.
But, as Abby Livingston of the Texas Tribune reports, it's impossible to calculate the net worth of candidates for federal office based on their personal financial disclosure forms. That's because they don't have to report exact amounts of income, financial assets or liabilities.
Before winning the Senate in November 2012, Cruz filed a financial disclosure in July of that year showing that he and his wife, Heidi, had assets ranging from about $1.8 million to $4.4 million, according to our analysis. His liabilities ranged from about $900,000 to $2 million.
Using these figures, it's possible that the senator's net worth was $500,000. If Cruz's assets were worth $1.8 million, the low end of that range, and his liabilities totaled $2 million, the high end of that range, he would be in the red about $200,000. On the other hand, if his assets were worth $4.4 million and his liabilities $900,000, he could have been worth as much as $3.5 million back then.
But that report covered calendar year 2011. Looking at the financial disclosure report Cruz filed in May 2013 for calendar year 2012 — the year he assumed his position in the Senate — his assets ranged from about $2.2 million to $5.1 million, and his liabilities ranged from about $750,000 to $1.5 million. The difference between the low end of the range for his assets and the high end of the range of his liabilities is $700,000. But if his assets were on the high end and his liabilities on the low end, the difference would be $4.3 million.
The nonpartisan Center for Responsive Politics landed on slightly different numbers for 2012, with Cruz's assets ranging from $2.5 million to $5.9 million, leading them to estimate his net worth at $3.47 million.
So, can we say, six years later that Cruz' net worth is up to $4.6 million?
In Cruz's most recent financial report, which was filed in August 2018 but covers calendar year 2017, he listed assets ranging between about $2.2 million and $5 million, from stocks and a retirement plan, among other investments. He listed liabilities ranging from about $1.1 million and $5.4 million. If Cruz's assets are in fact worth $5 million, the high end of that range, and his liabilities are only $1.1 million, the low end of that range, the most his net worth could be is about $3.9 million — not the $4.6 million claimed in the original graphic that Occupy Democrats shared.
What other organizations have found
It's hard to pin down lawmakers' net worth, but some organizations have nonetheless tried — with a caveat.
Roll Call, which produces a "Wealth of Congress" study, warns its ranking is a window into House and Senate members' finances but "far from comprehensive or exact." Rep. Darrell Issa, R-Calif., is No. 1 on the Roll Call list with an estimated net worth of $283.3 million. The news organization, whose mission is to cover Congress, estimated O'Rourke's net worth is $3 million, No. 97 among 530 voting senators and representatives in the 115th Congress (2017-2018). Cruz landed at No. 332 with an estimated net worth of about $200,000.
Another financial footnote: Heidi Cruz is the managing director of Goldman Sachs in Houston. In a recent profile in The Atlantic, she described herself as the family's "primary breadwinner," working 70-hour weeks to keep the Cruzes financially afloat.
What do the numbers say about O'Rourke?
Because this is a Democratic attack on Cruz, it's important to look at how his challenger compares. O'Rourke also makes $174,000. He founded a technology company in El Paso and, according to the Tribune, he and his wife most recently listed assets — including a stake in that company, rental and commercial real estate, and his wife's trust fund—that could range from $3.5 million to more than $16 million. The couple totaled liabilities between $1.3 million and $5.7 million, the Tribune reports.
The Center for Responsive Politics estimated that in 2012, O'Rourke was worth $7.74 million. In 2015, according to the center, O'Rourke had an estimated net worth of nearly $9 million. Cruz, meanwhile, was worth $3.8 million that year, the group's analysis shows.
Our ruling
O'Rourke isn't an outlier — Congress has plenty of wealthy members — but the suggestion that his opponent is making more than his salary in a way that's unique doesn't reflect reality.
At most, based on the information available in Cruz's own financial disclosures, his net worth was more than $500,000 when he became a senator in 2012 and he was potentially worth several million. And, based again on the figures he shared in 2018, his net worth is between $1.1 million and 5.7 million.
That's quite a spread — too much of a spread, we believe, to declare his actual net worth. What's more, like Snopes, the only figure we could confirm is Cruz's salary.
We rate this statement as False.