Henry Kissinger did not say what you think he said about Trump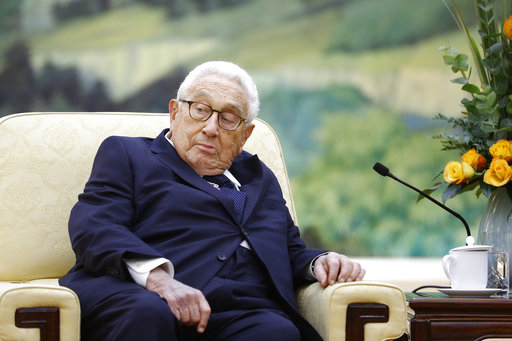 Henry Kissinger is 95 years old. He was secretary of state, national security adviser and he served under two presidents. He also thinks "Donald Trump is a phenomenon that foreign countries haven't seen before," according to a Facebook post from Sept. 16.
"The former Secretary of State Henry Kissinger gives us a new understanding of President Donald Trump's foreign policy and predicts its success," the post goes on before supposedly quoting Kissinger again: "Liberals and all those who favor (Hillary) Clinton will never admit it. They will never admit that he is the one true leader. The man is doing changes like never before and does all of it for the sake of this nation's people. After eight years of tyranny, we finally see a difference."
The post attributes more statements to Kissinger, including: "Trump puts America and its people first. This is why people love him and this is why he will remain in charge for so long. There is not a single thing wrong with him and people need to open their eyes."
"Trump is the one true leader in world affairs and he is forcing policy changes that put America first!" it later says.
This post, which has been shared more than 81,000 times, was flagged as part of Facebook's efforts to combat false news and misinformation on its News Feed. (Read more about our partnership with Facebook.) We reached out to the Facebook account for more information about the Kissinger quotes but did not immediately receive a response. However, the supposed soundbites have appeared elsewhere online.
It's true that during a Dec. 18, 2016, interview on Face the Nation, Kissinger said that "Donald Trump is a phenomenon the foreign countries haven't seen." But the Facebook post goes off script after that.
"It is a shocking experience to them that he came into office, at the same time, extraordinary opportunity," he told then-Face the Nation host John Dickerson, according to a CBS News transcript. "I believe he has the possibility of going down in history as a very considerable president, because every country now has two things to consider. One, their perception that the previous president or outgoing president basically withdrew America from international politics, so that they had to make their own assessment of their necessities, and secondly, that here is a new president who is asking a lot of unfamiliar questions. And because of the combination of the partial vacuum and the new questions, one could imagine that something remarkable and new emerges out of it. I'm not saying it will. I'm saying it's an extraordinary opportunity."
Kissinger did not call Trump the one true leader, or describe the Obama presidency as "eight years of tyranny." And while he spoke positively about the new president, he didn't claim that "there is not a single thing wrong with him and people need to open their eyes."
We rate this post False.
Correction, Jan. 17: The date of Henry Kissinger's Face the Nation interview was Dec. 18, 2016.