Stand up for the facts!
Our only agenda is to publish the truth so you can be an informed participant in democracy.
We need your help.
I would like to contribute
After Reagan took office, "we didn't raise taxes and we didn't cut entitlements. What we did was we cut taxes."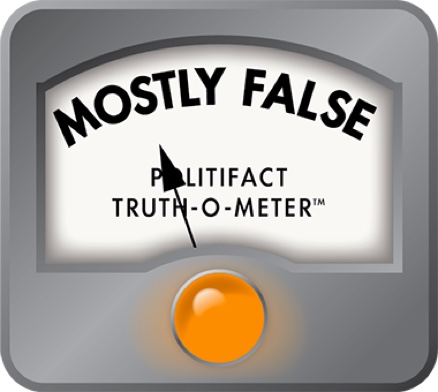 One major tax cut, then lots of raises
Throughout the primary season, the Republican contenders — Sen. John McCain among them — jockeyed for position as the heir to the legacy of Ronald Reagan. A key part of that legacy is the conservative mantra — treated practically as sacred truth — that Reagan was a die-hard tax cutter.
While campaigning in Westport, Conn., on April 9, 2008, McCain made it clear that he's a true believer in Reagan's tax-cutting record. Asked by a voter how he planned to balance the federal budget, McCain said he would emulate Reagan and pursue a supply-side approach, the belief that cutting taxes can actually grow tax revenue by stimulating the economy.
"I don't believe in a static economy," McCain said. "I believe that when there's stimulus for growth, when there's opportunity, when people keep more of their money — and the government is the least efficient way to spend your money — that economies improve."
And McCain said he'd pursue a policy just as Reagan had. After Reagan took office, "we didn't raise taxes and we didn't cut entitlements," he said. "What we did was we cut taxes."
Whether the comment about Reagan's tax-cutting proclivities, as well as his success at safeguarding entitlements, is true or not depends on how much of the Reagan record you want to consider.
In the period immediately after Reagan took office, McCain's statement is on the money. Reagan in 1981 proposed — and Congress passed — a massive tax cut, the centerpiece of which was a 25 percent reduction in marginal tax rates.
The result was that taxes paid as a share of gross domestic product immediately began to decline from the post-World War II peak of 20.2 percent that they hit that year.
Reagan didn't cut entitlements either — a promise he'd made during his 1980 campaign. But that's not to say he didn't consider it. In 1982, Reagan went along with a plan by GOP Sen. Pete Domenici of New Mexico to slow the growth of spending on Social Security and cut $40-billion from the program. Reagan also called for a 10 percent reduction in total spending for Medicaid in his budget proposal that year.
In the end, both ideas came to naught, in the face of Democratic opposition in Congress.
McCain's recollection that Reagan safeguarded entitlement programs becomes more true later in Reagan's presidency, while his memory of Reagan as a tax cutter becomes more flawed.
In 1983, Reagan signed legislation aimed at preserving Social Security's solvency by raising payroll taxes and taxing Social Security benefits of upper-income Americans.
The plan certainly preserved Social Security but also demonstrated that Reagan was willing to impose tax increases, even if he didn't propose them and rarely accepted them with enthusiasm.
As former Reagan adviser Bruce Bartlett wrote in a 2003 article for National Review, Reagan signed two major tax increases in 1982 that took back much of the break he'd provided in his 1981 tax bill. After the Social Security tax increase of 1983, Reagan approved further tax increases — in one form or another — in 1984, 1985, 1986 and 1987.
None of them was particularly draconian and taxes as a share of GDP continued to decline until 1984, when they bottomed out at 18.4 percent but then rose back to 19.2 percent by 1989, when Reagan left office. The overall percentage then was still lower than during Reagan's first year in the White House.
Still, the fact that Reagan signed legislation raising taxes at all during his presidency certainly runs counter to the current GOP orthodoxy and would seem to contradict, if not disprove, McCain's statement, which we find to be Barely True.
Editor's note: This statement was rated Barely True when it was published. On July 27, 2011, we changed the name for the rating to Mostly False.
Salon.com, "McCain's misguided role model on deficit reduction," by Steve Benen, April 10, 2008

Cato Institute, "Supply-Side Tax Cuts and the Truth about the Reagan Economic Record," by William A. Niskanen and Stephen Moore, Oct. 22, 1996

President Reagan: The Role of a Lifetime, by Lou Cannon, PublicAffairs Books, 2000

New York Times, "White House and GOP Leaders Agree on Budget Proposal for '83," by Martin Tolchin, May 6, 1982

National Review Online, "A Taxing Experience," by Bruce Bartlett, Oct. 29, 2003
Browse the Truth-O-Meter
More by Shawn Zeller
Support independent fact-checking.
Become a member!
In a world of wild talk and fake news, help us stand up for the facts.