Stand up for the facts!
Our only agenda is to publish the truth so you can be an informed participant in democracy.
We need your help.
I would like to contribute
Barack Obama "is more to the left of the announced Socialist in the United States Senate."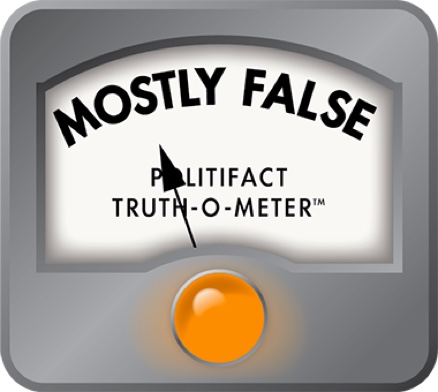 If you look at one narrow source
It's an old standby of GOP presidential politics to paint Democratic opponents as liberals who are out of step with the American mainstream.
Sen. John McCain took up that line of attack against Sen. Barack Obama this month in an interview with the Kansas City Star.
Obama is "more to the left of the announced Socialist in the United States Senate, Bernie Sanders of Vermont," McCain said when asked if he really thought Obama was "an extremist."
In truth, this is a recycled charge, one that PolitiFact examined before. But since the charge lives, we'll take it on again.
McCain's source is a vote rankings study put out each year by National Journal, a respected, nonpartisan, inside-the-beltway weekly magazine.
In January 2008, after analyzing 99 of the 442 votes taken by the Senate in 2007, National Journal reported that Obama was the most liberal of the bunch. Sanders finished fourth. The two differed on just three of the 99 votes the magazine studied.
According to National Journal, the three votes occurred in January, March and June of 2007. In January, Sanders joined a conservative majority in voting against establishing a Senate Office of Public Integrity to handle ethics complaints against senators. Obama voted for it.
Likewise, Sanders was with a conservative majority in June when he voted against moving forward with a comprehensive immigration reform bill. Again, Obama voted for it.
But in March, it was Obama siding with a conservative majority in voting for a resolution stating that funds for U.S. troops in the field should not be cut off. Sanders voted with liberals against the resolution.
So, as far as that one study goes, Obama was more liberal than Sanders in 2007 by a net difference of one vote. But the magazine's tally is inherently subjective, since it relies on the judgment of its editors and reporters to determine which votes show an ideological distinction.
And the sample size of votes comparing Obama to Sanders is quite small. Sanders only joined the Senate in 2007, Obama in 2005. And Obama wasn't the most liberal senator in either of his first two years, finishing 16th-most liberal in 2005, according to National Journal, and 10th-most liberal in 2006.
And as PolitiFact found earlier this year, other tallies disagree with National Journal's findings. Voteview.com, which conducts a similar study based on the judgments of political scientists, found that eight current senators, including Vermont's Sanders, were more liberal than Obama. The Voteview.com study looked at the breadth of the senators' careers, not just the most recent year.
Likewise, Americans for Democratic Action, a self-described liberal group, found that Obama needs to get a lot more liberal to match up with Sanders. In tallying votes it believed showed a liberal position, the group reported in February that Obama scored only a 75 percent liberal quotient in 2007, while Sanders clocked in at 95 percent. Obama might have scored as well as Sanders if he hadn't missed five of the 20 votes the ADA scored. Missed votes are counted against senators in the study. Sanders, by contrast, voted with the ADA on 19 of the 20 votes the group tallied.
Another method of evaluating senators' politics is used by Congressional Quarterly, which gauges how often they vote with members of their own party on bills that divide most Republicans from most Democrats. In that tally, both Obama and Sanders sided with the Democrats on 97 percent of partisan votes in 2007.
Even Charles Green, National Journal's editor, says he'd be wary of putting too much stock in any one rating methodology. "There's pluses and minuses to each rating system. If you look at a number of them, I think you have a pretty good picture," he told PolitiFact in June.
So while McCain can make a case that Obama was more liberal than Sanders in 2007, that conclusion is more a matter of opinion than fact. As a result, we find his statement Barely True.
Editor's note: This statement was rated Barely True when it was published. On July 27, 2011, we changed the name for the rating to Mostly False.
Kansas City Star, Video of reporter Dave Helling's interview with John McCain, July 17, 2008

PolitiFact.com, "Is Obama a liberal," by Bill Adair, June 16, 2008

National Journal, Obama: Most Liberal Senator in 2007, Jan. 31, 2008

Voteview.com, 110th Senate Rank Ordering, Jan. 2, 2008

Congressional Quarterly, 2007 Vote Studies, Jan. 14, 2008

110th Congress, First Session, Senate Roll Call, Vote #18

110th Congress, First Session, Senate Roll Call, Vote #235

110th Congress, First Session, Senate Roll Call, Vote #77

Americans for Democratic Action, 2007 vote study
Browse the Truth-O-Meter
More by Shawn Zeller
Support independent fact-checking.
Become a member!
In a world of wild talk and fake news, help us stand up for the facts.