Get PolitiFact in your inbox.
"Last week Senator Obama's running mate said, get this, 'Raising taxes is patriotic.' "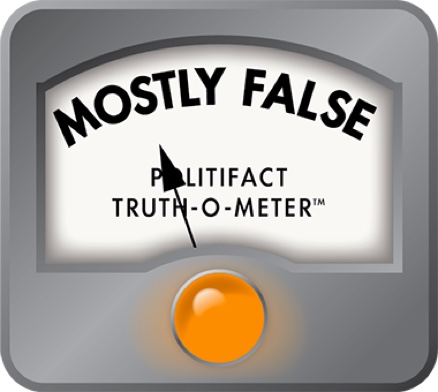 He said it was patriotic to pay higher taxes
Joe Biden may never live down his Sept. 18, 2008, comment on ABC's Good Morning America that wealthy Americans should act patriotically by paying more taxes.
The Delaware senator and Democratic vice presidential nominee's remarks have proved a useful rallying cry for Republican nominee John McCain in painting Barack Obama as a tax-and-spend liberal.
But that doesn't mean it's okay to distort the record, which is what McCain did during a Sept. 22 campaign rally in Reading, Pa., when he told an audience of supporters that "last week Senator Obama's running mate said, get this, 'Raising taxes is patriotic.' "
Let's go to the transcript. Kate Snow, the ABC reporter conducting the interview with Biden, starts out discussing Obama's plan to roll back the Bush tax cuts of 2001 and 2003, effectively raising taxes on families making more than $250,000.
Snow begins: "Anyone making over $250,000…" Biden finishes her thought: "… is going to pay more. It's time to be patriotic, time to jump in, time to be part of the deal, time to help get America out of the rut."
Biden made the same point at a Sept. 3 town hall in Sarasota, Fla. One woman wondered what to tell friends who worry that an Obama-Biden victory will mean higher taxes.
"It's time to be patriotic. That's what you say to them," Biden answered.
It's a debatable argument Biden makes, but clearly he is not praising Obama's patriotism for planning to raise taxes. Rather he's invoking the patriotism of those wealthy taxpayers footing the bill.
Still, McCain's twisting of Biden's words isn't totally off base, given that Biden brought up patriotism while justifying Obama's plan to raise taxes on some wealthy Americans. We rule McCain's claim Barely True.
Editor's note: This statement was rated Barely True when it was published. On July 27, 2011, we changed the name for the rating to Mostly False.
John McCain, Remarks at campaign event, Reading, Pa., Sept. 22, 2008
ABC's Good Morning America, Kate Snow's interview with Joe Biden, Sept. 18, 2008
The Tax Policy Center, An Updated Analysis of the 2008 Presidential Candidates' Tax Plans , July 23, 2008
St. Petersburg Times, Joe Biden says election is about reality in campaign stop in Sarasota, by Janet Zink, Sept. 4, 2008
Browse the Truth-O-Meter
More by Shawn Zeller
Support independent fact-checking.
Become a member!
In a world of wild talk and fake news, help us stand up for the facts.