Get PolitiFact in your inbox.
Henry Kissinger "said that we should meet with Iran — guess what — without precondition."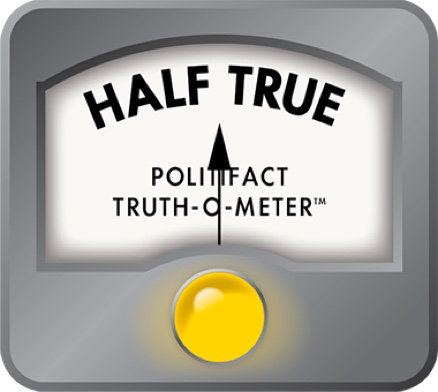 Kissinger and Obama aren't really on the same page
From the start of his campaign, Democratic presidential nominee Barack Obama has said that as president he would personally negotiate with the leaders of rogue states who have long been denied face-to-face meetings with U.S. presidents, such as Iran.

Sen. John McCain raised the issue during the first presidential debate, arguing that Obama's willingness to meet with dictators — without conditions — would provide enemies of the United States, like Iranian president Mahmoud Ahmadinejad, with a platform to spread propaganda.

Ahmadinejad, McCain pointed out, has called for the destruction of Israel and denied that the Holocaust ever happened. McCain's point, notably, is one on which he agrees with New York Sen. Hillary Rodham Clinton, who differed with Obama on the same issue during the Democratic primaries.

To parry McCain's criticism at the debate, Obama said that McCain's own foreign policy adviser, former Secretary of State Henry Kissinger, who served under President Richard Nixon, has called for high-level negotiations with Iran, without condition. And Obama's statement suggests that Kissinger was supporting presidential-level negotiations. Here's what Obama said:
"So let's talk about this. First of all, Ahmadinejad is not the most powerful person in Iran. So he may not be the right person to talk to. But I reserve the right, as president of the United States to meet with anybody at a time and place of my choosing if I think it's going to keep America safe.
"And I'm glad that Senator McCain brought up the history, the bipartisan history of us engaging in direct diplomacy.
"Senator McCain mentioned Henry Kissinger, who's one of his advisers, who, along with five recent secretaries of state, just said that we should meet with Iran — guess what — without precondition. This is one of your own advisers."
McCain opposes direct, president-to-president meetings with Ahmadinejad; Obama favors them.

Kissinger may differ with McCain on when negotiations should begin – the Sept. 20, 2008, remarks Kissinger made on CNN, which Obama was referencing, aren't entirely clear – but he did not endorse a meeting between the presidents of Iran and the United States.

Here's what Kissinger said during the CNN forum with other secretaries of state at George Washington University:
"Well, I am in favor of negotiating with Iran. And one utility of negotiation is to put before Iran our vision of a Middle East, of a stable Middle East, and our notion on nuclear proliferation at a high enough level so that they have to study it. And, therefore, I actually have preferred doing it at the secretary of state level so that we — we know we're dealing with authentic," Kissinger said.
"At a very high level right out of the box?" asked moderator Frank Sesno.

"Initially, yes," Kissinger said. "And I always believed that the best way to begin a negotiation is to tell the other side exactly what you have in mind and what you are — what the outcome is that you're trying to achieve so that they have something that they can react to. Now, the permanent members of the Security Council, plus Japan and Germany, have all said nuclear weapons in Iran are unacceptable. They've never explained what they mean by this. So if we go into a negotiation, we ought to have a clear understanding of what is it we're trying to prevent. What is it going to do if we can't achieve what we're talking about?"

Kissinger then added, "But I do not believe that we can make conditions for the opening of negotiations. We ought, however, to be very clear about the content of negotiations and work it out with other countries and with our own government."

That would seem to differ from McCain's position. McCain has made clear he would hold "no unconditional summits."

After the debate, the McCain campaign was quick to say that Obama had incorrectly described Kissinger's remarks, issuing a statement from Kissinger that said, "I would not recommend the next president of the United States engage in talks with Iran at the presidential level."
Obama is right that Kissinger supports meetings without preconditions, but he neglects to mention that Kissinger specified they would be "at the secretary of state level." And Obama's comments imply that he was referring to meetings at the presidential level. So we find Obama's statement to be Half True.  
CNN, Interview of Henry Kissinger , Sept. 20, 2008

McCain campaign e-mail, Sept. 20, 2008

CNN, "Iranian leader: Holocaust a 'myth'," Dec. 15, 2005

ABC News, "Clinton: Obama 'Irresponsible and Naive'," by Rick Klein, July 24, 2007
Browse the Truth-O-Meter
More by Shawn Zeller
Support independent fact-checking.
Become a member!
In a world of wild talk and fake news, help us stand up for the facts.