Stand up for the facts!
Misinformation isn't going away just because it's a new year. Support trusted, factual information with a tax deductible contribution to PolitiFact.
I would like to contribute
The U.S. energy policy is to "borrow money from China to buy oil from countries that don't like us."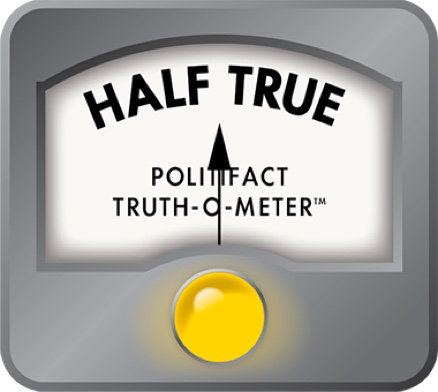 Not just China -- other countries, too
In a keynote speech to the Democratic National Convention in Denver, Mark Warner argued that America is on the wrong track.
"When we look around today, we see that for too many Americans that fair shot is becoming more of a long shot," said Warner, a candidate for the U.S. Senate from Virginia and the state's former governor.
"Two wars, a warming planet, an energy policy that says let's borrow money from China to buy oil from countries that don't like us," Warner said. "How many people look at these things and wonder what the future holds for them?"
We don't think Warner meant it literally, as if it were written down somewhere, when he said our policy is to "borrow money from China to buy oil from countries that don't like us." But we do think he meant that's what's happening.
We talked to economists about this issue earlier this year when we looked at other claims on the campaign trail; read our story "Mix 'n match creditors with causes."
Here's what it comes down to, according to the economists we interviewed: As a country, we spend more than we make, and we don't have much in savings either. So collectively we have been borrowing from foreign countries to pay our bills.
One of the important indicators of countries that lend us this money is the list of foreign countries holding U.S. Treasury securities.
The U.S. government issues Treasury securities to finance its debt. In laymen's terms, these are simply IOUs that guarantee repayment with interest. Many U.S. citizens buy them, often in the form of U.S. bonds, but so do many foreign countries, who see them as a safe, stable investment.
The No. 1 holder of U.S. Treasury securities among foreign countries isn't China. It's actually Japan. China is No. 2, the United Kingdom is No. 3, and a group of oil-producing countries (which includes Saudi Arabia) is No. 4.
The bonds the government sells are not program-specific, so there is no direct relationship between the holder of bonds and any particular expense of the U.S. government. Warner could have easily said that Japan or the United Kingdom is lending us money to pay for oil, and that would have been just as true as what he did say.
Economists also caution against linking our country's foreign debt to our dependency on foreign-produced oil.
"I don't think that there is any link between oil prices causing the low saving of American households or the government's budget deficits. Both preceded the rise in oil prices," said Barry Bosworth, an economist with the Brookings Institution whom we interviewed earlier this year. "Some people will prefer a solution that increases energy supply and others will argue that it is time to reduce demand. I don't think the lack of saving will play much of a role."
Finally, let's look at the last part of Warner's statement, that we're buying oil "from countries that don't like us."
Objectively speaking, we're not sure how they feel about us, but we do know who Americans think are our enemies. A Gallup Poll earlier this year found that Americans believe the following countries are our greatest enemies:
Iran - 25 percent; Iraq - 22 percent; China - 14 percent; North Korea/Korea - 9 percent; United States itself - 3 percent; Afghanistan - 3 percent; Pakistan - 2 percent; Russia - 2 percent; Saudi Arabia - 1 percent; Venezuela - 1 percent; Other - 6 percent.
The country we buy the most oil from is Canada, according to the Energy Information Administration. No. 2 is Mexico, followed by Saudi Arabia, Venezuela, Nigeria, Algeria, Angola, Iraq and Russia. So Americans consider only about four of these nine countries their enemies, for what that's worth.
Warner is right in some of the larger themes he's expressing. The United States does borrow more than it saves, and we import large quantities of oil to satisfy our energy needs. But the two phenomena aren't causally related. And you could just as easily say that we're borrowing from a number of other countries to pay for oil. For these reasons, we find his statement Half True.
Democratic National Convention, Keynote speech of Senate candidate Mark Warner , Aug. 26, 2008
Department of Treasury, Major foreign holders of Treasury securities , April 2008
Commerce Department, International balance of payments
New York Times, A Map of the Oil World, Nov. 6, 2007
Interview with Barry Bosworth of the Brookings Institution
Interview with Dean Baker of the Center for Economic and Policy Research
Interview with Jerry Taylor of the Cato Institute
Gallup Poll, North Korea Drops Out of Top Three U.S. 'Enemies' , March 28, 2008
Energy Information Administration, U.S. Imports by Country of Origin , 2007
Browse the Truth-O-Meter
More by Angie Drobnic Holan
Support independent fact-checking.
Become a member!
In a world of wild talk and fake news, help us stand up for the facts.