Stand up for the facts!
Misinformation isn't going away just because it's a new year. Support trusted, factual information with a tax deductible contribution to PolitiFact.
I would like to contribute
When Sarah Palin was in government, Barack Obama was a community organizer.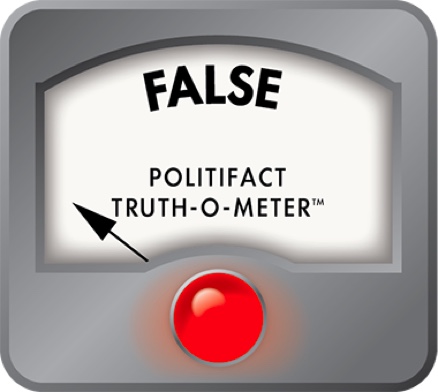 Palin was a sports reporter when Obama was organizing
The day after John McCain selected Alaska Gov. Sarah Palin to be his running mate for the presidential campaign, McCain defended his pick from questions about her experience.
Chris Wallace, who interviewed McCain on Aug. 30, 2008, for Fox News Sunday , asked McCain several questions about why he selected Palin. Here's one exchange:
Wallace: "Senator, you talked about her years of experience. Ten of those years were as a city councilwoman and mayor of a town of 9,800 people. And in terms of foreign policy, in March of 2007, two months after the surge had started, she was asked about it, and she said: 'I've been focused on state government. I haven't focused on the war in Iraq.' Understandable for a governor; not understandable for a vice president."
McCain: "Well, by the way, also she was a member of the PTA. I think it's wonderful. But the point is she has been to Kuwait. She has been over there. She has been with her troops, the National Guard that she commands, who had been over there and had the experience. I'm proud of her knowledge of these challenges and issues. And of course, as governor she has had enormous responsibilities, none of which Sen. Obama had. When she was in government, he was a community organizer. When she was taking tough positions against her own party, Senator Obama was voting 'present' 130 times in the state legislature, on every tough issue whatever it was, while she was taking them on. That's the kind of judgment that I'm confident that we need in Washington."
We examined Obama's "present" votes in an article when the issue came up during the Democratic primary . It's true that Obama cast roughly 130 present votes from more than 4,000 votes cast during his time in the Illinois legislature.
It's also true that Palin earned experience as a governor that Obama doesn't have, but then McCain doesn't have that, either.
Here, we'll look at McCain's claim that Palin was in government while Obama was a community organizer.
Palin and Obama are fairly close in age, only 2 years apart. As of this writing, Palin is 44 and Obama just turned 47.
According to her biography from the Alaska governor's office, Palin graduated from the University of Idaho in 1987 with a degree in communications-journalism. She then worked as a television sports reporter from 1987 to 1989, according to the Almanac of American Politics.
Her sports reporting career was at Anchorage's NBC affiliate KTUU, a fact the station noted in its biography of Palin, who then used her maiden name of Heath.
Palin first took elected office in 1992 when she was elected to the city council of Wasilla, a town of 5,469, according to the 2000 U.S. Census.
Obama, meanwhile, graduated from Columbia University with his bachelor's degree in 1983. He worked briefly for a business research firm before moving to Chicago to become a community organizer. He worked as a community organizer from 1985 to 1988 before leaving Chicago to attend Harvard Law School in 1988.
In 1992, Obama had finished his law degree at Harvard and was directing a statewide voter registration drive. His work there earned him a mention in the annual "40 under 40" list published by Crain's Chicago Business to recognize the city's young leaders. Crain's credited him and a staff of 10 with registering 150,000 new voters. After the drive ended in November 1992, Obama went on to join a Chicago law firm and finish his memoir Dreams From My Father, which was published in 1995. He was elected to the Illinois legislature in 1996.
When Obama talks about his days as a community organizer, he usually is referring to the work he did prior to law school, most notably organizing the community around Atgeld Gardens on the issues of asbestos removal from public housing. For McCain's statement to be true, you would have to consider Obama's voter registration drive work to be community organizing — an arguable point. In addition to that, municipal elections in Wasilla in 1992 were held in the first week in October, so at most Palin had won office for a month while Obama was a community organizer by an arguable definition.
Because Obama's best-known days as a community organizer were prior to his graduation from Harvard Law School, from 1985 to 1988, and during those years Palin was graduating from college and working as a sports reporter, we rule McCain's statement False.
Fox News, Fox News Sunday

Alaska Governor's Office, Sarah Palin biography

Almanac of America Politics, Gov. Sarah Palin

Associated Press, Timeline of Palin's life and career

KTUU.com, Gov. Sarah Palin biography

PolitiFact.com, Obama's 20 years of experience , March 7, 2008

Crain's Chicago Business, "40 Under Forty," Sept. 27, 1993, accessed via Nexis

New York Times, The Story of Obama, Written by Obama

Boston Globe, A defining time of advocacy: Obama shaped by Chicago activism , Jan. 22, 2008

Anchorage Daily News, "Vote count is delayed in Mat-Su," Oct. 7, 1992, accessed via Newsbank
Browse the Truth-O-Meter
More by Angie Drobnic Holan
Support independent fact-checking.
Become a member!
In a world of wild talk and fake news, help us stand up for the facts.