Get PolitiFact in your inbox.
"Bill Clinton's peace dividend . . . cut the military 25 and 30 percent."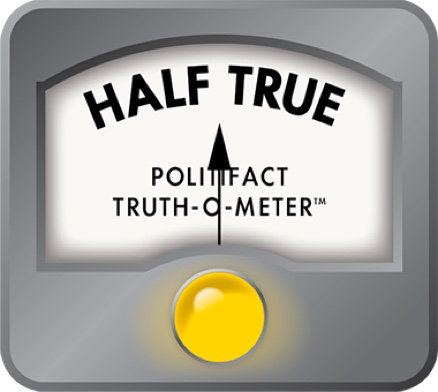 The peace dividend began with a Bush
At a Republican debate in Boca Raton on Jan. 24, 2008, Rudy Giuliani repeated his claim that Bill Clinton is to blame for shrinking the nation's military.
"I think we should increase the size of our military substantially to overcome the damage that Bill Clinton did with the peace dividend," he said, adding that "a lot of the cause of (the smaller military force) was Bill Clinton's peace dividend, in which he cut the military 25 and 30 percent."
We've covered this topic in two previous items, one for Giuliani and one for a similiar claim made earlier by Mitt Romney. But because this misleading claim is new to many voters who are just tuning into the campaign, we'll reiterate what we've said before.
Romney made his claim in April 2007, saying that, "Following the end of the Cold War, President Clinton began to dismantle our military. He reduced our forces by 500,000. He retired almost 80 ships. Our spending on national defense dropped from over 6 percent of GDP to 3.8 percent today."
The two Republicans are correct that military forces were reduced significantly under Clinton. The active-duty military totaled 1.8-million at the start of his presidency in 1993 and declined to 1.4-million in 2000. They are also correct that the naval fleet shrank dramatically. The Navy had 454 ships in 1993, but as vessels were retired and not replaced, the fleet was down to 341 by 2000.
But they are selectively choosing numbers that make it appear that the military cuts were Clinton's alone. In fact, the cuts were prompted by the end of the Cold War during the presidency of President George H.W. Bush, a Republican.
During Bush's presidency, he and Congress agreed to a sharp drop in military personnel. Active-duty military declined from 2.2-million to 1.8-million. Total defense forces also shrank, from 3.3-million to 2.9-million.
The Republicans are trying to portray Clinton and the Democrats as weak on defense and to make the peace dividend look like a partisan effort. But contrary to the Republicans' claims, the post-Cold War shrinkage of the U.S. military was very much a bipartisan effort. It began under a Republican president and a Democratic Congress and continued under a Democratic president and a Republican Congress.
And so we find, as we did before, that this claim is Half True.
Browse the Truth-O-Meter
More by Bill Adair
Support independent fact-checking.
Become a member!
In a world of wild talk and fake news, help us stand up for the facts.