Get PolitiFact in your inbox.
"He told gay organizers in Massachusetts he would be a stronger advocate for special rights than even Ted Kennedy."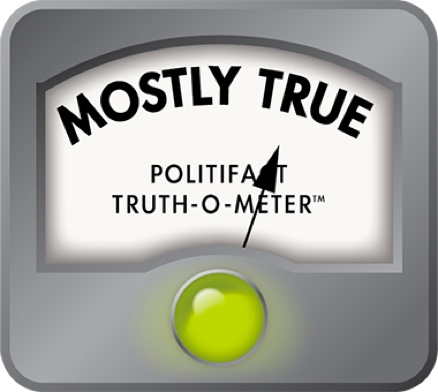 Pretty much yes, but it's not 'special'
A day ahead of the Florida primary, John McCain unleashed an attack on rival Mitt Romney in an automatic phone call to Republican voters.
It's identical to something Rudy Giuliani said about Romney when the former New York mayor was still in the race. We examined the Giuliani charge and concluded it was Mostly True.
As reported by Politico.com , the McCain robocall is a woman apparently concerned about Romney's social conservative record. A McCain spokesman confirmed for us that the call came from the campaign but did not provide the official text.
Here is the transcript of the call courtesy of Politico :
"I'm calling with an urgent Mitt Romney [unintelligible]"
"We care deeply about traditional values and protecting families. And we need someone who will not waver in the White House: ending abortion, preserving the sanctity of marriage, stopping the trash on the airwaves and attempts to ban God from every corner of society. These issues are core to our being.
"Mitt Romney thinks he can fool us. He supported abortion on demand, even allowed a law mandating taxpayer funding for abortion. He says he changed his mind, but he still hasn't changed the law. He told gay organizers in Massachusetts he would be a stronger advocate for special rights than even Ted Kennedy. Now, it's something different.
"Unfortunately, on issue after issue Mitt Romney has treated social issues voters as fools, thinking we won't catch on. Sorry, Mitt, we know you aren't trustworthy on the most important issue and you aren't a conservative.
"Paid for by John McCain 2008."
The statement the the call refers to comes from Romney's 1994 U.S. Senate campaign against Kennedy. During the race, Romney wrote a letter to the Log Cabin Republicans, a group of gay Republicans, thanking them for their support.
"For some voters it might be enough for me to simply match my opponent's record in this area," Romney wrote in October 1994. "But I believe we can and must do better. If we are to achieve the goals we share, we must make equality for gays and lesbians a mainstream concern. My opponent cannot do this. I can and will."
As with our previous ruling on this same attack, we find it Mostly True. McCain is right that Romney promised to be more supportive of gay rights than Kennedy had been, but he loses some points by using the term "special rights." What Romney actually advocated was equality for gay and lesbian Americans; nothing "special."
Yes, it's a small point. But for a politician like McCain, who took such grief over the misuse by his opponents of the term "amnesty" to describe his proposal for illegal immigrants, it's reasonable to expect a little more precision.
Politico.com, McCain sends out harsh robocall hitting Mitt from right
Bay Windows, The Romney Files
Boston Globe, "New Romney Brochure Rips Rivals' Stance on Marriage," Nov. 28, 2007
New York Times, Romney's Tone on Gay Rights is Seen as Shift , Sept. 8, 2007
Interview with Brian Rogers, McCain campaign staffer, Jan. 30, 2008
Letter from Mitt Romney to Log Cabin Club of Massachusetts , Oct. 6, 1994
Browse the Truth-O-Meter
More by John Frank
Support independent fact-checking.
Become a member!
In a world of wild talk and fake news, help us stand up for the facts.