Stand up for the facts!
Our only agenda is to publish the truth so you can be an informed participant in democracy.
We need your help.
I would like to contribute
"(Palin) supported right-wing extremist Pat Buchanan for president in 2000."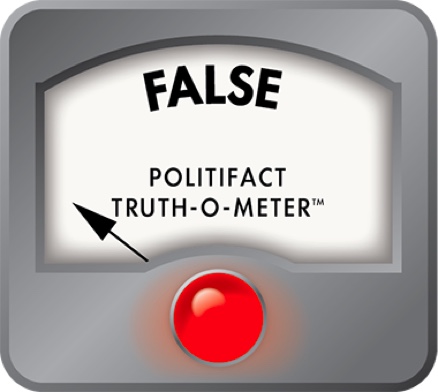 Palin wasn't in Buchanan's Brigade
Gov. Sarah Palin's conservative credentials have excited the GOP base, and perhaps in equal fashion have ignited the passions of liberals.
Palin remained Topic A during the Republican National Convention and her resume has been picked over by friends and foes alike. In the foe category would be MoveOn.org, the liberal activist group, which on Sept. 2 sent an e-mail to an estimated 3.2-million supporters, offering their views of Palin's flaws as a public official.
One item caught our attention. The e-mail said Palin, Alaska's governor since 2006, "supported right-wing extremist Pat Buchanan for president in 2000."
"This is information the American people need to see," the email said. "Please take a moment to forward this email to your friends and family."
In making its allegation, Move.on picked up on a charge made by others, most notably Rep. Robert Wexler, D-Fla., a longtime Barack Obama supporter. The charge relies on a single Associated Press story from July 1999 about Buchanan's campaign stop in tiny Wasilla, Alaska, where Palin was mayor at the time. The article described Palin as "among those sporting Buchanan buttons."
We won't delve into the question of whether Buchanan really is a "right-wing extremist." Those are the kinds of judgments voters can make for themselves. But the allegation that Palin was a Buchanan supporter might carry some weight, especially among Jewish voters, many of whom consider him to be anti-Israel. Wexler, in his charge, said Buchanan had "a uniquely atrocious record on Israel," and the Anti-Defamation League calls Buchanan a "racist, anti-Semite."
So the question is this: Did Palin support Buchanan in 2000?
No. Shortly after Buchanan's visit to Wasilla, and after the AP story, Palin wrote a letter to her local newspaper making clear that her appearance at the Buchanan event wasn't an endorsement of his candidacy. Published July 26, 1999, the letter said:
"As mayor of Wasilla, I am proud to welcome all presidential candidates to our city. This is true regardless of their party, or the latest odds of their winning. When presidential candidates visit our community, I am always happy to meet them. I'll even put on their button when handed one as a polite gesture of respect.
"Though no reporter interviewed me for the Associated Press article on the recent visit by a presidential candidate (Metro, July 17), the article may have left your readers with the perception that I am endorsing this candidate, as opposed to welcoming his visit to Wasilla. As mayor, I will welcome all the candidates in Wasilla."
Not long after, Wasilla endorsed Steve Forbes' unsuccessful bid for the 2000 GOP nomination.
The one complication is that Buchanan appeared on CNBC's Hardball on Aug. 30 and claimed that Palin and her husband had been supporters during is '96 campaign. "She was a brigadier for me in '96, as was her husband,'' Buchanan said. "She's a terrific gal. She's a rebel reformer." Buchanan called his supporters the Buchanan Brigades.
But on Sept. 3, Buchanan told PolitiFact in St. Paul, Minn., that while he knew Palin attended his rally in Wasilla because of press accounts, he did not know if she actually supported him as a candidate in 2000 or previous campaigns. "I can't confirm anything,'' he said.
Campaign finance reports on CQ Moneyline show she never donated money to Buchanan or Forbes. The McCain campaign is emphatic in refuting the charge.
"Governor Palin has never supported Pat Buchanan," the McCain campaign said on its "Stop the Smears'' Web site, and called on Wexler to retract his comments.
But Wexler spokesman Josh Rogin said that won't happen.
"Buchanan says she was a supporter,'' Rogin said.
Buchanan doesn't say that anymore. We may never be sure of Palin's position in 1996, but if she says she wasn't a Buchanan supporter and Buchanan says he can't prove that she was, we don't have much to go on.
But for our purposes, the question of 2000 is more important because that's what Moveon.org alleges in a widespread e-mail. The letter to the editor that Palin wrote back in 1999 seems pretty clear to us. Even back then she wanted to make it clear that Buchanan wasn't her choice for president in the 2000 race, which leaves us with nowhere to go but False.
E-mail from U.S. Rep. Robert Wexler, Aug. 29, 2008

YouTube, Pat Buchanan on Hardball

McCain campaign, Stop the smears

Moveon.org, MoveOn e-mail

Anchorage Daily News, Letters to the Editor, July 26, 1999, accessed via Nexis

Associated Press, Forbes sets Alaska Team, Aug. 7, 1999, accessed via Nexis

Anchorage Daily News, Buchanan takes conservative message to Fairbanks, July 17, 1999, accessed via Nexis
Support independent fact-checking.
Become a member!
In a world of wild talk and fake news, help us stand up for the facts.