Stand up for the facts!
Our only agenda is to publish the truth so you can be an informed participant in democracy.
We need your help.
I would like to contribute
"He admits he still doesn't know how to use a computer, can't send an e-mail."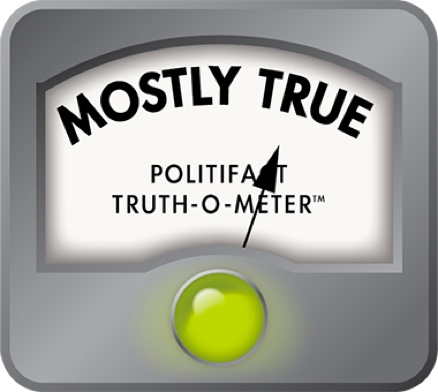 McCain is not computer savvy
The latest ad from Barack Obama's campaign, called Still , sets the clock back to John McCain's first year as a congressman.
The ad begins with 1982 on the screen, a disco ball in the background.
"1982," the announcer says. "John McCain goes to Washington."
The screen flashes a picture of the freshman legislator in large, dated glasses.
"Things have changed in the last 26 years. But McCain hasn't."
Images flash of a record player and a Rubik's Cube.
"He admits he still doesn't know how to use a computer, can't send an e-mail. Still doesn't understand the economy, and favors $200-billion in new tax cuts for corporations, but almost nothing for the middle class."
The suggestion is clear: McCain is out of touch. We looked at a claim about whether McCain has said he doesn't understand the economy, when then-Republican primary opponent Mitt Romney brought it up. See our ruling here . We've also looked at whether McCain would offer any tax relief to middle class people . Here, we will look at the claims about McCain's computer acumen.
In an interview for Yahoo News in January, Mike Allen, chief political correspondent for Politico , a Washington-based newspaper, asked several Republican candidates at the time whether they prefer a Mac or a PC.
"Neither," McCain replied. "I am an illiterate that has to rely on my wife for all of the assistance that I can get."
In a July 11 interview with the New York Times, McCain hardly sounded like he has since gone techie.
In answer to a question about what Web sites he looks at regularly, McCain said aides "show me" the Drudge Report, Politico.com and sometimes Real Clear Politics. He also noted that he reads the blog written by his daughter, Meagan.
"But do you go online for yourself?" McCain was asked.
"They go on for me," McCain said. "I am learning to get online myself, and I will have that down fairly soon, getting on myself. I don't expect to be a great communicator, I don't expect to set up my own blog, but I am becoming computer literate to the point where I can get the information that I need — including going to my daughter's blog first, before anything else."
"Do you use a blackberry or e-mail?"
"No," McCain said, but then explained. "I use the Blackberry, but I don't e-mail, I've never felt the particular need to e-mail. I read e-mails all the time, but the communications that I have with my friends and staff are oral and done with my cell phone. I have the luxury of being in contact with them literally all the time. We now have a phone on the plane that is usable on the plane, so I just never really felt a need to do it. But I do — could I just say, really — I understand the impact of blogs on American politics today and political campaigns. I understand that. And I understand that something appears on one blog, can ricochet all around and get into the evening news, the front page of the New York Times. So, I do pay attention to the blogs. And I am not in any way unappreciative of the impact that they have on entire campaigns and world opinion."
Although McCain has never blamed injuries suffered as a Vietnam POW for his lack of computer skills, articles in the Boston Globe and Forbes in 2000 noted that those injuries make it difficult for him to use a keyboard.
According to Forbes: "McCain is an inveterate devotee of email. His nightly ritual is to read his email together with his wife, Cindy. The injuries he incurred as a Vietnam POW make it painful for McCain to type. Instead, he dictates responses that his wife types on a laptop. 'She's a whiz on the keyboard, and I'm so laborious,' McCain admits."
Still, McCain admits that he just isn't much of a technology user.
Two years ago, McCain told CNN, "I read my e-mails, but I don't write any. I'm a Neanderthal--I don't even type. I do have rudimentary capabilities to call up some websites, like the New York Times online, that sort of stuff. No laptop. No PalmPilot. I prefer my schedule on notecards, which I keep in my jacket pocket."
The Obama campaign ad says McCain "can't send an e-mail." That seems to paint McCain as a bit more out of touch than he is. He does own a Blackberry and he says he regularly gets and reads e-mails. McCain admits he doesn't send them, but never said he can't.
And it sounds like McCain is at least starting to dabble on the Web. But as of July, not without help. Unless McCain has boned up in the past couple months, if he is reading this post, we assume someone else navigated to the page and showed it to him. One can argue how relevant this is to McCain's ability to lead the country, but even according to McCain, he is not very computer savvy. We rule the claim in the ad Mostly True.
Update: On Sept. 15, 2008, we updated this story with information about how injuries sustained by McCain as a POW make it difficult for him to use a keyboard. However, given McCain's acknowledgment that he is learning to get online, this additional information did not change our ruling.
Obama campaign Web site, "Campaign Ad: Still"

Politico, "John McCain goes online" by Mike Allen, July 13, 2008

New York Times, "Transcript The Times Interviews John McCain" July 13, 2008

Yahoo News, "Video: Mac or PC?" January, 2008

Forbes, "Net Vs. Norm" by Richard Rapaport, May 29, 2000

\ The Boston Globe, "McCain character loyal to a fault" by Mary Leonard, March 4, 2000

CNN, "How I Work" byy Alex Taylor III, David Kirkpatrick, Andy Serwer, Jon Birger, Ellen McGirt, Roger Parloff, Jia Lynn Yang, Ellen McGirt, Devin Leonard, Roger Parloff and Patricia Sellers, March 15, 2006
Browse the Truth-O-Meter
More by Robert Farley
Support independent fact-checking.
Become a member!
In a world of wild talk and fake news, help us stand up for the facts.