Stand up for the facts!
Our only agenda is to publish the truth so you can be an informed participant in democracy.
We need your help.
I would like to contribute
"Already we've identified $2 trillion in deficit reductions over the next decade."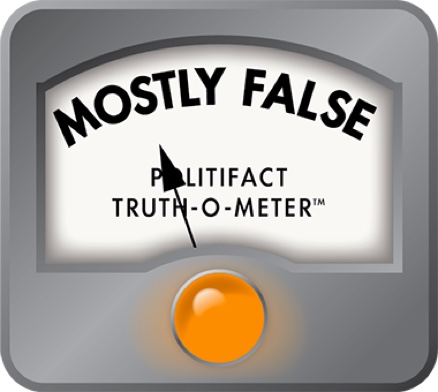 Obama's claim on deficit depends on how you figure the numbers
President Barack Obama says his 2010 budget is a responsible plan that will reduce the deficit.
"Already we've identified $2 trillion dollars in deficit reductions over the next decade," Obama said in a speech at Georgetown University on April 14, 2009.
Conservative columnist Charles Krauthammer called the $2 trillion number "transparently phony" and a "whopper," and we've seen similar criticisms elsewhere. So we decided to check it out.
Keep in mind that the deficit is a number that reflects income minus expenses over the course of a single year. At the end of Bill Clinton's administration, the government had a few years of surplus, but since then it's been running a deficit every year. Each year's deficit gets tacked on to the growing pile of public debt.
Obama's budget assumes the government's expenses will continue to exceed its income for the next four years. But it proposes policies that Obama says will make the deficit smaller. He claims the budget cuts the deficit in half over four years (a claim we found Mostly True ) and cuts deficit spending by $2 trillion over 10 years.
When you talk about the deficit getting "smaller," though, you have to ask, "smaller compared to what?"
The answer: smaller than it would have been without Obama's proposed changes. The reductions depend on looking 10 years into the future and comparing Obama's proposal with what we would have spent if we continued with current policies. These projected numbers of current policies are called the baseline.
Obama's critics contend he's inflating the baseline. In particular, they say, Obama claims we would have spent a pile of money on "overseas contingency operations," which means the wars in Iraq and Afghanistan. Obama's budget then posits that he wouldn't spend that much money, and he totals up the savings at $1.6 trillion.
The numbers get bigger the further into the future we go. In 2019, for example, Obama projects that he will save $187 billion than would have otherwise been spent on those "overseas contingencies."
We asked the White House's Office of Management and Budget how it came up with its numbers, but we didn't hear back.
We turned to several federal budget experts from across the political spectrum to see if they thought Obama was inflating the baseline.
Absolutely, said Brian Riedl, a senior policy analyst with the right-leaning Heritage Foundation.
"It's the equivalent to assuming an expensive vacation, then not taking it, and saying you've cut your family's budget," he said. "To claim savings off that baseline is ridiculous."
The left-leaning Center on Budget and Policy Priorities also looked at the $2 trillion number and found it a bit inflated. Its research said a more realistic number for deficit savings was $900 billion, a little less than half of Obama's estimate.
Calculating the baseline can be an honest difference of opinion, said James Horney, the center's director of federal fiscal policy.
Obama's budget "does a different thing, but I can't say it's wrong," Horney said.
Also, he pointed out, Obama's budget increases revenues by letting the Bush tax cuts expire on people who make more than $200,000 a year for singles or $250,000 for couples. The Obama budget document shows a deficit reduction of $636 billion over 10 years from those tax increases.
Obama's critics don't mention his deficit reductions due to the tax increases, Horney said.
"They don't tell you the next step, which is that he is still below current policy, because that is driven by ending the tax cuts that they support," he said.
We found yet another interesting perspective from the Heritage Foundation's William Beach, the director of their center for data analysis.
Beach said that the problem with Obama's budget is that he assumes he can reduce the spending on Iraq and Afghanistan at all. Beach thinks that's highly unlikely.
"Everybody who has said we can reduce costs in Iraq has been wrong, whether on the left or the right," Beach said. "Everyone who goes in stays longer than they want to. It's almost like a budget trap over there."
"Four years from now, Obama will be as intractably involved in Iraq and Afghanistan as he is today," Beach said glumly. "I hope I'm wrong," he added.
So after hearing arguments from both sides, we agree with critics who say Obama is exaggerating his savings estimates. Even Sen. John McCain, Obama's opponent, said during the campaign that he would have brought home most of the troops in 2013 if elected president. So for Obama to estimate costs getting bigger and bigger for a full 10 years is a stretch.
On the other hand, it's very difficult to say how much of a stretch it is — after all, we're talking about numbers based on predictions about complex military and global events.
In one sense, Obama's statement is true. He has identified $2 trillion in deficit reductions. But presenting a budget figure 10 years out as a solid number is dicey. And people on both ends of the political spectrum say his numbers are exaggerated considerably. And we find it's significant that the estimate from the well-respected, left-leaning Center on Budget and Policy Priorities is less than half of Obama's. So we find Obama's statement Barely True.
Editor's note: This statement was rated Barely True when it was published. On July 27, 2011, we changed the name for the rating to Mostly False.
The White House, Remarks by the President on the Economy , April 14, 2009
Washington Post, The Sting, in Four Parts , (Charles Krauthammer column), April 17, 2009
Interview with Brian Riedl of the Heritage Foundation
Interview with James Horney of the Center on Budget and Policy Priorities
Center on Budget and Policy Priorities, Obama budget reduces deficit by $900 billion compared to current budget policies , March 31, 2009
Interview with William Beach of the Heritage Foundation
PolitiFact.com, Creative editing twists McCain's comments on Iraq , July 11, 2008
Browse the Truth-O-Meter
More by Angie Drobnic Holan
Support independent fact-checking.
Become a member!
In a world of wild talk and fake news, help us stand up for the facts.