Stand up for the facts!
Our only agenda is to publish the truth so you can be an informed participant in democracy.
We need your help.
I would like to contribute
Rep. Adam Putnam was silent when Rush Limbaugh called Sonia Sotomayor a racist.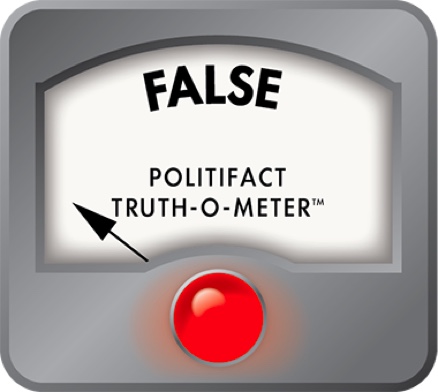 Ad on Rush Limbaugh and Sonia Sotomayor gets Adam Putnam's position wrong
UPDATE: We've updated this item after hearing back from Presente.org, but we haven't changed our ruling.
A group called Presente.org is using some political sleight-of-hand to suggest that a Republican House member from Florida endorses Rush Limbaugh's comment that Supreme Court nominee Sonia Sotomayor is a racist.
The sleight-of-hand is the tricky wording in a radio ad from the left-leaning Latino advocacy group's "Action" arm. Instead of directly saying that Putnam, who is running for Florida agriculture commissioner, endorses Limbaugh, the ad says that he "refused" to reply to the group's inquiry. A similar ad was used against Rep. John Mica, a Republican from the Orlando area. Here's a translation of the Spanish-language ad:
(Spanish) "Sonia Sotomayor is set to be the first Latina, and the first Puerto Rican, to serve on the U.S. Supreme Court. It is a proud moment for our community. Yet Republican leaders insist on attacking her.
(English) "'She doesn't have any intellectual depth. She's got a — she's an angry woman, she's a bigot. She's a racist.'
(Spanish) "That's Republican leader Rush Limbaugh calling Judge Sotomayor a racist and a bigot. It's insulting to all Latinos and Americans. We asked Republican Congressman Adam Putnam if he would denounce Limbaugh's words. He refused to reply. Let's put a stop to the hate. Call Congressman Putnam today at 863-534-3530 and tell him to condemn this language."
The ad is unusual because House members don't have any say in the confirmation of Supreme Court nominees. That's up to the Senate.
With its insinuation, the ad is incorrect. Most notably, Putnam has not "refused" to comment on this. He told the Orlando Sentinel very specifically that he thought Sotomayor was not a racist in response to Limbaugh's comments.
His comments were published in a Sentinel column on May 31, 2009, by Scott Maxwell, about how Republicans were responding to the Sotomayor nomination and Limbaugh's controversial remarks.
"I have not seen anything that would disqualify her," Putnam said. "And I certainly would not call her a racist based on anything we have seen so far."
We also spoke with Putnam's communications director, Keith Rupp. Rupp said if Presente.org called Putnam's office looking for comment on Limbaugh, he couldn't find a record of it. He looked after they started getting calls off the radio ad.
"The bottom line is we're not aware of them having contacted us," Rupp said. "When people call, we make a record of it, usually in writing."
Presente.org, however, said they did call, and spokesperson Jennifer Fernandez Ancona provided us with a copy of their phone record that shows a 4-minute call to Putnam's Bartow office and a 1-minute call to his D.C. office on June 19. The group knew about Putnam's previous comments, she said, but felt it was important that Putnam and Mica denounce Limbaugh's remarks as the Sotomayor hearings began.
She said it's not sufficient that Putnam said he didn't think Sotomayor was a racist, because of how influential Limbaugh is and how much attention his comments receive. "We were asking (Putnam) to specifically denounce Rush's comments," she said. "It's a different question."
Rupp said that Putnam's statements to the Sentinel were his definitive comments on the matter.
The phrasing of the ad is very artful, but the thrust of the message is that Putnam was silent when asked about Limbaugh's remarks. That's not the case. Presente.org said there's a difference between saying you disagree with someone's comments and specifically denouncing the person's comments. We don't think that's a meaningful distinction in the context of a 60-second radio ad. We rule Presente.org's statement False.
St. Petersburg Times Buzz Blog, Ads target Adam Putnam, John Mica over Sonia Sotomayor , July 13, 2009
AmericaBlog, Making Republicans own Rush's racism on Spanish-language radio , July 13, 2009
Orlando Sentinel, Some in GOP show some sense, May 31, 2009, accessed via Nexis
Interview with Keith Rupp, communications director for Rep. Adam Putnam
Interview with Jennifer Fernandez Ancone of Presente.org
Browse the Truth-O-Meter
More by Angie Drobnic Holan
Support independent fact-checking.
Become a member!
In a world of wild talk and fake news, help us stand up for the facts.