Stand up for the facts!
Our only agenda is to publish the truth so you can be an informed participant in democracy.
We need your help.
I would like to contribute
"For the last decade the climate has been cooling."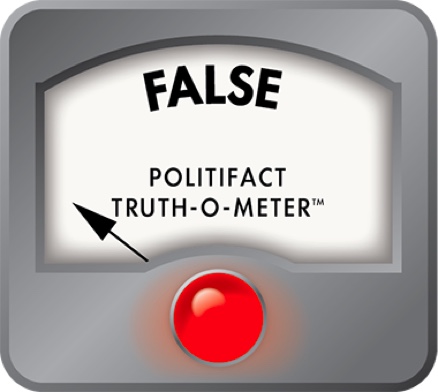 Matalin claims the Earth is cooling
Skeptics of climate change often say the world has been cooling in the past decade.

Conservative pundit Mary Matalin made that claim on CNN's Situation Room on Oct. 22, 2009. Matalin warned that the Obama administration is pushing too many big legislative initiatives such as a cap-and-trade plan to slow global warming when the administration should be focusing on the deficit.

"If they care about reducing the deficit, which should be their No. 1 priority ... they're not going to be able to do this — all this other nonsense, cap and trade and all the rest of it. Too much, too fast," Matalin said. "Climate change is a fake issue anyway. ... There is not consensus science on what is causing global climate change. There is climate change, but for the last decade the climate has been cooling. There is the science. There is the data on that. They want to do this because they like to have all these programs being controlled by the government."

So, Matalin acknowledges that the Earth's temperature is changing, but she's not so sure that those changes are man-made. We'll save the debate over whether climate change is caused by human activity for another day. For now, we're going to check Matalin's claim that the Earth has been cooling in recent years.

Last spring, we checked a similar claim made by the Cato Institute, a free-market think tank. The group claimed that there has been no net global warming for over a decade; we found that False because the climate scientists we spoke with said that, while temperatures have remained relatively static over the last decade, very little can be learned about climate change in a 10-year window.

Matalin's office sent us a few articles pertaining to the issue, two about a new book by Christopher Booker, a British author and climate change skeptic, who wrote in the Oct. 25 issue of the British newspaper the Telegraph that, "as the world has already been through two of its coldest winters for decades, with all the signs that we may now be entering a third, the scientific case for (carbon dioxide) threatening the world with warming has been crumbling away on an astonishing scale."

Another study , published by Bob Carter, a professor of geology at Australia's James Cook University, in the Jan. 20 issue of the Australian newspaper argued that "global atmospheric temperature reached a peak in 1998, has not warmed since 1995 and, has been cooling since 2002."

Carter is correct that global temperatures hit a high point in 1998. Several entities — including NASA, the Climate Research Unit in the United Kingdom and the National Oceanic and Atmospheric Administration in the United States — track temperature changes. Generally speaking, their records show that 1998, a year when a warming pattern called El Nino ruled the weather, is the hottest we've had since scientists started collecting temperature information in the mid 1800s. NASA, on the other hand, pins 2005 as the hottest year on record.

But no matter how you slice the data, temperatures have indisputably fluctuated in the last decade, contrary to Matalin's suggestion that they have cooled. This graph from NASA shows that the temperature increased slightly between 2000 and 2001, dropped in 2002, and rose once again the following year. In this case, the annual mean temperature goes up and down, and the five-year mean is on a steady rise. This graph from NOAA shows a similar trend, with temperatures dipping slightly at the beginning of the decade and peaking once again in 2005.

We asked Richard Heim, a meteorologist at the NOAA National Climatic Data Center Climate Monitoring Branch, what to make of all these ups and downs.

At the most, it shows a plateau, he said. But certainly not a cooling trend.

"With climate change, not every year is going to be warmer," Heim said. "It's two steps up, two steps down — that's not a indication we're on a massive cooling trend."

NOAA climate monitoring chief Deke Arndt recently told the Associated Press the same thing:

"The last 10 years are the warmest 10-year period of the modern record," he said. "Even if you analyze the trend during that 10 years, the trend is actually positive, which means warming."

If 1998 is the starting point, a year many climate skeptics tend to cite, everything looks cooler in comparison, said Raymond Bradley, a climate scientist at the University of Massachusetts. He also pointed out that, when evaluating the impact of climate change on temperature, it's misleading to look at only the last 10 years.

A decade is such a small period of time that "it's like saying, 'It was cold here last week. What happened to climate change?'" Bradley said.

It's a point we heard repeatedly from the climate experts we interviewed. They all agreed that, while climate temperatures may dip from year to year, it's shortsighted to say changes within a decade mean that climate change is going away.

"If you just take a one-year comparison — say that it's cooler in 2008 than it was in 2007 — that's an improper use of statistics" to make judgments about climate change, said John Reilly, a professor at Massachusetts Institute of Technology. "It still remains much warmer than it was in the 1960s. To the extent that there has been some slight cooling, we still remain half-a-degree above what it was then."

Indeed, climate records show that temperatures have been on the rise since the middle of the century, and that fluctuations between recent years are relatively small compared to overall increase. NASA estimates that global temperatures have risen a total of 2.3 degrees since 1895, and that 13 of the warmest years since 1850 have occurred in the last 14 years.

Jim Hurrell, a senior scientist with the National Center for Atmospheric Research in Boulder, Colo., says these natural temperature variations are expected.

"In the same way that El Nino made 1998 warm, in 2007 and 2008, La Nina made global temperatures a bit cooler than they have been running, but still much warmer than the long-term average," Hurrell said referring to El Nino's cooler counterpart.

Citing just the last 10 years "is a classic case of taking the data and letting it tell a very misleading story," he said.

Matalin said, "for the last decade the climate has been cooling." That suggests there has been a distinct reversal of the steady warming that scientists have documented for many years. But a review of the data shows that's not the case. The numbers show that in the past 10 years, global temperatures have not continued their sharp increase. But they have not cooled either. In fact, some years in the last decade have been hotter than the previous years. At most, they could be described as hitting a plateau. But they haven't cooled as Matalin said. We find her claim False.
CNN, transcript of the Oct. 22, 2009, episode of The Situation Room

Real Climate, A Warming Pause? , Oct. 6, 2009
National Oceanic and Atmospheric Administration, State of the Climate Global Analysis Annual 2008 , accessed Oct. 26, 2009
The Interngovernmental Panel on Climate Change, How are Temperatures on Earth Changing? , accessed Oct. 26, 2009
MetOffice, Climate Change Facts , accessed Oct. 26, 2009
NASA's climate change page , accessed Oct. 26, 2009
Interview, John Reilly, Center for Environmental Policy Research at the Massachussets Institute of Technology, Oct. 26, 2009
Interview, Dan Farber, director, Climate and Energy Policy Institute, Oct. 26, 2009
Interview, Jim Hurrell, senior scientist, National Center for Atmospheric Research, Oct. 26, 2009
Interview, Raymond Bradley, climate scientist, University of Massachusetts, Oct. 26, 2009
Browse the Truth-O-Meter
More by Catharine Richert
Support independent fact-checking.
Become a member!
In a world of wild talk and fake news, help us stand up for the facts.