Get PolitiFact in your inbox.
A new bill "was written into the new health care reform initiative ensuring that Congress will be 100 percent exempt."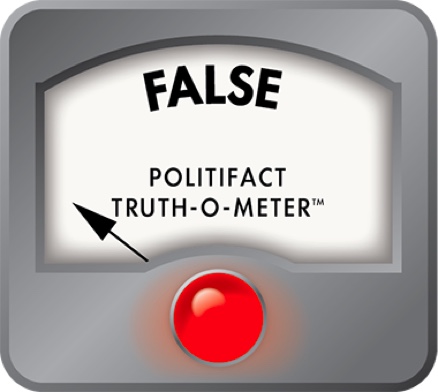 '$64,000 question' e-mail says Congress is exempt from health reform. They're not.
A chain e-mail claims that Congress has exempted itself from health care reform.
The e-mail appears to have been created shortly after President Barack Obama appeared in a forum on health care with Charlie Gibson of ABC News, an event that took place on June 24, 2009.
It has the subject line, "The $64,000 Question." (For you young whippersnappers, The $64,000 Question was a popular game show that aired in the 1950s and revived in the 1970s as The $128,000 Question .)
Here's the text of the e-mail:
"Finally ... The $64,000 question was asked ... Yesterday on ABC TV (better known as the all Barack Channel) during the 'Network Special on Health Care' ... Obama was asked:
"'Mr. President, will you and your family give up your current health care program and join the new "universal health care program" that the rest of us will be on????' ... (Bet you already know the answer) ... There was a stoney silence as Obama ignored the question and chose not to answer it!!!
"In addition, a number of senators were asked the same question, and their response was ... 'We will think about it.' And they did. It was announced today on the news that the 'Kennedy Health Care Bill' was written into the new health care reform initiative ensuring that Congress will be 100 percent exempt!
"So, this great new health care plan that is good for you and I ... is not good enough for Obama, his family or Congress...?? We (the American public) need to stop this proposed debacle ASAP!!!! ... This is totally wrong!!!!!
"Personally, I can only accept a universal health care overhaul that extends to everyone ... Not just us lowly citizens ... While the Washington 'elite' keep right with their gold-plated health care coverage. If you agree please pass this on ... "
A reader sent us the e-mail and asked if it was true.
To start with, the e-mail seems to assume — though it doesn't say so explicitly — that the health care reform plan sends everyone into a new public plan. This is not the case.
The Democratic health care legislation under consideration in Congress leaves in place employer-provided health insurance for the vast majority of Americans. But people who work for small businesses, are self-employed or currently uninsured would be eligible for a separate system known as the health care exchange. It would offer a variety of plans, including a government-run plan that is known as the public option.
Much of the controversy about health care reform has surrounded the public option. Critics say it could create a large bureaucracy and would not provide coverage as good as private insurers, while supporters say it would stimulate competition for people in the exchange. People who receive health insurance coverage from large employers would not be eligible for the public option.
Members of Congress are offered insurance through their employer, which in this case is the federal government. They can purchase it through the Federal Employee Health Benefits Plan, which is offered to all federal employees. (We've written about this plan previously.) Under the plan, federal workers — and members of Congress — can choose from a variety of insurance plans just as people would in the new health care exchange.
There's nothing in the health care bills that exempts Congress from the same requirements as regular citizens. However, some Republicans have attempted to pass amendments that would require members of Congress to drop their current coverage and force them to enroll in the public option. Republicans have said it would prove to the American people that the public option is a good thing. But Democrats have largely voted against these amendments, as we've reported previously .
But the chain e-mail doesn't address this. Instead, it says members of Congress have somehow exempted themselves from reform, which is not correct. Under the bill, the lawmakers would continue to receive the same insurance they get now, just as most Americans would.
Members of Congress are treated like any other citizens under the terms of the bill. We rate the chain e-mail's statement False.
ABC News, Questions for the President: Prescription for America , June 24, 2009
U.S. Government Printing Office, HR 3200 (health care reform legislation), July 14, 2009
Speaker of the House Web site, Section-by-Section Analysis of HR 3200 , July 14, 2009
Kaiser Family Foundation, Health care reform proposals , Aug. 7, 2009
PolitiFact.com, Most Democrats are opposed to giving up their health care plans , Aug. 10, 2009
Rep. John Fleming, statement on public plan , accessed Aug. 10, 2009
Government Executive, Obama team looks to federal employee health program as a model , by Alyssa Rosenberg, March 16, 2009
Rep. Dean Heller, statement on his amendment , accessed Aug. 10, 2009
House Education and Labor Committee, copy of Rep. Joe Wilson's resolution amendment , accessed Aug. 10, 2009
House Energy and Commerce Committee, copy of Rep. Roy Blunt's amendment , accessed Aug. 10, 2009
Office of Personnel Management, health benefits overview , accessed Aug. 11, 2009
Office of Personnel Management, employee handbook , accessed Aug. 11, 2009
Browse the Truth-O-Meter
More by Angie Drobnic Holan
Support independent fact-checking.
Become a member!
In a world of wild talk and fake news, help us stand up for the facts.