Get PolitiFact in your inbox.
"As a state rep, I was considered the fourth-most conservative in the Legislature."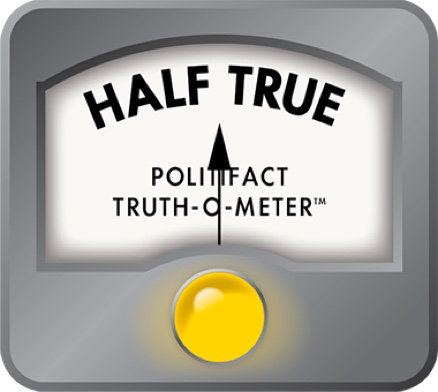 Supreme Court candidate Green, former state rep, says he was fourth-most conservative
Rick Green of Dripping Springs, in an April 13 Republican primary runoff for a seat on the Texas Supreme Court, told a Montgomery County group that voters don't have to guess his judicial philosophy -- they can look at his legislative voting record.

Green served two terms in the Texas House from 1999 to 2003; he lost his seat in 2002 to Democrat Patrick Rose. According to a video of his Jan. 14 Montgomery County remarks posted on his campaign Web site, Green encouraged listeners to check his House history, saying: "As a state rep, I was considered the fourth-most conservative in the Legislature."

Is that so?
 
To support his claim, Green's campaign pointed us to the 1999 Texas Conservative Report, a publication of the Free Enterprise PAC, an advocate for limited government and "traditional values." It has since become the Heritage Alliance PAC.

The 1999 report tracks dozens of votes made by every legislator in that year's regular session. To evaluate House members, a panel chose 64 votes on "economic, social, governmental and education issues" that the group said "showed signs of a liberal or conservative philosophy." Lawmakers were graded based on the number of times they voted with the conservative position.

Green and two other members of the 150-member House voted the group's preferred way 88 percent of the time; only three members leaned the group's way more often. (The average score was 43 percent.) By that measure, Green shared the "fourth-most conservative" honors with GOP Reps. John Davis of Houston and Charlie Howard of Sugar Land. Senators were rated separately, leaving Green's statement open to interpretation whether he was claiming to be the fourth-most conservative in the whole Legislature (which would be an overstatement) or just the House (which was accurate).

The report lists 28 criteria that define how positions were identified as conservative, including if legislation made government more efficient, strengthened the family's importance as the foundation of the nation, reduced the overall tax burden or protected a citizen's ability to make a living.

In summarizing its ratings, the group highlighted 12 votes on topics ranging from property taxes to abortion to standardized testing.

One vote was on a bill that would have expanded the state's hate crimes law by, among other things, enhancing criminal penalties and specifying which groups would be protected against bias crimes, including those targeted because of their "race, color, disability, religion, national origin or ancestry, age, status as a pregnant person, gender, or sexual preference."  
 
The Free Enterprise PAC said "nay" was the conservative vote in this case because the measure would have given "special rights to an individual or group" and did not support "traditional Judeo/Christian moral values." Green was in the minority in voting no. That bill eventually failed, though a hate crimes measure later passed into law during the 2001 legislative session.
 
Green also received a thumbs-up from the group for voting against a bill requiring people younger than 18 to wear a bicycle helmet when riding on public roads or paths. That measure did not become law.
 
All in all, Green was one of 32 House members the group designated a Leader of Excellence in 1999.
 
Not noted by Green in Montgomery County: Based on some of his votes in the 2001 legislative session -- Green's last -- he slipped in the group's conservative rankings.

Not that Green became a liberal. The group's 2001 report states that Green took its favored position 65 percent of the time, compared to a House average of 34 percent. He tied with three others as the 11th-most conservative House member. Thirty members sided more often with the group's preferred positions.
 
Green, who served on Heritage Alliance's board of directors from March through November 2009, was not designated a Leader of Excellence by the group in 2001 because he sided with it in less than 70 percent of the rated votes.

As before, the group's 2001 report spotlights 12 votes, which covered topics ranging from the death penalty to the minimum wage to mental illness. The votes included two that the group penalized Green for, both voice votes, in which passage is determined by choruses of "ayes" and "nays" on the House floor.

The first was on a proposal to mandate that health insurance policies in Texas cover anorexia and bulimia as serious mental illnesses, and the second was on a bill requiring the state attorney general's office to use gender-neutral terminology in publications. Neither became law. For both, the group's preferred position was to oppose them. When we asked Heritage Alliance President Richard Ford how the group was able to tell tell whether a legislator had voted yes or no in those instances, he said he could not recall how those votes were treated because the report was done so long ago.

We have a hunch why the group marked Green as voting the wrong way on the two bills. After a voice vote is held, individual members may request that their vote be separately recorded as for or against. It appears that Free Enterprise gave conservative credit only to the lawmakers who did that on those two measures, and Green was not one of them, according to the House Journal.

His wife, Kara Green, the campaign's treasurer, said her husband did not support either measure.
Summing up: Green accurately recaps his conservative ranking — albeit by a single group, the Free Enterprise PAC, during his first of two terms. He omits the fact that he was not considered fourth-most conservative in his second term, according to the group.
We rate his statement as Half True.
Free Enterprise PAC, 1999 Texas Conservative Report

Free Enterprise PAC, 2001 Texas Conservative Report

Texas Legislature, House Bill 938 (hate crimes legislation), 1999

Texas Legislature, House Bill 673 (bicycle helmet legislation), 1999

Texas Legislature, House Bill 849 (anorexia insurance legislation), 2001

Texas Legislature, House Bill 1560 (gender-neutral language legislation), 2001

House Journal, vote on House Bill 849, May 2, 2001

House Journal, vote on House Bill 1560, May 8, 2001

Interview with Richard Ford, president, Heritage Alliance, March 30, 2010

E-mail interview with Kara Green, treasurer for Rick Green for Texas Supreme Court, March 31, 2010
Browse the Truth-O-Meter
More by Meghan Ashford-Grooms
Support independent fact-checking.
Become a member!
In a world of wild talk and fake news, help us stand up for the facts.