Stand up for the facts!
Our only agenda is to publish the truth so you can be an informed participant in democracy.
We need your help.
I would like to contribute
Obama said troops "whine about bearing the costs" of going to war.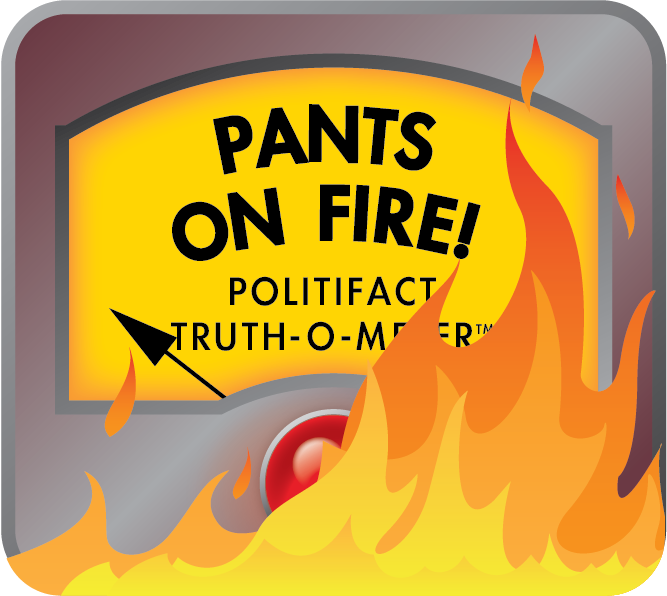 Fiction touted as fact in anti-Obama e-mail
This chain e-mail caught our attention after readers debated its validity on the PolitiFact Facebook page. It purports to be Obama's comments about veterans who opposed a proposal to change their health insurance.

"Look, it's an all volunteer force," Obama complained. "Nobody made these guys go to war. They had to have known and accepted the risks. Now they whine about bearing the costs of their choice? It doesn't compute."

"I thought these were people who were proud to sacrifice for their country," Obama continued. "I wasn't asking for blood, just money. With the country facing the worst financial crisis in its history, I'd have thought that the patriotic thing to do would be to try to help reduce the nation's deficit. I guess I underestimated the selfishness of some of my fellow Americans."

The problem is Obama never said these words. They actually come from the humorist John Semmens, who writes satire on the news.

Semmens wrote his report in March 2009 after the White House abandoned a plan to bill veterans' private insurers for their war-related injuries. It was intended as a cost-savings measure, to save the Veterans Administration $530 million a year.

Veterans groups opposed the plan, and the White House scuttled the idea. Press Secretary Robert Gibbs issued a press release on the matter on March 18, 2009:

"The President demonstrated his deep commitment to veterans by proposing the largest increase in the VA budget in 30 years and calling VSO (Veterans Service Organizations) and MSO (Military Service Organizations) leaders into the White House for an unprecedented meeting to discuss various aspects of the budget proposal," Gibbs said. "In considering the third party billing issue, the administration was seeking to maximize the resources available for veterans; however, the President listened to concerns raised by the VSOs that this might, under certain circumstances, affect veterans and their families' ability to access health care. Therefore, the President has instructed that its consideration be dropped. The President wants to continue a constructive partnership with the VSOs and MSOs and is grateful to those VSOs and MSOs who have worked in good faith with him on the budget proposal."

This chain e-mail is still going around even though our friends at the other fact-checking organizations -- Factcheck.org and Snopes-- have both already debunked it. It also contrasts sharply with Obama's actual attitude toward the troops.

Look at this excerpt from recent remarks he made to troops in Afghanistan on March 28, 2010.

"You are part of the finest military in the history of the world, and we are proud of you. And so I want you to know that everybody back home is proud of you. Everybody back home is grateful. And everybody understands the sacrifices that you have made and your families have made to keep America safe and to keep America secure in this vital mission," Obama said.

"You've been there for us, tour after tour, year after year, at a time when too many American institutions have let us down, when too many institutions have put short-term gain in front of a commitment to duty and a commitment to what's right," he added. "You've met your responsibilities, you've done your duty -- not just when it's easy. That's why you've inspired your fellow Americans. That's why you inspire me. That's why you've earned your place next to the very greatest of American generations. And all of you represent the virtues and the values that America so desperately needs right now: sacrifice and selflessness, honor and decency. That's why you're here today. That's what you represent."

The chain e-mail that purports to be Obama's comments on troops is maliciously false. But it's not the first time we've seen satire re-purposed for a chain e-mail, and it probably won't be the last. We rate this one Pants on Fire!
Snopes.com, Statement reproduces President Obama's response regarding opposition to his veterans health insurance plan, Oct. 28, 2009

Factcheck.org, Would Obama Have Soldiers Pay for Own War Injuries?, Sept. 25, 2009

John Semmens, Semi-News -- A Satirical Look at Recent News: Obama Scraps Idea of Billing Vets for Service-Related Injuries, March 21, 2009

The White House, Statement from Press Secretary Robert Gibbs on the President's Strong Commitment to America's Veterans, March 18, 2009

The Washington Post, Obama's Turnabout On Vets Highlights Budgeting Nuances, March 21, 2009

The Los Angeles Times, Plan to bill insurance for combat injuries criticized, March 18, 2009

The White House, Remarks by the President to the Troops, March 28, 2010
Browse the Truth-O-Meter
More by Angie Drobnic Holan
Support independent fact-checking.
Become a member!
In a world of wild talk and fake news, help us stand up for the facts.