Stand up for the facts!
Misinformation isn't going away just because it's a new year. Support trusted, factual information with a tax deductible contribution to PolitiFact.
I would like to contribute
Says Gov. Rick Perry has never held a private-sector job.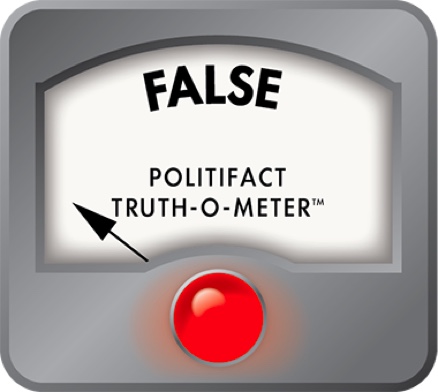 Democrat Bill White says Gov. Rick Perry has never had private-sector job
Democratic gubernatorial nominee Bill White said last week that his November opponent, Gov. Rick Perry, has never held a private-sector job, the Wichita Falls Times Record News reported.
Never is a long time. Is White right?
First, we checked on whether the newspaper correctly quoted White. Why? The comment isn't in quotation marks in its article, raising the possibility the reporter made an inference. However, Lynn Walker, the Wichita Falls newspaperman who spoke with White on Tuesday, told us he jotted down "Perry never held a private-sector job" because that is what White told him "word for word."
When we called White's campaign about his comment, White spokeswoman Katy Bacon said White realized afterward he should have instead said something like Perry had "barely" or "hardly" any private-sector experience. She said a clarification was sent to the newspaper.
Indeed, Perry has been a full-time state official for nearly 20 years. Before succeeding George W. Bush as governor in late 2000, he was lieutenant governor in 1999-2000 after serving two four-year terms as state agriculture commissioner.
So how much private-sector experience does the governor have?
Perry spokeswoman Allison Castle reminded us that Perry's background lies in his family's farming and ranching business in Haskell County, where he grew up.
Born in March 1950, Perry attended Texas A&M University. After graduating in 1972, he was a pilot in the U.S. Air Force until he was discharged in 1977, with the rank of captain, according to his biographical entry in the Texas State Directory.
In his autobiographical 2008 book, "On My Honor," Perry describes his return: "Dad still thought I was there to do chores. I reminded him that I had just finished commanding a multi-million-dollar piece of government equipment and a number of grown men. He reminded me that the chores still needed tending to."
In a profile published by the Austin American-Statesman, Perry is quoted saying that in 1978 he was within weeks of starting training as a Southwest Airlines pilot when a heavy rain prompted him to knuckle down. "I just made the decision that this is where I need to be," Perry said.
Perry subsequently ran for the Texas House -- a position intended to be part time, paying less than $10,000 a year -- and won the first of his three two-year terms in 1984.
Two former Haskell residents who've long known Perry said he worked in various ways in the 13 years between returning from the Air Force and being elected in 1990 to his first statewide office as agriculture commissioner.
Semi-retired pharmacist Doyle High, who lives in Austin, said Perry farmed and ranched with his father and also worked as a pilot for someone who lived in Abilene.
Consultant Don Comedy of Marble Falls, who said he lived near Perry at that time, also recalled Perry farming and ranching. Comedy said Perry and his father leased a ranch covering some 8,000 to 12,000 acres, making provision for hundreds of cows.
"That first winter," after Perry left the Air Force, Comedy said, "we had several, eight to 10 days in row, the temperature never got above freezing. Rick was leaving the house in the morning before daylight, breaking ice on ponds so those cows could drink water... hauling hay, doctoring sick cows, riding horseback, coming in at night after dark... He was joking that at least in the Air Force, they had heaters in the airplane."
Comedy said Perry also went into business with a partner buying and selling airplanes; the partner has since died. Comedy said Perry also rented out space in buildings that he owned in Haskell.
Andrew Gannaway, president of Haskell National Bank, said Perry served on the bank's board of directors from 1983 through 1988, subsequently serving as an advisory director from 1989 to 1996. "He was involved in a family farming and ranching operation," Gannaway said. "They were looking for local businessmen and folks who were a good representation of the community to serve on the board."
Perry's pre-government employment may not have been in typical 9-to-5 occupations, but it certainly qualifies as a "private-sector job."
Bacon, White's spokeswoman, said he was making the point that he has considerably more private-sector experience — as a lawyer and businessman — than Perry does.
That's not entirely what White said in Wichita Falls. We rate his statement as False.
Austin American-Statesman, "From farm to politics, Perry follows in family's footsteps," Feb. 9, 2010 (accessed April 23, 2010)
Interview and e-mail, Katy Bacon, communications director, Bill White gubernatorial campaign, April 23, 2010
Interviews, Don Comedy, consultant, Marble Falls, April 23, 2010
Interview, Andrew Gannaway, president, Haskell National Bank, April 23, 2010
Interview, Doyle High, pharmacist, Austin, April 23, 2010
Interviews, Lynn Walker, city editor, Wichita Falls Times Record News, April 22 and 23, 2010
Texas State Directory, 2010 edition, Texas State Directory Press, Inc., Austin, Texas, "Governor's Office," p. 15 (Rick Perry biographical sketch)
Wichita Falls Times Record News, "White: Pre-K vital to learning," April 21, 2010 (accessed April 22, 2010)
Browse the Truth-O-Meter
More by W. Gardner Selby
Support independent fact-checking.
Become a member!
In a world of wild talk and fake news, help us stand up for the facts.