Stand up for the facts!
Our only agenda is to publish the truth so you can be an informed participant in democracy.
We need your help.
I would like to contribute
"There's a mosque inside of the Pentagon."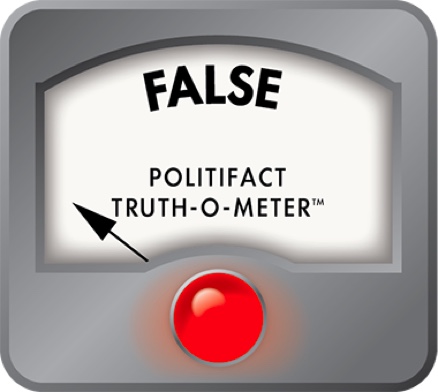 Kendrick Meek: "There's a mosque at the Pentagon"
Plans to build a mosque two blocks away from Ground Zero in New York City have stirred a national debate over the site's appropriateness, and politicians from New York City's Mayor  Michael Bloomberg to President Barack Obama are chiming in.

So it seemed a timely question for Michael Putney, host of WPLG-10's "This Week in South Florida," to ask Kendrick Meek and Jeff Greene about the mosque during a televised debate between the two Democratic Senate hopefuls on Aug. 15, 2010.

When asked by Putney whether the location was the "right site" for a mosque and Muslim center, Greene responded, "Absolutely not."

"I think that it may be legal," Greene added. "I support freedom of religion, freedom of speech, I understand that, but you know what, thousands of Americans died there, not just the victims in the building but how about all the rescuers and firefighters. I don't think when all the families have to go to mourn their losses, they should be looking at a mosque right there... It's insensitive to the victims."

Meek wasn't as direct in his response, noting that he wasn't on the New York City Zoning Board and saying he was "not going to step in front of a decision that's already been made in New York City."

He added: "There should be some sensitivity there and I recognize it ... I might add there is a mosque inside of the Pentagon ... and also a chapel."

Is there a mosque inside of the Pentagon?
The official word from Pentagon spokesperson George Wright: "There is not, I repeat there is not a mosque inside of the Pentagon."
"There is a non-denominational chapel ... about 20 steps from the center of impact," Wright told PolitiFact Florida, in a phone interview.
The 80-seat interfaith chapel was opened in November 2002, part of a memorial to the 184 people killed on the flight and inside of the Pentagon on Sept. 11, 2001, Wright said.

American Airlines Flight 77 was one of four planes hijacked on Sept. 11. Two of the jets were crashed into NYC's Twin Towers, and the other was brought down in a field in Pennsylvania, after passengers and the flight crew fought with the hijackers to regain control of the plane.

The chapel was built during the reconstruction of heavily damaged portions of the Pentagon, where 125 employees died, in addition to the 66 passengers on board the flight.

Inside a room with stained glass windows, a wooden altar and a standing American flag, various religious services are held throughout the week. There are services for Catholics, Jews, Hindus, Mormons, Muslims and various Christian denominations. Footage from inside of the chapel was recently aired on CNN for those interested in taking a peek.

Wright said that Muslim employees gather for daily prayer services Monday through Thursday at 2 p.m., and attend a Friday worship service run by an imam from a local mosque. A storage room at the chapel keeps prayer rugs that Muslim followers roll out facing East toward the city of Mecca.
We wondered what classified a space as a mosque according to Islamic tradition, so we asked Shafayat Mohamed, imam of the Darul Uloom mosque in Pembroke Pines, Fla.
"The main thing that makes a mosque a mosque is the establishment of praying five times a day at that spot," Mohamed said. "If people pray five times per day, then it is considered a regular mosque."
While the chapel does not meet that definition, because prayer only occurs there once a day,  Mohamed said the room could be considered another sacred space known as a "mussallaah."
A mussallaah, according to Mohamed, is a place where Muslims consistently performs their mid-day prayer when they do not have access to a mosque. Any place from a university classroom to an office break-room could be considered a mussallaah so long as it is the venue that is consistently being used for prayer.
"It may not officially be a mosque," Mohamed said of the Pentagon's chapel. "But if it's somewhere where they repeatedly go to pray, someone working at the Pentagon might consider it their mussallaah, a place where they can all pray."
So back to the question -- Was Meek correct in stating there is a mosque inside of the Pentagon? No; the Pentagon spokesman is emphatic that it's not a mosque. While Meek later added in his statement that there was also a chapel, the two are one and the same. He was correct in identifying that there was a place of worship and daily prayer for Muslims, but misspoke when calling it an actual mosque inside of the Pentagon. We rate his claim False.
Phone Interview with George Wright, Pentagon spokesman, Aug. 19, 2010
Phone Interview with Shafayat Mohamed, imam Darul Uloom mosque, Aug. 19, 2010.
WTOP, Audio from interview, "Is there really a mosque inside the Pentagon?", Aug.19, 2010

WPLG-10, This Week in Miami- Meek and Greene Debate, Aug. 15, 2010,

Merriam-Webster Dictionary, Definition of Mosque, Aug. 19, 2010

Associated Press, "Muslims pray daily at Pentagon's 9/11 crash site", Aug. 19, 2010

CNN, "Muslims pray welcome at Pentagon chapel" , Aug. 19, 2010

The New York Times, "As Rescue Work Continues, Flight Recorders Are Found in Pentagon Rubble," Sept. 15, 2001 , aquired through Nexis.
Browse the Truth-O-Meter
More by Laura Figueroa
Support independent fact-checking.
Become a member!
In a world of wild talk and fake news, help us stand up for the facts.