Get PolitiFact in your inbox.
"Mr. Caprio is a career politician who has never worked in the private sector."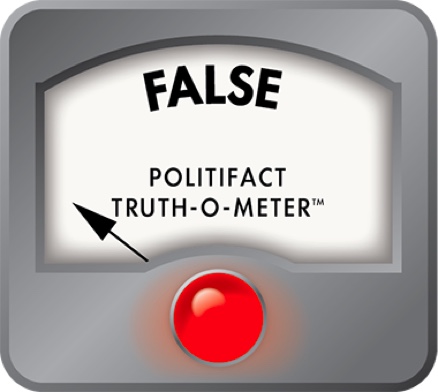 Robitaille says Caprio never worked in private sector
Candidate biographies have long been fertile ground for political foes in search of a quick hit. And it's true that many politicians have gotten in trouble for inflating their resumes. So when a candidate attacks his opponent's CV, we sit up and take note.

In a news release emailed Aug. 11 and posted on his campaign website, Republican gubernatorial candidate John Robitaille slammed Democratic opponent Frank Caprio for statements he made about a $75-million loan guarantee for former Red Sox pitcher Curt Schilling's video-game company, 38 Studios.

Specifically, he faulted Caprio for suggesting the state should have an equity interest in the company, a stance Robitaille said was "anti-business" and would torpedo efforts to attract new employers to the state.

Robitaille didn't stop there.

"Mr. Caprio is a career politician who has never worked in the private sector, and so it's no surprise that he thinks the state government should own and run our businesses," he said. Robitaille went on to tout his own experience owning a small business and employing workers.

Could it be true that Caprio, whose campaign mantra is putting the "wind at the back of small business," hasn't ever actually worked for a private company?

A quick search proved Robitaille's accusation is just plain wrong.

Caprio's resume, provided to us by his campaign, and stories in the Providence Journal archives, show that Caprio graduated from Suffolk University Law School in 1991 and then worked briefly at the Providence law firm Adler Pollock & Sheehan before turning to his own law practice, which he ran out of the same office as his father, Providence Municipal Court Chief Judge Frank Caprio, and his brother, David Caprio.

By 1995 -- in an only in Rhode Island scenario -- Caprio took a job as an in-house legal counsel at Cookson America, the electronics and precious metals conglomerate, where he worked under its then-CEO, Donald Carcieri, now Rhode Island's governor.

We contacted Adler Pollock & Sheehan and confirmed that Caprio worked there. We also called Cookson, where a human resources manager confirmed that he indeed worked there from 1995 to 1998.

The irony, of course, is that Carcieri, once Caprio's boss, went on to be Robitaille's boss. Robitaille worked as his communications director, a job he left last winter to focus on his own run for governor.

When a Journal reporter asked about Robitaille's claim the day he made it, the Robitaille team acknowledged its error in saying Caprio "never worked in the private sector." But it didn't correct its website until PolitiFact inquired about it nearly a week later.

The campaign stood by the first part of its statement, that Caprio is a career politician who puts his political interests, and not those of small business, first.

Robitaille is correct that Caprio has worked in politics for nearly his entire career. He took office in the state's part-time House of Representatives in 1991, the same year he graduated from law school. And he served in the House and later in the state Senate until he won the treasurer's seat in 2006.

But to call someone "a career politician" suggests that's all he did. And the fact remains that Caprio had a legal career that spanned 15 years. Not only that, in working for himself as a private practice lawyer, he ran precisely the kind of small business that Robitaille says Caprio has no experience with.

It's clear the Robitaille team issued this statement without doing even the smallest bit of research, so it's tempting to award him a Pants on Fire. But since the campaign corrected the mistake, we'll leave the lighter fluid alone and call his claim exactly what they acknowledged it to be: False.
Robitaille for Governor news release sent, Aug. 12, 2010

Interview and emails, Caprio campaign spokesman Nick Hemond, Aug. 17, 2010

Interview, Robitaille campaign spokesman Michael Napolitano, Aug. 17, 2010

Interview, Cookson America Human Resources Generalist Catherine Cabral, Aug. 17, 2010

Interview, Carcieri administration spokeswoman Amy Kempe, Aug. 17, 2010
Browse the Truth-O-Meter
More by Cynthia Needham
Support independent fact-checking.
Become a member!
In a world of wild talk and fake news, help us stand up for the facts.