Stand up for the facts!
Our only agenda is to publish the truth so you can be an informed participant in democracy.
We need your help.
I would like to contribute
Says the military accounts for about 10 percent of Florida's economy.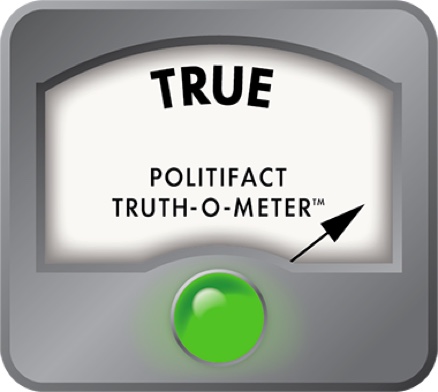 Rick Scott says military makes up nearly 10 percent of Florida's economy
Gov.-elect Rick Scott kicked off a five-day, 10-city tour of the state's major industries on Dec. 6, 2010, by meeting with defense contractors and Florida-based military leaders.

Scott started the tour in the Panhandle, meeting with about 20 defense contractors, including Boeing, Lockheed Martin, L-3 Communications and InDyne Corp., at the University of Florida Research and Engineering Education Facility in Shalimar, before meeting with military leaders at Eglin Air Force Base.

"We want to make sure we're always thought of as a very military-friendly state," Scott said to reporters at a brief press conference. "We're going to focus on what our strengths are. We're clearly a logical place for the military to expand and for the defense industry to expand. We've got a lot of talent in the state, we like the defense industry and the military, so we're going to figure out where we have the most value."

Scott tried to underscore the importance of the military to Florida by noting that the military accounts for about 10 percent of Florida's economy, according to the St. Petersburg Times.

Florida is home to 20 major military installations and three unified combatant commands. The Gulf of Mexico is a key training ground for both the Air Force and the Navy, and the state also has two U.S. Coast Guard air stations and another dozen other Coast Guard stations.

But does all of that translate to a 10 percent share of the state's gross domestic product, which was $737 billion in 2009?

The answer comes from an arm of Enterprise Florida called the Florida Defense Alliance, a public/private partnership created in 1998 to help position Florida to keep its military infrastructure in place and expand in other areas when opportunities arise. The group commissioned a study in 2008 to examine the economic impact of Florida's stationed military and auxiliary defense industry work.

The study was conducted by Rick Harper, an economist from the University of West Florida, who has studied the economic impact of the film and entertainment industry in Florida and who represented Northwest Florida on former Gov. Jeb Bush's Council of Economic Advisers from 2001-2006. Using 2005 data, Harper concluded that defense-related spending is responsible for $52 billion, or 7.5 percent, of Florida's gross state product that year.

The military spent $27 billion across Florida counties in fiscal year 2005, Harper concluded -- $10.4 billion was for goods and services, $12.4 billion for pensions and transfer payments, and $4.3 billion for salaries and wages. The rest of the economic impact is measured in indirect and induced spending, which would include parts of the private defense industry as well as parts of the Florida economy that help service the military, the defense industry and their employees.

Harper said that defense and military spending accounted for 732,300 direct and indirect jobs in the state and generated state and local tax revenues of nearly $1 billion.

Counties with larger installations enjoy larger impacts, Harper found. Military and defense spending in Duval County had a $12.1 billion impact, a $5.3 billion impact in Hillsborough County and a $6.6 billion impact in Okaloosa County. All but six counties have at least $3 million per year in direct defense-related spending.

Harper and Florida Defense Alliance executive director Rocky McPherson noted that the study does not include the economic impact generated by the Florida National Guard or Coast Guard operations. You can see a short synopsis of the study for yourself here. Or if you have a lot of time, here's the three-volume version.

Harper's study relies on five-year-old data, so we wanted to see if there was anything more recent. McPherson said Harper and University of West Florida researchers were updating their study using 2008 data but, he said, that report is not available yet. Harper declined to share the results of the study with PolitiFact Florida, but did talk about the results in general terms.

Since 2005, Department of Defense "spending has risen substantially, particularly in terms of procurement (i.e., contracting), as well as payments to disabled veterans, although active duty military staffing numbers (number of people) have declined somewhat and payments to retirees are not growing as they did earlier due to attrition of WWII and Korean era veterans," Harper wrote. "The overall growth in military spending (the study to be released uses 2008 federal spending data), combined with weakness in other areas of the Florida economy in the most recent years, means that DoD (Department of Defense) spending will have risen as a share of the total economy."

We searched around for other studies measuring the military's economic impact in Florida, but found none. In examining Harper's study, we found it to be a straightforward, unbiased report. Researchers relied on Department of Defense actual expenditures, precise personnel levels and actual government contracts.

Where does it leave us? Scott told reporters military spending makes up about 10 percent of the state's economy. In 2005, military spending accounted for 7.5 percent of the state gross domestic product, but that figure did not include the impact of the Florida National Guard or Coast Guard bases. The author of the study, who is now updating his report using 2008 numbers, said that while he cannot release more up-to-date numbers, that the military's position in the economy has risen since 2005. That will make Scott's point nearly right on. We rate this claim True.
St. Petersburg Times, "Military matters dominate Rick Scott's first stop on statewide jobs tour," Dec. 7, 2010
Florida Defense Alliance, "Florida Defense Factbook," 2008
Florida Defense Alliance, interview with executive director Rocky McPherson, Dec. 7, 2010
University of West Florida, e-mail interview with Rick Harper, Dec. 7, 2010
Enterprise Florida, gross domestic output for Florida
Florida Defense Alliance, economic impact study Volume 1
Florida Defense Alliance, economic impact study Volume 2
Florida Defense Alliance, economic impact study Volume 3
Browse the Truth-O-Meter
More by Aaron Sharockman
Support independent fact-checking.
Become a member!
In a world of wild talk and fake news, help us stand up for the facts.