Stand up for the facts!
Our only agenda is to publish the truth so you can be an informed participant in democracy.
We need your help.
I would like to contribute
"Illegal immigrants currently occupy 8 million jobs."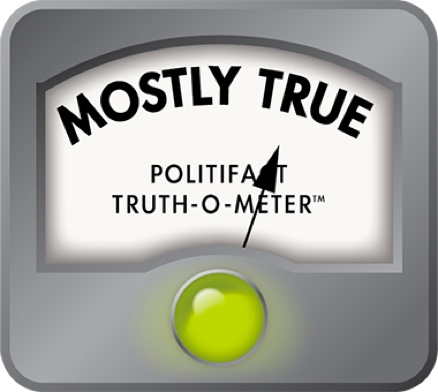 Rep. Lamar Smith says immigrants hold 8 million jobs
In response to a new Democratic proposal to overhaul immigration laws, U.S. Rep. Lamar Smith noted that a large number of illegal immigrants have jobs in the United States and suggested that one way to reduce the unemployment rate would be to free up those jobs for citizens and legal immigrants.

Smith, R-San Antonio, said the illegal immigrants hold 8 million jobs, according to a news release distributed Dec. 15.

Arguing against the Democrats' proposal to provide millions of immigrants a path to citizenship, Smith says U.S. policies should "put American workers, American taxpayers, and American citizens first, not those who are in the country illegally. This is the kind of legislation that foreign governments would promote, not the U.S. Congress."

He added that "allowing millions of illegal immigrants to stay and take jobs away from citizens and legal immigrants is like giving a burglar a key to the house. Illegal immigrants currently occupy 8 million jobs. Those stolen jobs rightfully belong to citizens and legal immigrants."

Leaving aside the question of whether any of those jobs were "stolen" from their rightful owners, we wondered whether Smith's 8 million figure — about the same as the population of Virginia — was correct. Do illegal immigrants hold that many jobs? 
Smith's source for the number is a demographer at the Pew Hispanic Center, Jeffrey Passel, who analyzed the relevant data for an April 2009 report, "A Portrait of Unauthorized Immigrants in the United States." The Pew center is a research organization that seeks to "improve understanding of the U.S. Hispanic population."

Using March 2008 data, primarily from the U.S. Census Bureau, Passel estimated that the number of undocumented workers in the United States was 7.8 million, so Smith is clearly in the ballpark.

But is it fair of the congressman to make his statement about jobs when the data refers to workers? Passel said yes.

We found a wrinkle, though.

Economic conditions have changed since March 2008. Smith's statement suggests that the 8 million is a current figure, but the data used for that estimate are more than 20 months old. Since then, millions of people have lost their jobs, including many undocumented immigrants.

According to the Bureau of Labor Statistics, the national unemployment rate for March 2008 was 5.1 percent; that figure has skyrocketed, to 10 percent, in December 2009. That month, more than 15 million people were without jobs.

Immigrants have been hit harder in the economic downturn. The unemployment rate for immigrants, without regard to their citizenship status, has gone up faster than that of natives, Passel said. With huge job losses across all demographic groups, Passel said the number of employed illegal immigrants has most likely dropped.

Passel suggested that today the number is closer to 7 million.

So Smith is right that millions of jobs are held by illegal immigrants. Yet by citing numbers that were 20 months old, he didn't account for conditions that have caused some of those jobs to disappear. We find his claim Mostly True.


The New York Times, "New Immigration Bill Is Introduced in House", Dec. 15, 2009.

Pew Hispanic Center, A Portrait of Unauthorized Immigrants in the United States, by Jeffrey Passel and D'Vera Cohn, April 14, 2009.

Labor Department, Labor Force Statistics from the Current Population Survey.

Labor Department, Employment Situation Summary, Jan. 8, 2010.

Interview with Jeffrey Passel, senior demographer, Pew Hispanic Center.
Browse the Truth-O-Meter
More by Meghan Ashford-Grooms
Support independent fact-checking.
Become a member!
In a world of wild talk and fake news, help us stand up for the facts.