Get PolitiFact in your inbox.
"I remember one of [Curt Schilling's] teammates said he painted his sock, the bloody sock."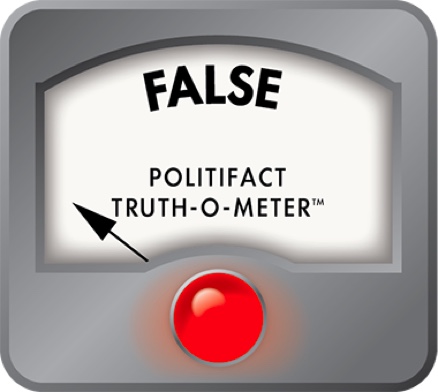 Chafee says Schilling teammate thought he faked bloody sock
Call it New England Politics 101. When you're running for office in Red Sox Nation, you don't take a Red Sox player's name in vain. Especially not the one who shed blood as he helped end that soul-crushing 86-year drought.

But that's exactly what independent gubernatorial candidate Lincoln Chafee did in speaking about former Red Sox ace Curt Schilling in an interview on WPRO's The John DePetro show Tuesday.

"I just remember his own teammates didn't like him," Chafee said of Schilling. "They thought he was a bit of a salesman. I remember one of his teammates said he painted his sock, the bloody sock, that he painted it. Kevin Millar I think said that. I don't know if I trust Curt Schilling."

He was talking about the larger issue of Schilling's role in a controversial state economic development deal that will give Schilling's video game company, 38 Studios, a $75-million loan guarantee if he moves it to Rhode Island from Massachusetts. Chafee criticized the Schilling agreement for encumbering more than half of a new state loan guarantee program and risking it "on one company that's never had a penny of revenue yet."

But what many will remember is that Chafee criticized the guy who got the Sox a win when they needed it most: Game 6 of the 2004 playoff series against the Yankees. Not to mention he maligned the sock that has since been enshrined in the Baseball Hall of Fame.

Put it up there with failed Massachusetts Senate candidate Martha Coakley, who famously referred to Schilling as a Yankee fan and poked fun at her opponent, Scott Brown, for standing outside Fenway Park shaking hands.

Diehard fans never forgave her. And Scott Brown is now Senator Brown.

The Chafee camp was quick to retract the talk radio comment, sending The Providence Journal this statement by late morning: "Senator Chafee regrets that what he intended as an off-hand reference to published reports about the bloody sock has deflected attention from the crux of this issue."

He went on to say: "Senator Chafee respects Curt Schilling's achievements as a professional athlete and his support of charitable causes.  At the end of the day, however, his first concern is to protect the interest of Rhode Island taxpayers, on whose shoulders the burden of a 75 million dollar loan default would ultimately fall."

We here at PolitiFact don't typically check one-time shots from the hip, so we considered ignoring this flap. But by Tuesday afternoon, as the Chafee gaffe made national news and readers urged us to jump on it, we decided to take at look at the rumor that's been swirling for years.

It appears by all credible accounts that Chafee is, in fact, wrong.

The story begins with an ankle injury Schilling suffered in a playoff series against the Angels. Team doctors temporarily fixed a ruptured and dislocated tendon in his right ankle to keep it from moving, allowing him to pitch in Game 6 of the American League Championship Series against the Yankees.   

Here's what The Providence Journal story about that October 2004 game said:  "Schilling, who apparently was bleeding through his sock, was pitching through discomfort. TV cameras caught him wincing as he followed the flight of Miguel Cairo's two-out double to left-center in the third inning, the first Yankee hit of the game."

Ah yes, it's coming back now, chills and all. You know the ending. Schilling kept pitching, helping  to vault the Sox past the Yankees to capture the American League title and then win the World Series against the St. Louis Cardinals.

Fast forward three years. The rumor that the blood on the sock was in fact red paint seems to have been started in 2007 by Baltimore Orioles TV announcer Gary Thorne, who said on air that Boston's then-backup catcher Doug Mirabelli told him it was a hoax. (That's Mirabelli, not Kevin Millar, as Chafee cited). Thorne later apologized, saying that Mirabelli told him in a later conversation that he was just joking.

After much buzz on blogs and television, the report ended there. It's been brought up again from time to time, but never with much traction.

We emailed Schilling Tuesday to get his reaction to the accusation, but we never heard back.

For now, all indications are that the blood was real and that Chafee is wrong, a fact that he admits and apologizes for.
In a follow-up phone call Tuesday night, a Chafee campaign spokesman said it best: "Some candidates shoot themselves in the foot. We shot ourselves in the sock."
The Truth-O-Meter gives Chafee a false, and scores him a big error in the public relations department.
 
WPRO, The John DePetro Show, Chafee Interview, July 27, 2010

Interview and emails, Chafee campaign spokesman John "J.R." Pagliarini, July 27, 2010

"ALCS: Red Sox vs. Yankees - Just what the doctor ordered," The Providence Journal, October 20, 2004

"All kidding aside, he bled for sox," The Providence Journal, April 27, 2007

"Thorne says he misunderstood conversation," Associated Press via ESPN.com, April 27, 2007
Browse the Truth-O-Meter
More by Cynthia Needham
Support independent fact-checking.
Become a member!
In a world of wild talk and fake news, help us stand up for the facts.