Stand up for the facts!
Our only agenda is to publish the truth so you can be an informed participant in democracy.
We need your help.
I would like to contribute
"Warren Buffett called (Jeff) Greene's scheme 'financial weapons of mass destruction.' "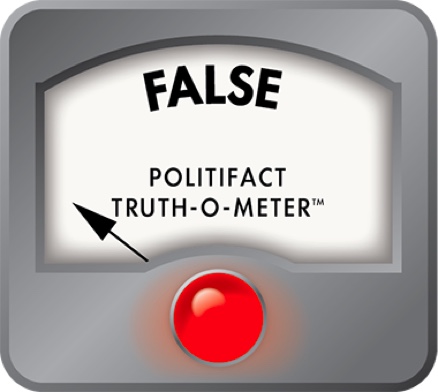 Warren Buffett was talking about derivatives generally, not Jeff Greene's "scheme"
Congressman Kendrick Meek launched his first TV attack ad against opponent Jeff Greene in the Florida Democratic primary for the U.S. Senate.

The ad, called "He's the Man," attacks Greene's background as a billionaire who made money as the economy soured.

"Meet the real Jeff Greene: Ran for Congress as a California Republican. Moved to Florida two years ago. Became a billionaire on Wall Street betting middle-class families would lose their homes. Helped fuel the economic meltdown. Warren Buffett called Greene's scheme 'financial weapons of mass destruction.' "

The ad then shows footage of Greene saying, "They'll attack me for my friends and my past when I was single. Some of it's true, but none of it matters."

"Betting on suffering does matter," the narrator responds.

We fact-checked the statement about Greene running for Congress as a Republican in a separate report, and labeled it True. And last month, we fact-checked a claim from Meek that Greene was responsible for hurting the economy. We looked at Meek's statement that Greene "is the king of the undercover Credit Default Swap that brought about the destruction of our economy that we have right now." We rated that Barely True.

Our reporting then showed that Greene did make big money on credit default swaps, a type of derivative that paid off when mortgage-backed securities failed. But we also found that Meek was pumping up Greene's role in a complicated economic situation where many different financial players did things that ended up hurting the economy. (Read our full report.)

Here, we wanted to check the claim about Warren Buffett, that he "called Greene's scheme 'financial weapons of mass destruction.' " Buffett runs Berkshire Hathaway, a holding company renowned for its savvy investment strategies, and he's No. 2 on the 2009 Forbes list of wealthiest Americans. Some folks call Buffett "the Oracle of Omaha." We were suspicious that Greene (who's only No. 317 on the Forbes list) would have made it onto Buffett's radar.

We should note here that journalists love Buffett's phrase "financial weapons of mass destruction." We found it repeated again and again in stories about the role derivatives played in the financial collapse of 2008.

It turns out Buffett coined the phrase to describe derivatives back in 2003, when he published his annual letter to investors discussing his thoughts on the previous year's business. Buffett warned that it was difficult to truly evaluate the risks involved in derivatives.

"Essentially, these instruments call for money to change hands at some future date, with the amount to be determined by one or more reference items, such as interest rates, stock prices or currency values," Buffett wrote.

"The range of derivatives contracts is limited only by the imagination of man (or sometimes, so it seems, madmen)," he continued. "At Enron, for example, newsprint and broadband derivatives, due to be settled many years in the future, were put on the books. Or say you want to write a contract speculating on the number of twins to be born in Nebraska in 2020. No problem -- at a price, you will easily find an obliging counterparty."

Buffett warned that derivatives could become unforeseen catastrophes for some companies. "Imagine, then, that a company is downgraded because of general adversity and that its derivatives instantly kick in with their requirement, imposing an unexpected and enormous demand for cash collateral on the company. The need to meet this demand can then throw the company into a liquidity crisis that may, in some cases, trigger still more downgrades. It all becomes a spiral that can lead to a corporate meltdown," he wrote.

It turns out this is exactly what happened at some of the biggest financial firms in the country in 2008 -- five years after Buffett's warning.
Buffett was discussing derivatives in the context of Berkshire Hathaway's investment in a company called General Re Securities. Buffett said he attempted to sell without success. At the time he wrote the letter, he was trying to shut down the business, but was having problems resolving the many derivatives contracts General Re had on its books.
"We try to be alert to any sort of megacatastrophe risk, and that posture may make us unduly apprehensive about the burgeoning quantities of long-term derivatives contracts and the massive amount of uncollateralized receivables that are growing alongside," Buffet wrote. "In our view, however, derivatives are financial weapons of mass destruction, carrying dangers that, while now latent, are potentially lethal."

Buffett doesn't mention Greene at all in his 2003 letter.

And in fact, our previous reporting on Greene's financial activities indicate he did most of his trading in 2006 and later, three years after Buffett's letter.

Still, there's no doubt Greene was heavily involved in buying credit default swaps, which are a type of derivative. And Buffett was exceptionally critical of derivatives. The problem with Meek's ad is that it gives the impression that Buffett criticized Greene personally, which he didn't do. By saying Buffett called Greene's scheme a bad idea, Meek personalizes a comment that had nothing to do with Greene. Because of that, we rate Meek's statement False.
Kendrick Meek Campaign, He's the Man, July 26, 2010

Berkshire Hathaway, 2002 Annual Report

PolitiFact Florida, Kendrick Meek calls Jeff Greene the 'king' of Credit Default Swaps, June 22, 2010

Daily Finance, From Profiteer to Politician: Billionaire Jeff Greene Races for Senate Seat, May 22, 2010

The Wall Street Journal, In Beverly Hills, A Meltdown Mogul Is Living Large, Jan. 15, 2008

Forbes.com, The Richest People in America, Nov. 30, 2009
Browse the Truth-O-Meter
More by Angie Drobnic Holan
Support independent fact-checking.
Become a member!
In a world of wild talk and fake news, help us stand up for the facts.