Get PolitiFact in your inbox.
Thurbert Baker kept a teen in jail "who didn't even commit a felony."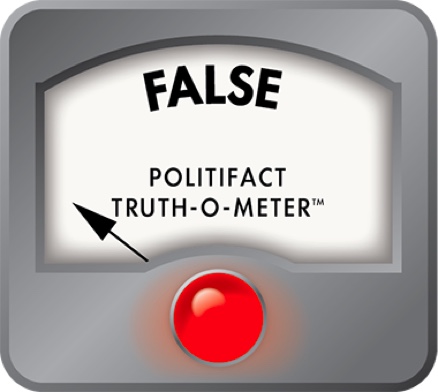 Obama speech used to attack Democratic candidate
What's the best way for someone to undermine a Democrat in a primary campaign? A video clip of Barack Obama bashing the candidate is a good start.

Someone who is apparently not a fan of Georgia Attorney General Thurbert Baker, a Democratic gubernatorial contender, created a professional-looking YouTube video attacking him. It begins with a picture of Baker with the "Ghostbusters" symbol. "Thurbert Baker for Governor?" reads the headline on the video, created June 10.

Baker's position in the controversial Genarlow Wilson case is the focus of the three-minute video posted by "concernedcitizen4u".

The video also includes civil rights stalwarts the Revs. Joseph Lowery and Al Sharpton taking Baker to task.

Baker is in a crowded Democratic field seeking that party's nomination to become the state's next leader. To win, or at least get in a runoff, a Democratic candidate must capture a significant portion of the state's African-American vote. Blacks make up about half the Democratic voter base in Georgia.

Baker is black. The other leading Democratic candidates are white.

Whoever posted the video -- and at this point that person or political campaign remains unknown -- apparently is trying to undermine Baker's support in the black community by using a 3-year-old statement by the man who is now president of the United States. Then-candidate Obama assailed Baker for pursuing the case against Wilson, who is also black.

This is a stealth political attack at its lethal best. Brutally blunt, it focuses on a target audience and is virtually untraceable. 

But is it true?

The Baker camp said no.

"This isn't the first time a false attack has been spread anonymously ... and it won't be the last," Baker campaign manager Jeff DiSantis said. "It's a pack of lies."

Wilson, you may remember, was convicted in 2005 of felony aggravated child molestation for what he said was consensual oral sex with a 15-year-old girl. Wilson was 17 at the time of the incident and faced 10 years in prison after he was convicted. Some activists suggested prosecutors treated Wilson harshly because he is black. The accusations of racial discrimination, added to a story about sex, generated national news coverage.

In 2006, the state Legislature changed the law to make similar acts between teens a misdemeanor, punishable by up to 12 months in prison. The changes, however, did not apply to Wilson and anyone else already imprisoned on such charges. So he remained in prison.

Not fair, Obama said.

The Democrat referred to the Wilson case in several speeches in 2007 during his run for president. Obama compared Wilson's case to I. Lewis "Scooter" Libby, the former chief of staff to Republican Vice President Dick Cheney. President George W. Bush decided to commute Libby's sentence after he was convicted of perjury and obstruction in a CIA leak case.

"You've got Scooter Libby not serving any jail time. But you've got a young man, a football player who didn't even commit a felony, who's being locked up for 10 years, then it's harder for you to say you stand up for justice in America," Obama said in one campaign speech that was recorded.

The crowd cheered.

The video ends with audio replaying some of Obama's speech.

"It's harder for you to say you stand for justice in America."

Video of the future president questioning your commitment to justice can't be good for Baker in a Democratic primary.

The video does not say when Obama's remarks were recorded. But an Atlanta Journal-Constitution account of Obama's visit to Atlanta in August 2007 said he made comments about Libby and Wilson at that time.

There's one problem with Obama's comments. State law 16-6-4 said at the time of Wilson's conviction that aggravated child molestation was a felony.

Monroe County Superior Court Judge Thomas H. Wilson (no relation to Genarlow) ruled in June 2007 that the case was a misdemeanor and that Genarlow Wilson should be freed. Baker appealed the ruling, saying Judge Wilson overstepped his authority. The attorney general said at the time he was worried the ruling had the potential to allow other convicted child molesters to be freed. Baker was quoted in the AJC as saying he thought the 10-year sentence was "harsh."

But, Baker also said: "I took an oath to uphold the laws of this state. And in taking that oath, I don't have the luxury of taking the law into my own hands or picking which cases to defend."
  
The Georgia Supreme Court ruled 4-3 in October 2007 that Genarlow Wilson should be freed.

We tried to reach "concernedcitizen4u", but our efforts have been unsuccessful.

People who watch the video may get the wrong impression about the case. Wilson was indeed convicted of a felony. So Obama's comments about the case in 2007 were incorrect. We believe the video is misleading and rule that this item is False.
YouTube video, June 10, 2010.

The Atlanta Journal-Constitution, June 12, 2007

The Atlanta Journal-Constitution, June 15, 2007

The Atlanta Journal-Constitution, Aug. 5, 2007

E-mail from Baker campaign manager Jeff DiSantis, June 17, 2010
Browse the Truth-O-Meter
More by Eric Stirgus
Support independent fact-checking.
Become a member!
In a world of wild talk and fake news, help us stand up for the facts.