Stand up for the facts!
Misinformation isn't going away just because it's a new year. Support trusted, factual information with a tax deductible contribution to PolitiFact.
I would like to contribute
Gov. Rick Perry broke his promise that he would not accept a $40,000 pay increase.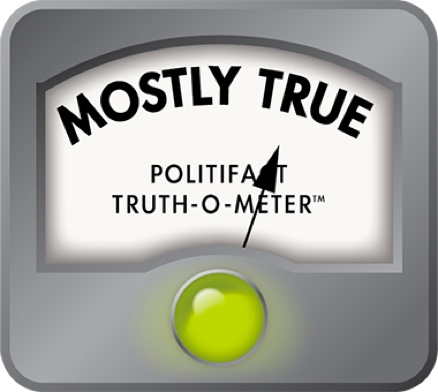 White says Perry broke promise not to take pay raise
Bill White, the Democratic gubernatorial nominee, lashed out at his GOP rival, Gov. Rick Perry, over his state-paid salary during a June 17 news conference, suggesting Perry had gone back on his word not to accept a five-figure raise.
"Several years ago, he signed a law giving himself a $40,000 pay increase," White said. "He told you, the people in the press, that he wasn't going to take that pay increase. I don't think he kept that promise."
We decided to review White's left-right-left combination.
In response to our inquiry, White's campaign pointed us to Perry's tax returns, newspaper articles and actions taken by the Texas Legislature in 2007. That year, lawmakers included raises for eight top officials, including the governor, in the budget bill for fiscal years 2008 and 2009, according to a Dallas Morning News article published June 7, 2007.
Perry signed the legislation into law June 15, 2007, according to information from the Legislature's Web site.
In the law, the governor's annual salary was set to jump 30 percent, from $115,345 to $150,000 -- an increase of $34,655, which is less than the $40,000 that White quoted.
Katy Bacon, a spokeswoman for White, told us when we inquired that White overstated the size of the raise at his recent press conference and "should have said about $35,000."
White's campaign pointed us to news articles indicating Perry wouldn't take the raise.
Robert Black, then a spokesman for the governor, was quoted in the June 2007 Morning News article saying Perry would not accept the pay raise when it kicked in that September, the start of the state's fiscal year: "He hasn't taken a pay raise and doesn't think it's necessary."
A Fort Worth Star Telegram news article published June 8, 2007, quoted Black as saying that "we asked them [lawmakers] to give the governor an opt-out provision, and they did that." A clause in the 2008-09 budget titled "Governor's Salary Authorization" says the governor can set his salary "at any amount below the listed authorization" — in this case, $150,000.
Perry's office confirmed that he has not exercised the opt-out provision since his raise became law.
We didn't find statements from Perry or his aides to the effect that instead of refusing the pay increase, the governor would donate it to charity. Yet Perry spokeswoman Katherine Cesinger wrote us in an e-mail: "The governor did not seek a pay raise, but the Texas Legislature authorized an increase from $115,000 to $150,000 in 2007 and 2009. Since that time, he has only taken home about $115,000 each fiscal year and has donated the rest to charity."
Perry's take-home state pay -- meaning wages subject to federal income taxes -- increased from $103,320 in 2006 to $111,361 in 2007 and $135,925 in 2008, according to his tax returns for those years, which he has made public. Bob Martin, a Houston accountant who studied Perry's tax returns at the request of an Associated Press reporter, told us the amount of taxes that were withheld from Perry's pay in 2008 indicated that his gross salary was $150,000. He speculated that the difference between Perry's taxable wages and his gross salary could be explained by pre-tax deductions such as retirement contributions; such deductions would be on Perry's W-2 form. We found no sign of Perry making his W-2s public.
In an Aug. 27, 2009 article, the Morning News reported that in 2008, Perry took "the almost $30,000 raise provided to him by the Legislature" and spread it among the Texas Association Against Sexual Assault, the March of Dimes and "a foundation that provides aid to families of fallen veterans." Perry's 2008 tax return shows gifts of $9,996 each to the March of Dimes, the Special Operations Warrior Foundation, and the Texas Association Against Sexual Assault, where Perry's wife, Anita, works.
The governor filed an extension on his 2009 tax return, so details on more recent charitable donations and take-home pay are not yet available.
The White campaign says its examination of Perry's available tax returns for the years he's been governor found that Perry has not yet given the full amount of his pay increase to charity. The campaign did two different calculations: First, it compared the increase in Perry's taxable state-paid income in 2007 and 2008 (about $40,000) with his total charitable gifts during the same time ($38,399). Second, it compared the increase in Perry's gross state salary ($46,206) with the donations ($38,399).
Cesinger later said the governor had "contributed an additional $8,668 in 2008 to the State Employee Charitable Campaign that was not claimed as a deduction on his tax return." A gift of that amount would close the gap cited by the White campaign.
All in all, does White land his three-part punch?
He errs on the size of the raise. 
While Perry didn't personally tell the media he wouldn't take the raise, a gubernatorial spokesman speaking on his behalf was quoted in newspaper articles as saying so.
Perry's spokeswoman told us he's made charitable donations exceeding the additional dollars that came his way in the raise. But that's not the same as not accepting the raise in the first place. Nor has Perry used the opt-out provision put into the law to allow him to do so.
We rate White's statement as Mostly True.
Bill White campaign, "Rick Perry's Salary Increase" memo, June 1, 2010
Dallas Morning News, "Hutchison trails rival as donor to charity," Aug. 27, 2009
Dallas Morning News, "Officials beg off big raises," June 7, 2007
Fort Worth Star-Telegram, "Some officials decline raises," June 8, 2007
Texas Legislature Online, history of House Bill 1, 80th legislative session, accessed June 22, 2010
E-mail from Katherine Cesinger, spokeswoman for Gov. Rick Perry, June 22, 2010
E-mail from Katherine Cesinger, June 24, 2010
E-mail from Katy Bacon, spokeswoman for Bill White, with information on whether Gov. Perry has donated his full pay increase to charity
Gov. Rick Perry, 2006 tax returns
Gov. Rick Perry, 2007 tax returns
Gov. Rick Perry, 2008 tax returns
Interview with Bob Martin, accountant, Robert E. Martin & Associates, Houston, June 23, 2010
Legislative Budget Board, General Appropriations Act, 80th Legislature, salary increase opt-out provision, pages I-50 and I-51
Texas Legislature Online, Gov. Rick Perry's veto proclamation, House Bill 1, June 15, 2007
Browse the Truth-O-Meter
More by Meghan Ashford-Grooms
Support independent fact-checking.
Become a member!
In a world of wild talk and fake news, help us stand up for the facts.