Facts are under assault in 2020.
We can't fight back misinformation about the election and COVID-19 without you. Support trusted, factual information with a tax deductible contribution to PolitiFact
I would like to contribute
Marco Rubio "wants to raise the Social Security retirement age," and "cut benefits."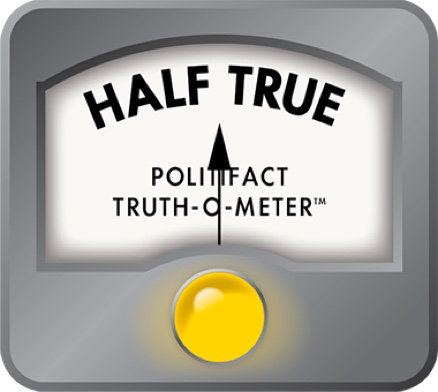 Fact-checking Marco Rubio's Social Security stance
Charlie Crist's latest attack ad targets Republican U.S. Senate candidate Marco Rubio and hits on a touchy subject for elderly Floridians: Social Security.

The 30-second ad aims to sway votes in a key demographic. Florida's 60 and older population makes up more than 30 percent of registered voters, and more than 40 percent voters who cast ballots in 2006.

The ad, released Oct. 5, 2010, is called "Protect." Here's a transcript:

Work longer, get by on less.

That's the Marco Rubio retirement plan.
Rubio wants to raise the Social Security retirement age. That means you'll work harder and longer for your money.

And Rubio wants to cut benefits, though it's already tough enough to make ends meet.

That's Washington for you – balance the budget on the backs of seniors.

There's a better choice.

Charlie Crist is against raising the retirement age.

He'll protect Social Security because our seniors have earned it.

The claim that we're checking is that Rubio "wants to raise the Social Security retirement age" and "cut benefits."

The Rubio campaign was ready and waiting for the Crist attack. The campaign issued a press release criticizing the ad at 10:32 a.m. on Oct. 5, 13 minutes before the Crist campaign sent out its press release announcing the ad (Apparently, the ad was posted earlier in the morning on the website YouTube).

"In his latest desperate attempt to say and do anything to win an election, Charlie Crist has launched a desperate false attack ad designed solely to mislead Florida voters and scare seniors about Marco Rubio's Social Security position," the press release starts. "The ad falsely claims that Rubio wants to cut Social Security benefits to 'balance the budget on the backs of seniors.' This claim is demonstrably false."

Within 30 minutes of Crist's announcement about the new ad, conservative commentator Stephen F. Hayes had penned almost 700 words about the Crist ad in a blog post titled, "A Desperate Charlie Crist Dishonestly Attacks Rubio," that regurgitates Rubio's talking points.

And within three hours the world heard from former Gov. Jeb Bush.

"Charlie Crist should be ashamed of his false attack against Marco Rubio on Social Security. Charlie Crist is purposely trying to scare seniors in order to win votes," Bush said. "The fact is, Marco Rubio will protect Social Security. His own mother relies on Social Security and he has repeatedly stated that he would not support or propose any benefit reductions for current retirees or people who are close to retirement."

Thanks for the input spin, guys, but we'll handle the fact-checking, okay?

More than 3.5 million Floridians receive Social Security benefits, according to the U.S. Social Security Administration. To be eligible to receive full benefits, a person must be between 65 and 67 (depending on what year they were born), be disabled, be a survivor of a worker who died, or be a dependent of Social Security beneficiaries.

Social Security was a New Deal program created in 1935 to help elderly and other Americans with economic hardships. The program is funded by payroll taxes.

This year, for the first time, Social Security will pay out more in benefits than it takes in. The deficit, approximately $41 billion, will be offset by money in the Social Security trust fund. By 2014, as the baby boomer generation retires, deficits are expected to increase, according to the Social Security and Medicare Boards of Trustees. By 2037, the trust fund will be empty, trustees predict, and incoming taxes will only be able to pay out 75 percent of scheduled benefits through 2084.

So something needs to change between now and 2037 -- whether it's raising the retirement age, altering benefits, or something else -- to keep Social Security solvent.

Rubio on the retirement age

Rubio has suggested that one solution is to gradually raise the retirement age.

Speaking to reporters in Tallahassee on Jan. 27, 2010, Rubio said the "retirement age issue is going to have to be confronted at some point as part of a measure to reform Social Security."

Rubio talked about raising the retirement age in a Wall Street Journal interview published March 13, 2010. "I know . . . people don't like to talk about it," the article quotes Rubio as saying. "Privatization of the accounts has come and gone, (but) there are other alternatives, such as [raising] the retirement age, how you adjust payments in the future, 'need' measures, et cetera."

And then the retirement age came up again during a March 28 Fox News Sunday debate with a then-Republican Crist. Host Chris Wallace asked Rubio if he would raise the retirement age.

"I think that has to be on the table. That's got to be part of the solution. The retirement age that gradually increases for people of my generation, I think has got to be part of ...," Rubio says before getting cut off.

He has reiterated that position throughout the campaign, with one important caveat -- there would be no changes for people nearing or now retired.

"I think if you're 55 years of age or older or close enough to retirement ... I think this is off the table," Rubio said in the Fox interview. In the Wall Street Journal interview, he said any retirement age changes wouldn't affect people within 10 years of retirement.

Rubio on benefit cuts

Rubio also suggested changes in the cost-of-living adjustments Social Security beneficiaries receive.

In the March Fox News debate, Rubio was asked if he would change cost-of-living adjustments for Social Security.

"I think all of that has to be on the table, including the way we index increases in cost of living. All of these issues have to be on the table," Rubio said. "They have to be options that I would be open to."

Rubio said as much again on Sept. 26, 2010, in an interview on CBS's Face the Nation.

"Younger workers like myself, people 39 years of age like I am -- we're going to have to accept that there's going to be some changes to Social Security," Rubio said. "And perhaps they're going to have to change the way the benefit is indexed. Perhaps we're going to have to continue to allow the retirement age to fluctuate, as it has been doing since the early 1980s.

"But again, that's for younger workers like myself who have 20 or 30 years to prepare for this. People that are on the system now, or let's say 10 years from retirement or 12 years from retirement, these folks can't all of a sudden make a change to adjust for it. So I think we have to start talking honestly about the long-term challenges facing a very important program, Social Security, because we want to save it. It's important. We want to preserve it."

That full quote probably best explains Rubio's position, in his own words. He supports what amounts to benefit cuts and raising the retirement age, in order to keep Social Security solvent, but not for current retirees or folks nearing retirement. His point is that without changes, Social Security won't be able to meet its obligations.

And on that point he's right (not that Crist is going to admit it). Rubio's stance has won him praise from the editorial board of the St. Petersburg Times, which said his position included "the sorts of straight answers Floridians deserve from serious candidates," and conservative commentator George Will, who said, "Rubio's responsible answer to a serious question gives the nation a glimpse of a rarity -- a brave approach to the welfare state's inevitable politics of gerontocracy."

What the Rubio folks are all bothered about

Crist's ad claims that Rubio "wants to raise the Social Security retirement age" and "cut benefits." Rubio, in his own words, says as much.

So what has the Rubio campaign all angry?

First, the ad fails to mention the caveat in Rubio's thinking -- that any adjustments to Social Security, whether to the retirement age or benefits, would not affect either current retirees or people nearing retirement.

That, and the images that go with the ad. The ad includes images of white-haired and wrinkled-faced retirees that goes along with the narrator's script. When the ad cuts to Charlie Crist, it shows him talking and shaking hands with seniors.

"Crist knows that Rubio has pledged to protect and preserve Social Security for those who are at or near retirement," Rubio's campaign said in their press release.

Crist spokesman Danny Kanner responded: "In an ad about Social Security, I don't think it's irrelevant to include images of senior citizens."

We should note that the ad also says that Rubio wants to "balance the budget on the backs of seniors." That's not true. The changes to Social Security Rubio supports are to make the Social Security program solvent long term, not to create extra tax revenues to use to balance the budget, fund other federal programs or to pay down the federal debt.

Crist's ad, "Protect" is correct in pointing out that Rubio supports proposals to keep Social Security solvent past 2037 by raising the retirement age and potentially reducing benefits. Rubio says changes are necessary or the Social Security program will go broke, a sentiment shared by the trustees who manage the federal program. But the ad fails to mention that Rubio's proposals would not affect any current retirees, or people nearing retirement (Rubio most often has said people within 10 years of reaching the Social Security retirement age). The ad certainly doesn't convey that half of the story. So, we think it's appropriate to rate this claim Half True.
Charlie Crist campaign, "Protect," Oct. 5, 2010

Charlie Crist campaign, interview with Danny Kanner, Oct. 5, 2010

Marco Rubio campaign, "Crist Purposely Deceives Florida Seniors With New False Attack Ad," Oct. 5, 2010

You Tube, Marco Rubio talking about Social Security, January 2010
Social Security and Medicare Board of Trustees, "Status of the Social Security and Medicare Programs," 2010

Marco Rubio campaign, "Statement From Governor Jeb Bush On Charlie Crist's False Social Security Attack Ad," Oct. 5, 2010

Fox News, transcript of Marco Rubio/Charlie Crist debate, March 28, 2010

CBS, Face the Nation transcript, Sept. 26, 2010

Wall Street Journal, "The Conscience of a Florida Conservative," March 13, 2010
St. Petersburg Times, "Rubio gets serious about Social Security reform," April 12, 2010
George Will, "Only a brave few acknowledge an entitlement crisis," April 11, 2010
Browse the Truth-O-Meter
More by Aaron Sharockman
Support independent fact-checking.
Become a member!
In a world of wild talk and fake news, help us stand up for the facts.