Get PolitiFact in your inbox.
Says campaign contributions to her rival for a state House seat was money intended for schoolchildren.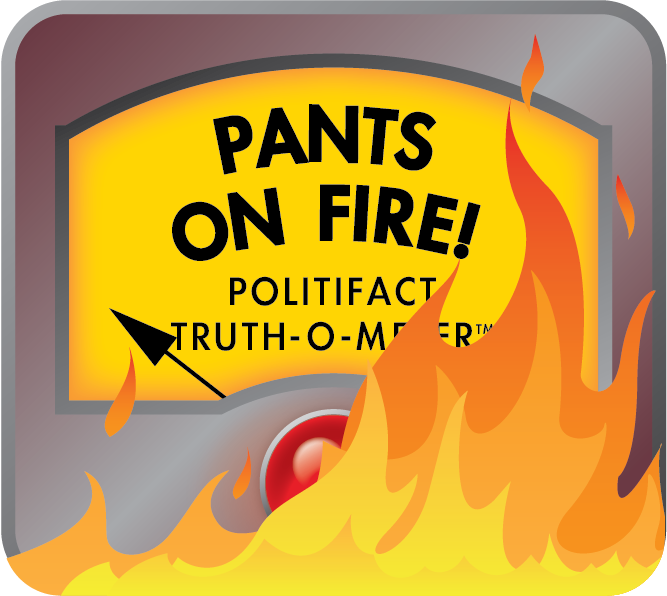 Candidate for state House said her rival took money intended for schoolchildren
Even among this election season's accusations of corruption and dastardly deeds, an attack in a local state House race stands out.

A recorded telephone message recently told voters that Democrat Elena Parent is taking money intended for schoolchildren to finance her campaign.

Taking money from schoolchildren? We had to check this one out.

The race for state House District 81 is one of the most heated and closely contested legislative contests in Georgia this year.

Republican Jill Chambers, a feisty iconoclast, is trying to keep her seat against Parent, a former litigator who worked for a Democratic state senator who became the ambassador to Singapore.

Chambers has served in the House since 2003 and is best known for her work on MARTA's oversight committee, known as MARTOC.

Neither party dominates the district, which runs along Buford Highway in DeKalb County northeast of Atlanta. Democrats think the seat is up for grabs. The outspoken Chambers thinks she is on her way to re-election.

The campaign is ugly. Parent lobbed attacks accusing Chambers of wastefully spending taxpayer money. Parent's campaign has also launched websites dedicated to attacking the incumbent.

Last week, Chambers blitzed voters with three automated telephone messages, or robocalls, and a mailer accusing Parent of taking money intended for schoolchildren:

"This is an important voter alert for PTA members in DeKalb County," a voice on one of the robocalls said. "Candidate Elena Parent has taken over $22,000 intended for our schoolchildren in campaign contributions from a law firm representing the corrupt DeKalb school board.

"DeKalb County can no longer afford to have politicians like Crawford Lewis, the indicted former school superintendent, and Elena Parent jeopardize our school system's future. Since these contributions became public last week, Elena Parent has repeatedly refused to return the money. Please call Elena Parent today and tell her to return these contributions."

The mailer asks, "Hey, Elena Parent, what did you promise in return for $22,585.09 in contributions from the law firm for the corrupt DeKalb County Board?"

It is true that corruption accusations are rocking DeKalb schools. In May, Lewis, former chief operating officer Patricia Reid, Reid's former husband and Reid's secretary were indicted on accusations that Reid ran a criminal enterprise that steered millions of dollars in contracts to the ex-husband, an architect.

The attack's logic is that the school system's legal fees skyrocketed from its budget of roughly $900,000 to $5 million, Chambers said. That means money that should be going to student education is filling the coffers of Sutherland Asbill & Brennan, the law firm to which the attack ads refer.

Sutherland's employees are therefore giving political donations with money intended for children, the line of reasoning goes.

Is this accurate?

We looked at Parent's campaign contribution disclosure reports, which she filed with the State Ethics Commission of Georgia.

The campaign donation figures are correct. From mid-2009 through July, Parent received exactly $22,585.09 in cash and in-kind donations from people who listed their employer as Sutherland, where Parent used to work.

Chambers' attack mailer has other correct information.

Sutherland does have a contract to provide legal services for DeKalb County schools, including in the Reid matter. The school system does not have its own in-house legal department.

Records show DeKalb arranged to pay Sutherland $120,555 a month for its services, as Chambers' mailer said. The Atlanta Journal-Constitution reported that DeKalb schools spent $5.79 million on lawyers from July 1, 2009, to June 30, 2010, when the district had budgeted $934,816 for legal expenses.

But those contributions to Parent's campaign don't come directly from Sutherland, as the robocall suggests. Its employees made individual donations with their own money.

Chambers acknowledges this, and two of her other ads say the donations are from lawyers, not the firm. 

There are other problems with Chambers' claims.

None of the school system's board members was named in the indictment. A schools spokesman said it is therefore inaccurate to call the board "corrupt."

And saying campaign contributions to Parent came from money intended for schoolchildren tests the bounds of logic.

Using Chambers' reasoning, if a Sutherland lawyer bought a candy bar at a Wal-Mart, you could accuse the retailer of taking money intended for schoolchildren.

So while Chambers' attack mailer contains some correct information, the robocall accusation against Parent is incorrect and borders on the ridiculous.

It's unfair to call the DeKalb school board corrupt. School employees, not board members, were indicted. And no one has been convicted.

The contributions were not directly from Sutherland, as the call implied, and were not intended for children. They were from individual contributors who used their personal funds.

This House race is smoking. We give Chambers a Pants On Fire for this one. 
Interview, Elena Parent, Sept. 29, 2010

Interview, state House Rep. Jill Chambers, Oct. 5, 2010

School records, "DeKalb County School System Attorney Fees Paid," accessed Oct. 5, 2010

Engagement letter from Sutherland Asbill & Brennan to DeKalb County Schools, Nov. 5, 2010

Interview, Jeff Dickerson, spokesman, DeKalb County school board, Oct. 4, 2010

The Atlanta Journal-Constitution, "Ex-school chief indicted," May 27, 2010

The Atlanta Journal-Constitution, "DeKalb board: Don't fault us," May 28, 2010

The Atlanta Journal-Constitution, "Ex-chief's trial may cost schools," July 31, 2010

The Atlanta Journal-Constitution, "Tyson seeks ethics policy," Aug. 3, 2010

Campaign Contribution Disclosure Report, candidate for state House Elena Parent, submitted Jan. 27, 2010

Campaign Contribution Disclosure Report, candidate for state House Elena Parent, submitted April. 4, 2010

Campaign Contribution Disclosure Report, candidate for state House Elena Parent, submitted July 6, 2010
Browse the Truth-O-Meter
More by Willoughby Mariano
Support independent fact-checking.
Become a member!
In a world of wild talk and fake news, help us stand up for the facts.